Crochet Your Way to Coral Reef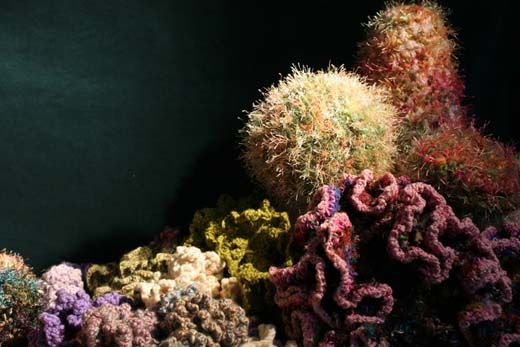 It's not often that members of the local crafting community have their work so prominently displayed in a Smithsonian museum. But this Saturday, October 16, the Natural History Museum's new exhibition, "Hyperbolic Crochet Coral Reef," features the crocheted handiwork of hundreds of people from the Washington, D.C. area, as well as from 28 different states and five countries.
"It's captivated people's imaginations," says Deirdre Holder, who, along with her husband Charles, has crocheted "coral" for the exhibit.
First exhibited at Pittsburgh's Andy Warhol Museum in 2002, the Hyperbolic Reef Project was pioneered by Margaret and Christine Wertheim, two Australian twin sisters; one a science journalist and the other an artist. The sisters' first foray into crafting coral was a fluke of sorts. In conjunction with their Institute For Figuring, which explores the aesthetic dimensions of science and mathematics, the sisters were attempting to model a complex non-Euclidean type of geometry, called hyperbolic space, using their crochet hooks. The results, they quickly realized looked a whole lot like the crenulated structures that make up a coral (you can watch Wertheim's full explanation in her lecture at the TED conference in 2009).
The project's widespread popularity can largely be attributed to its unique blend of science and mathematics, conservation, art and handicraft and community. Crocheter Deirdre Holder, for example, was a math major in college, and she, too, began crocheting out of interest in modeling hyperbolic space. Her husband has a passion for scuba diving, and his mother crochets as a hobby. These seemingly disparate interests converged in the crochet reef.
In each city the exhibit has visited (Washington, DC will be its tenth), the Wertheims invite community members to contribute crocheted pieces to the coral reef. This project went viral. Church and synagogue groups, retirement homes, boy scouts and government agencies like the Smithsonian have all answered the crochet reef's siren call. Thirteen yarn shops from Pennsylvania to Lancaster, Virginia contributed yarn and Jennifer Lindsay, one of the project organizers, reports that her email list expanded from 25 to 450 names in the months leading up to the exhibit (view pictures on their Flickr page).
For the past few weeks, these community members have been working to assemble thousands of pieces of their crocheted coral in the exhibit space. Armed with glue guns and two-by-fours, Wertheim has guided them to create a reef with a unique yet realistic topography.
Most crocheters who have contributed to Natural History's display already crocheted as a hobby, often in weekly groups held at yarn shops in the area. For those who tend to crochet afghans and other large projects which can take months to complete, the crochet reef is a welcome change. One can create a piece of coral in under an hour, and although there are guidelines and patterns to choose from, the Wertheims encourage experimentation.
Participant Cheryl Anne Woehr notes, "Some of the colors, textures and stitches I let myself try are things I never would have done otherwise. It's been really freeing creatively."
The "Hyperbolic Crochet Coral Reef" will be on display in Natural History's Sant Ocean Hall from October 16 through April 24, 2011.