Create a Poster for the National Zoo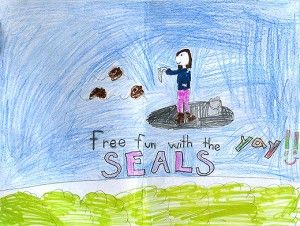 If you're between the ages of 8 and 14, pick up your crayons, paint, pencils, photos or markers and design a poster for the National Zoo's Poster Contest. If you win, you receive six tickets to opening night of ZooLights, as well as a National Zoo-themed gift basket. The poster will be displayed at the National Zoo and sent to libraries and schools in the Washington, D.C. region, and it will be featured on the Zoo's website and in Smithsonian Zoogoer magazine.
The rules are simple, design a poster that shows the animals and plants found at the zoo; but also emphasize in either picture or poetry that the zoo is free to all guests, all the time.
To jump-start your ideas, we asked two "celebrity" artists, the children of fellow magazine staffers to put crayon to paper and come up with their best ideas. Unfortunately, Gillian Roark, age 7, ("Free Fun with the Seals," above) is ineligible as she is one year shy of the age requirement for entering the contest. But Colleen Salazar, age 12, is off to a running start.
The contest runs from now until November 12, so kids, get drawing. To see the full rules and submission guidelines, visit the contest's official site.