Costume Ideas From the Smithsonian Collections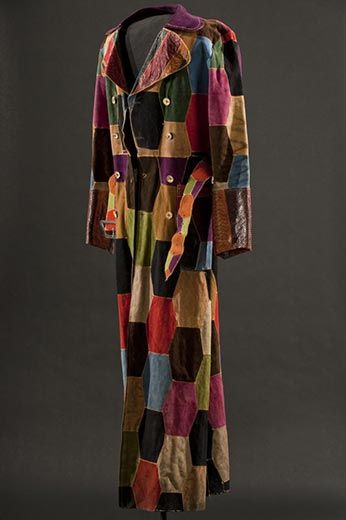 Halloween is two days away—costume parties perhaps even sooner—and if you are anything like me, you are probably Googling "easy costume ideas" right about now. Well, look no further. Here, Smithsonian.com's Around The Mall team brings you ten clever (if we do say so ourselves!) costume ideas inspired by artifacts and artworks we found in the Smithsonian Institution's collections.
1. Carol Burnett's Curtain Rod Dress
We saw it in the collections and just couldn't resist it. Carol Burnett lampooned the movie Gone With the Wind in a 1976 episode of her weekly sketch comedy show. When her character, Miss Starlett, strutted her stuff on the small screen in a dress obviously made from the living room curtains—with the curtain rod still in place—it was side-splitting television magic, and the costume now calls the American History Museum home. If you have a Southern belle-ish dress with a full skirt, you're halfway to completing this look. For the rod, I suggest finding something long and lightweight, like a wrapping paper tube or two securely taped together. Since this bit will be covered with fabric, no one would be the wiser and you're not bearing the weight of an actual metal rod all night. Just attach some finials to either end and the whole curtain rod idea should come across loud and clear. Drape the rod with green fabric, adorn with gold fringe, cinch with cording at the waist, and you're good to go. How you actually get the rod to stay on your person is going to be a trick. Personally, I'm a proponent of duct tape. And since you have all that loose fabric hanging around, a well-done duct tape job can be easily masked from critical eyes. 
- Jesse Rhodes
2. Hirshhorn Museum
Why dress up as a famous person for Halloween when you can go as an entire building? And not just any old building, but one of the most iconic and unique in the entire Smithsonian Institution. The donut-shaped Hirshhorn Museum can easily be replicated by wearing an inner tube painted gray, a gray bodysuit with strategically placed G.I. Joe's as the sculptures in the museum's sculpture garden and—if you really want to go all out—a Tupperware bowl over your head (or attach an inflated blue balloon to a hat) to serve as the Hirshhorn Bubble, the proposed new pavilion that would fill the museum's central courtyard. Dressing as the museum is also the perfect excuse to stay out "After Hours."    
- Ryan Reed
3. Blue Man Group
Though the "Yves Klein: With the Void, Full Powers" exhibition that encompassed an entire floor of the Hirshhorn closed over a month ago, I can't resist its allure for the theme of my abstract costume. Klein created his own intense shade of my favorite color (blue), titled International Klein Blue (IKB), and I've *so* got to respect that. So in Klein's honor I will paint myself from head to toe in IKB, making sure to leave a small, uncovered space on his lower back. Lord knows, I don't want to end up like Jill Masterson!   - Jeff Campagna
4. Jimi Hendrix
Draw some inspiration from the late rock guitarist, whose iconic patchwork coat is now hanging in the halls of the American Indian Museum. Collect a bunch of old clothes you don't want anymore, and sew (or even staple if it's only for one night!) squares of different colored fabrics together. Throw it over your (preferably bare) shoulders, grab any old guitar you can find, tease out your hair and pile on whatever old jewelry you can get your hands on. Rock out periodically throughout the evening.   - Jess Righthand
5. A Boy Scout
Use Norman Rockwell's painting "Spirit of America," on display in "Telling Stories: Norman Rockwell from the Collections of George Lucas and Steven Spielberg" at the Smithsonian American Art Museum, as a model for how to dress like a Boy Scout. It would be best to wear a campaign hat, a khaki shirt and shorts, tall socks and a neckerchief. If you don't have a bolo tie, make do with a brooch or hair tie. An external frame backpack (if you have one in the basement) completes the look. Oh, and occasionally give the scouts honor sign by holding your right hand up and touching your pinky finger to your thumb.    
- Megan Gambino
6. Michelle Obama
Approximate the first lady's inaugural gown, on display at the National Museum of American History, by decorating a white sheet with glitter and sequins and then draping it over one shoulder. For a slightly higher-brow approach, look for a white dress at a thrift store, cut out one shoulder and then decorate at will. If the inaugural gown thing isn't working, you could always go with the bright dress and belted sweater combination that the first lady has made her signature look. Top it off with an American flag pin, wave a lot, and people will know exactly who you are.    
- Jess Righthand
7. A Jellyfish
​It is hard to miss the enormous model of a Lion's mane jellyfish in the National Museum of Natural History's Sant Ocean Hall—and it will be hard to miss YOU, even in a bustling costume party, if you dress like the creature. All you need to do is carry a clear umbrella with streamers dangling from it and perhaps a red shirt and white sweat pants. With the umbrella, you are prepared for the elements; though, if rain is in the forecast, I suggest substituting something more water-resistant, like tinsel, for the streamers.    
- Megan Gambino
8. The Fonz
Ayyy, Halloween costumes don't get much easier than this; however the key component is finding a leather jacket, like the one in the American History Museum's collections once worn by Henry Winkler, a.k.a Arthur "The Fonz" Fonzarelli, on the sitcom Happy Days. Aside from that, all you need are jeans, a white V-neck T-shirt, leather boots and hair styled into a pompadour. And if you somehow master the knack of turning on a jukebox by banging on it with your fist, you totally have this costume mastered.    - Jesse Rhodes
9. Abel the Monkey
This little guy helped to pave the way for human explorations in space. Strapped into a specially designed fiberglass cradle that allowed scientists to monitor the rhesus monkey during his space flight. Sadly, he didn't survive the voyage, but, through the wonders of taxidermy, you can see him at the Air and Space Museum. If you're crafty enough to cobble together your own monkey suit—or live near a costume rental place—you can complete the Abel "look" with a straight jacket and a white polo helmet. Or you can get really fancy schmancy and craft a more faithful re-creation of his body armor. Cardboard and duct tape anyone?    - Jesse Rhodes
10. And last but certainly not least:
The perfect costume for you and six of your laziest (or possibly most pretentious) friends: dress as Lawrence Weiner's "A RUBBER BALL THROWN ON THE SEA." The conceptual piece, on display on a length of wall in the Hirshhorn, is bold and blue and is easy enough to recreate on a collection of white T-shirts. A word to the wise: don't stray too far from members of your work of art or else you'll just be "that guy wearing the 'ball' shirt."  
- Jamie Simon
​If none of these strike your fancy, our friends at the Archives of American Art came up with a few ideas of their own.