Cooper-Hewitt Gets Crafty and Honors Etsy with a National Design Award
Other recipients of the National Design Museum's prestigious award include fashionista Narciso Rodriguez and writer Witold Rybcznski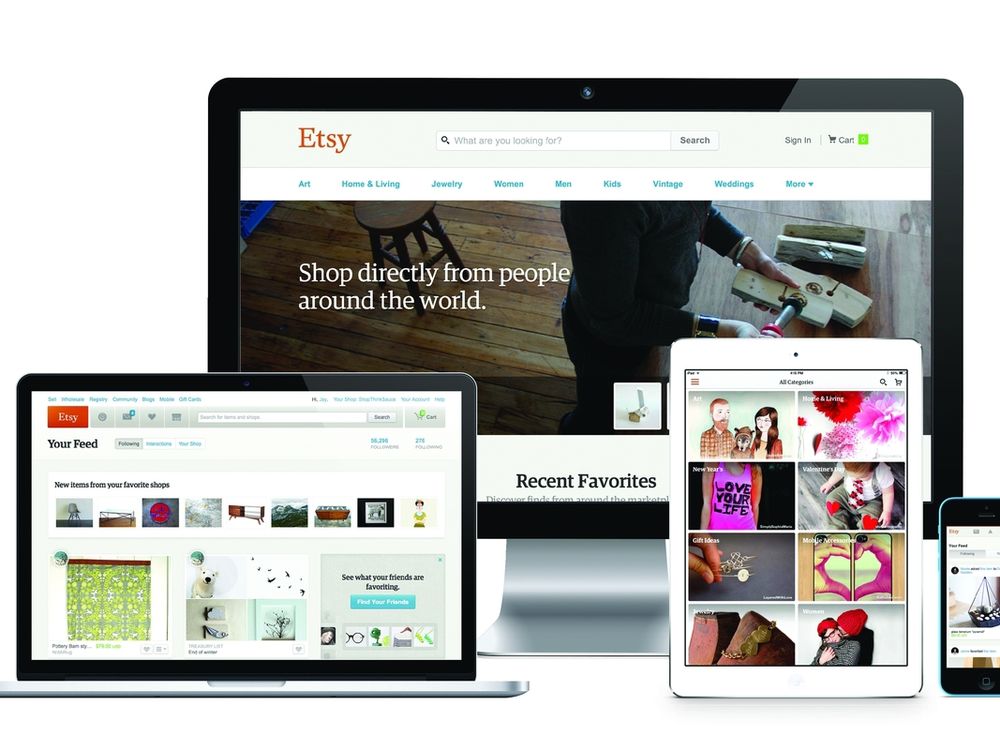 Nine years ago, the founders of popular e-commerce website Etsy conjured what could only be described as a crafty plan: they built the first online shopping bazaar dedicated to selling handmade goods and curated vintage items. With a few clicks of a mouse, shoppers who were hungry for one-of-a-kind-finds could suddenly purchase a clay vase fresh from the kiln, or buy a 1920s cocktail dress without the hassle of pawing through a dusty secondhand store.
"People value things that have a story," says Randy Hunt, Etsy's creative director. "But even more so, something in which they are the story; where they are a participant in that experience."
More than a million vendors and $1.35 billion of merchandise sales later, Etsy has now been granted the 2014 Cooper Hewitt National Design Award for Corporate Achievement. One of 10 awards granted annually by the Smithsonian's Cooper-Hewitt National Design Museum in New York City, the prize is given in recognition of a corporation or institution that strategically uses design in its mission. In the past, it's also been given to winners including the non-profit TED (of TED Talk fame), Patagonia and Nike.
Etsy was selected for its employment of design in everything from outreach initiatives to their sales. "Their user-friendly technology and innovative approach to retail brings craft and design into everyone's home in ways both small and large," says Cooper-Hewitt spokesperson Laurie Bohlk.
Design is an inextricable part of both Etsy's founding aim and its bottom line. The site allows sellers to envision, create and vend their own goods. Its primary rule? Each item listed must be either handmade, a unique factory object or over 20 years old. (Ironically, the Etsy success has since spawned criticism due to overwhelmed crafters who can't keep up with hectic production demands without mechanizing their efforts.)
In just one shopping session, browsers can encounter the full spectrum of design—everything from the artsy and ancient to the eccentric, ugly and just plain weird. Sellers are charged 20 cents per listing, and are allowed to keep 96.5 percent of their profits.
But over the years, the company's efforts have extended offline and into the community. Its headquarters—based in the DUMBO neighborhood of Brooklyn, New York—host open crafting classes in the "Etsy Lab," where DIY-notices and enthusiasts alike are provided with materials and instructions to make their own creations. Another initiative, the Craft Entrepreneurship Program, teaches low-income communities in Rockford, Illinois and New York City how to make, promote and brand items for sale in their own Etsy stores. Etsy plans to launch the curriculum in five other cities—three more in North America, and two in Europe.
Design, says Hunt, "is integrated into the product we have developed; the sort of brand experience that we create, but ultimately and more importantly, supports the community of sellers."
The 2014 Cooper-Hewitt Design honorees, representing multiple facets of the industry, range from architecture and fashion design to commercial media ventures: