Conservation of a Pair of Saint-Gaudens Goes al Fresco at the Freer
The beauty of dry ice cleaning is the efficient and environmentally safe process; but also the procedure was on view from the street
At the Freer and Sackler Galleries—as in most museums—the work of caring for, restoring and repairing fine art objects occurs behind closed doors. In the Smithsonian's museum of Asian arts, conservation is a rarefied world of badger-hair brushes and irradiated silks, poultices and pastes, scalpels and solvents. And rare is the visitor who sees the conservators practice their art.
But on a recent weekday morning, museum staff wheeled two dollies, each bearing a 400-pound bronze sculpture by American artist Augustus Saint-Gaudens (1848–1907), out of the museum confines and onto the National Mall-side plaza in front of the Freer Gallery. And there, curious passersby found themselves pausing to witness a few museum firsts: the Freer and Sackler's first public—and outdoor—conservation project and their first use of a form of power washing called dry ice or carbon dioxide cleaning.
Since 2000, the pair of Saint-Gaudens bronzes—Labor Supported by Science and Art and Law Supported by Power and Love—have been displayed in the Freer's courtyard loggia. And after almost 17 years of urban dirt, bird droppings and temperature shifts having wrought predictable wear and tear on the works' protective wax coatings and, in places, on the original patina, it was time for a super wash 'n' wax.
Armed with leather gloves, ear plugs and a protective visor, Tom Podnar, a senior conservator with McKay Lodge Fine Art Conservation Laboratory in Oberlin, Ohio, trained the nozzle of a thick black hose on the surface of Saint-Gaudens' Labor Supported by Science and Art, pulled the trigger, and sprayed a portion of Labor's flowing robe with miniscule pellets of dry ice. Clouds of condensation billowed around the sculpture. Noisy bursts from a diesel-fueled air compressor punctuated the scene. Every so often, Podnar's assistant, Christina Simms, fed the dry ice machine with scoops of pellets from a nearby cooler. Spectators plugged their ears with their fingers and gamely dodged the occasional needle-sharp sting of a rogue ice pellet.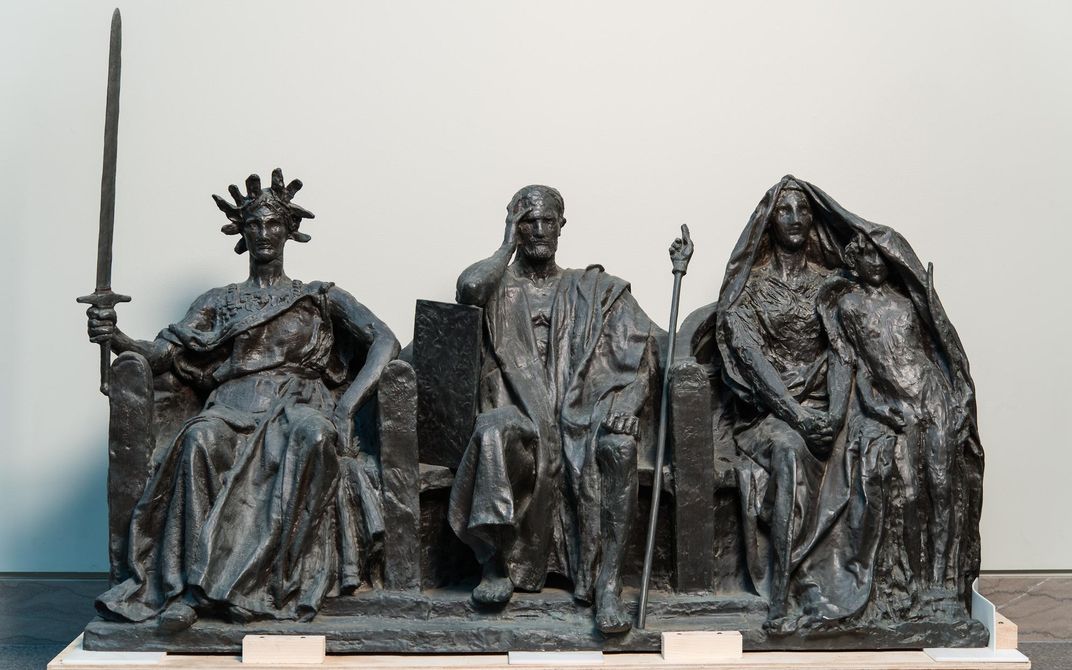 In the mid-1980s, Stuart Hoenig, a retired professor at the University of Arizona, developed and promoted the process for use in industrial and high tech settings, but in the last decade art conservators have begun to adopt it, trying to determine its range of application. "We're excited, because we're seeing this process here for the first time on any of our objects. I'm thrilled," Jenifer Bosworth, the conservator at the Freer and Sackler overseeing the project, said in anticipation of Podnar's visit.
Standard practices for removing protective coatings from outdoor sculpture include using potentially toxic chemicals and solvents or pressure washing with water or micro-abrasion with ground walnut shells or glass beads. But these methods pose challenges: containment of run-off, disposal of toxins, and risk of over-abrasion of the artwork. The beauty of dry ice cleaning, Bosworth says, is the efficient and environmentally safe process—"It's so nice not to have waste to clean up afterwards"—and the non-abrasive impact on the object's surface—"It basically just lifts the coating right off."
In fact, the ease and simplicity belie the complex set of reactions occurring in one quick blast of ice. Podnar shoots dry ice pellets, which sit at a frosty temperature of around negative minus-180-degrees Fahrenheit, at the object's surface. This shocks the warm exterior. At the same time, the ice is sublimating, a process whereby the solid CO2 turns directly into gas, skipping the intermediate liquid stage and instantaneously expanding more than 700 times its initial volume.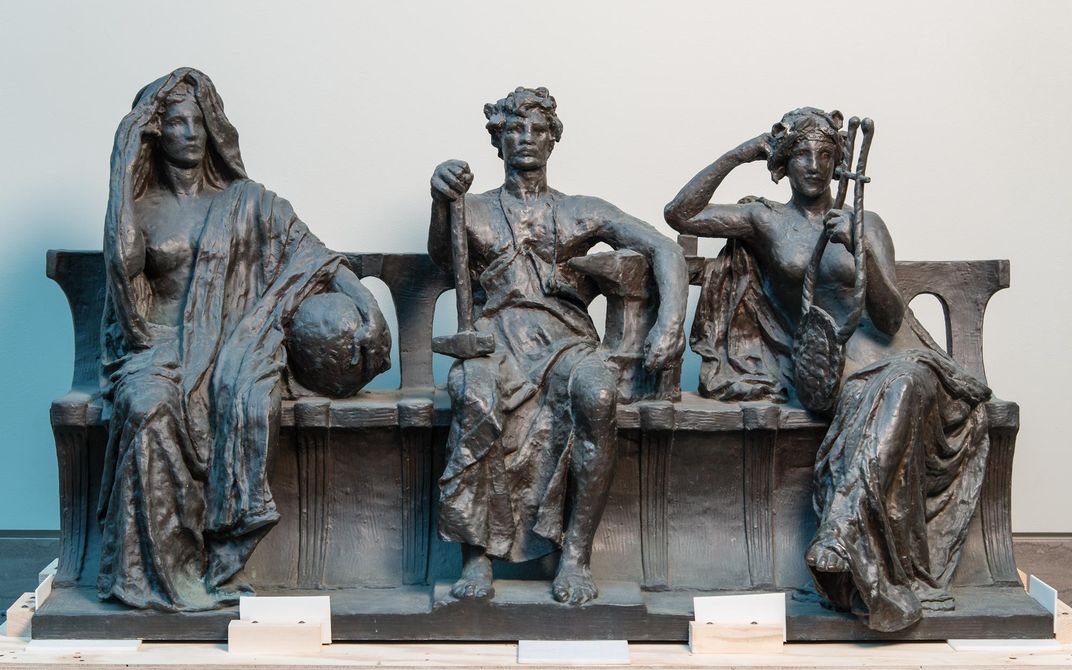 More science than perhaps most summer tourists might want, but during the two-day cleaning and subsequent application of a new coat of wax, Bosworth found herself informally interacting with onlookers: "They were interested in seeing something that normally occurs behind the scenes. Most people don't even think about the conservation work that is happening in the Freer and Sackler—and in many other museums. I had a good time talking to people about it."
The occasion was, as well, a chance during the museum's months-long closure for renovation to visit two works from their collection—two American works in an inventory heavily weighted toward the Asian.
Saint-Gaudens, the preeminent sculptor of America's Gilded Age, is best known for his public, monumental bronze works commemorating Civil War heroes: Robert Gould Shaw on Boston Common, William Tecumseh Sherman in New York's Central Park, and Admiral David Farragut in New York's Madison Square Park. In Washington, D.C., the Adams Memorial, a private commission from historian Henry Adams to commemorate his wife, marks the gravesite with its lone figure, shrouded and bent in grief.
Lost to most of the passersby was the narrative behind the Freer's two Saint-Gaudens works, each a grouping of allegorical figures, both intended to be among the artist's great public monuments, ornamenting the entrance to the new Boston Public Library.
"When he got the commission in the 1890s, Saint-Gaudens was at the height of his reputation, and he had all of these public monuments under his belt. But he found the commission difficult to complete, and in addition to aesthetic struggles, he was having a lot of health difficulties," says Lee Glazer, curator of American Art at the Freer and Sackler. Ultimately, Saint-Gaudens died from cancer in 1907, leaving only plaster casts of the sculptures.
Thereafter, Saint-Gaudens' widow, Augusta, developed something of a business selling different-sized castings of her deceased husband's sculptures. In 1915, collector and museum founder Charles Lang Freer, looking to fill a gap in his American art holdings, entered into a contract with Mrs. Saint-Gaudens to purchase a casting (approximately 2.7 x 4.8 x 1.5 feet), at about half their originally intended size, of the sculptures. He wanted them for the courtyard of the Freer Gallery.
But just as Saint-Gaudens' plans had gone awry, so, too, did Freer's. The collector died in 1919, four years before the opening of his museum. A late change to his will provided for future acquisitions of Asian art, in light of ongoing archeological discoveries and shifts in the market, but none for his American collection, which, Glazer says, he deemed to be "perfect and complete and functioning in a resonant way with his Asian holdings."
Today, the American artworks in the Freer number only 1,800, mostly works on paper and mostly by artist James McNeill Whistler. In contrast, the number of Asian objects in both the Freer and the Sackler Galleries is close to 40,000.
Aesthetically, too, the American collection fell out of fashion. And even the interior courtyard, intended by Freer to refresh visitors' eyes as they moved from one gallery into the next, remained closed to the public because of climate-control issues. Sadly, Saint-Gaudens' sculptures were relegated to storage. "Over the years, there was less impetus to install the works in the courtyard," Glazer says, "and they really were just forgotten."
In the late 1990s, with the installation of doors that better managed humidity and temperature shifts, the courtyard was opened to the public and in 2000 the Saint-Gaudens' works were finally mounted on pedestals that flank the door to the courtyard's east loggia.
While Labor Supported by Science and Art and Law Supported by Power and Love bear signs of Saint-Gaudens' style—"a kind of naturalism with this high-minded allegorical quality that he was known for," Glazer says—they fall a bit short of his full artistic power.
"Probably because they were never actually completed, they are not as perfect as some of his better known work, in terms of the finish and the realization of the composition," Glazer says. "Their importance has less to do with Saint-Gaudens, as great as he is in the history of American art, and more to do with the institutional history of the Freer and the role of the courtyard in enhancing the visitor's experience of the galleries," says Glazer.
Ironically, what Saint-Gaudens had intended, more than a century ago, as a monumental public sculpture resolved into something with a much gentler impact. "It ended up having a more subtle role in the decoration of the Freer Gallery courtyard, which is by definition a private and contemplative space."
And so, to that space, the sculptures will return.
The Freer closed in January 2016 for renovations, upgrades and the revitalization of gallery spaces; the adjoining Arthur M. Sackler Gallery closed on July 10 for similar reasons. Both the Freer and Sackler Galleries will mark their joint reopening by celebrating "Where Asia Meets America" on the National Mall October 14 and 15.