Why Collectors Fall Head Over Heels for the 'Inverted Jenny' Stamp
One of the rare 24-cent misprints sold at auction this week for a record-breaking $2 million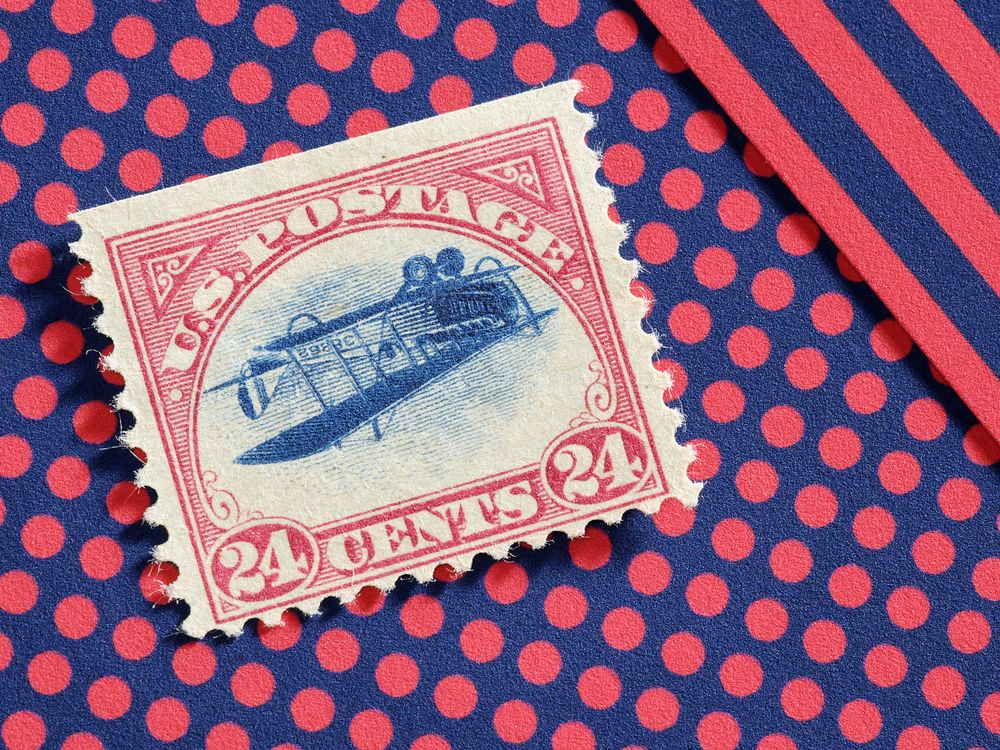 William T. Robey spent the evening of May 14, 1918, riding streetcars around Washington, D.C., carrying a treasure-filled briefcase and fleeing representatives of the United States Post Office Department. When he finally made it home later that night, the 29-year-old stamp collector and stockbroker's clerk told his wife, Caroline, that postal inspectors were eager to recover 100 unusual stamps—now known as Inverted Jennies—that had come into his possession. "A little disturbed," as Caroline later recalled, the couple stashed the briefcase under their bed and settled in for a fitful night of sleep.
Just a few days earlier, the Post Office Department had started printing more than two million new 24-cent stamps with a special design celebrating the launch of the world's first regularly scheduled airmail service. Clair Aubrey Huston, a designer at the U.S. Bureau of Engraving and Printing (BEP), based the stamp's central illustration on a photograph of the Curtiss JN-4H "Jenny," a single-engine biplane that would be used in the service's inaugural flights. The stamp, which replaced the Jenny's front cockpit with a mail compartment, embodied the "romance of early aviation," says Daniel Piazza, a curator at the Smithsonian's National Postal Museum.
Ahead of the stamp's release, though, the collecting world was abuzz with discussion of a possible error. Philatelists across the country gossiped about Huston's design, noting that it was complex, requiring two separate engraved plates, one to print the blue center image and a second to add the dark-red frame. That meant the paper had to go through a hand press twice. Collectors like Robey knew that any multistep printing process was prone to human error. Plus, the BEP was already overwhelmed with demands to produce bonds and stamps supporting the Allied effort in World War I.
The collectors were right: The bureau made nine sheets of errors, each with 100 stamps depicting an upside-down plane. Staff found and destroyed eight of the erroneous sheets and shipped the other stamps to offices in Washington, New York and Philadelphia—the cities selected for the first airmail flights. But one sheet slipped through.
On May 14, one day before the first mail plane took off, Robey visited a Washington, D.C. post office and asked whether any of the new Jenny stamps were in stock. When a clerk showed him what turned out to be the sole surviving sheet of inverts, his "heart stood still," as he put it later in a 1938 article for Weekly Philatelic Gossip. "It was what you might call a 'thrill that comes once in a lifetime.'" Robey bought the stamps for their face value of $24 (around $510 today), only informing the clerk they were inverts after the transaction was complete. The anonymous clerk alerted officials that an error sheet had slipped past quality control, prompting a delay in further sales of the stamps as postmasters in D.C., New York and Philadelphia checked their stock for misprints.
Though postal inspectors tried to confiscate Robey's sheet, stopping by his workplace within hours of the sale and later questioning his wife at home, they had no legal grounds for seizing the stamps, and he repeatedly rebuffed them. "No doubt," Robey concluded with obvious self-satisfaction, "a novice might have been scared into relinquishing the sheet." Eager to get the inspectors off his back—and to offload the stamps before other examples turned up—Robey started advertising his find. A week later, he sold them to Philadelphia stamp dealer Eugene Klein for $15,000 (around $317,000 today). The Robeys used the money to buy a house and a car.
In the 105 years since their creation, these Inverted Jennies have been divvied up, changing hands dozens of times. Number 78, identified as such based on its position in the sheet of 100, was retrieved after spending time inside a vacuum cleaner. Number 66 was stolen while on display at a philatelic convention in 1955 and has never been recovered. Two of the inverts—Numbers 2 and 70—are on view at the Postal Museum in Washington.
Much like the stamps issued to celebrate its launch, the first airmail service—supported by Army planes and pilots, as no commercial airlines were in operation at the time—didn't go quite as planned. George Boyle, the Army lieutenant tasked with flying the first airmail between Washington and Philadelphia, was a novice who'd only been assigned to the mission because he was engaged to the daughter of the head of the Interstate Commerce Commission. On his first attempt, Boyle literally inverted his trip, heading south instead of north, then had a rough landing in rural Maryland; during his second flight, he again flew in the wrong direction, stopping in southern Virginia to refuel before crash-landing on the grounds of a country club in the Philadelphia suburbs, around 15 miles from his intended destination. Despite his high-ranking connections, Boyle didn't get a third chance.
Taken together, says Piazza, the inverted stamp and botched flight represented "a very inauspicious start for airmail in America." Still, the service recovered quickly, going transcontinental by 1920. The Inverted Jenny, meanwhile, retains its topsy-turvy allure: In 2021, a block of four Jennies sold at auction for a record $4.9 million. And earlier this week, Number 49, which resurfaced in 2018 after spending decades tucked away in a safe-deposit box, fetched $2 million at auction, making it the most expensive U.S. stamp ever sold.