Clouded Leopard Cubs' First Birthday at the Zoo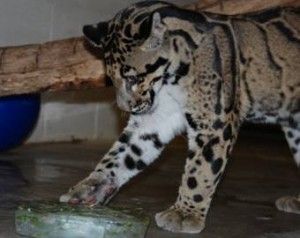 It's hard to believe it but the Zoo's clouded leopards turned one year old today. You might recall last year's March video of the little darlings posted here on the Around the Mall blog.
The Zoo reports that the pair, Ta Moon, meaning mischievous child, and Sa Moon, brave warrior, were properly feted today with birthday cakes made up of delicious treats that only a clouded would love—two layers of ice with bamboo leaves frozen inside and topped with a special treat made out of a diet meat for felines. Yum!
Ta Moon and Sa Ming were the first litter born to three-and-a-half-year-old Jao Chu and Hannibal, who have since produced two more litters. Jao Chu gave birth to two cubs on Valentines Day. Native to Southeast Asia, clouded leopards are considered "vulnerable to extinction" due to deforestation and poaching.