Chuck Brown, Godfather of Go-Go, Dies at 75, But Will Live on at the Smithsonian
The guitarist and singer pioneered the genre of Go-Go and became intricately connected with DC's cultural identity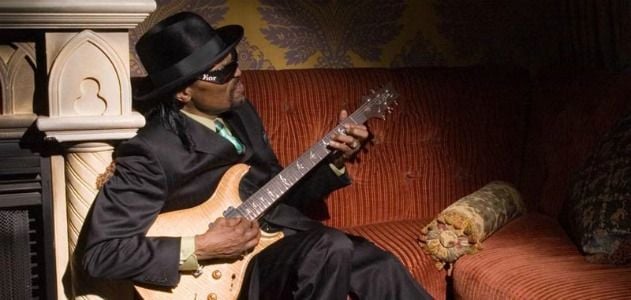 Washington, D.C. lost a musical icon yesterday. The legendary Chuck Brown died at Johns Hopkins Hospital in Baltimore at the age of 75. Brown will be remembered for his decades of engaging live performances, his distinctive stage personality and his development of go-go music, a sub-genre of funk which incorporated R&B, early hip-hop elements and audience participation.
"He's got such a legacy in music in creating a genre of its own," says Dwan Reece, a curator of music at the National Museum of African-American History and Culture. "The chanting, the call-and-response—it was, more than anything, one long party."
Brown was born in Gaston, North Carolina in 1936; after moving around as a child, his family settled in Washington, D.C. in the early 1940s. As a boy, he hustled, shining shoes and selling newspapers in the street. During this time, he met many prominent African-American entertainers—he said that he once shined Louis Armstrong's shoes at the Howard Theater. His musical talent showed early on, as he sang in church from the age of two and learned to play the piano by ear as a seven-year-old.
The performer endured a turbulent adolescence, in which he worked odd jobs, hopped trains as a hobo and served three years of prison time (the crime was assault, but Brown maintained that he acted in self-defense). While at Lorton Penitentiary, Brown rediscovered his love of music, teaching himself to play guitar and putting on shows for other inmates. Once he was paroled, he began performing in clubs and lounges around D.C.
In the early '70s, Brown put together a band called the Soul Searchers and began innovating his signature sound: go-go. He blended funk, R&B, the call-and-response tradition from African-American church culture and other elements to create a highly energetic, danceable style that took the city by storm. "He started off playing with rhythm and percussion, and adding Latin instruments," Reece says. "Then he learned that he could keep the percussion going between songs, so there was always some kind of activity, no break. He would chant, he would rhyme, and it became like a house party, a really familiar, down home environment." His biggest early hits included "We Need Some Money" and "Bustin' Loose."
Brown's close relationships with neighborhood audiences enabled him to take participation to a whole new level. "People would shout out birthdays, they'd send notes of things for him to say. he would call them out, and the audience would repeat back, and then he'd break into the next song," Reece says. "There was an energy, and it was infectious. There was no line between the performer and the audience."
Brown never became well-known nationally—his music had to be appreciated in a live setting to truly understand what made it so special. In D.C., though, where he played as often as six nights a week and sometimes twice a night, he became an icon. "He was so intricately tied to this city," says Reece. "There are certain cities that are just defined by their music—when you think jazz, you think of New Orleans, and for R&B, you think Memphis. When you look at go-go, it is really the only music indigenous to Washington, DC."
Although it never took off as a country-wide phenomenon, go-go had an indelible impact on contemporary American music. "It was definitely influential, especially with hip-hop," Reece says. "His music involved samples, and was all about rhyming and the beat, and using energy to keep it going."
Brown said that the genre took its name because "the music just goes and goes." And just like his music, the legendary performer kept on going, regularly performing through his final years.
The National Museum of African-American History and Culture, set to open in its own building on the Mall in 2015, will feature an exhibition called "Musical Crossroads" that examines the influence of African-Americans on music. "The exhibit will have a section on music on the city, with go-go as a case study, looking at the role that place and community play in helping to define music," says Reece. "We had been talking to Chuck Brown, and he was very excited about it, so I'm sad that he won't be able to see it, but it will certainty illustrate his legacy in a larger way."