Check Out These Thought-Provoking Additions to the National Portrait Gallery
The museum is showcasing 25 new artworks through next autumn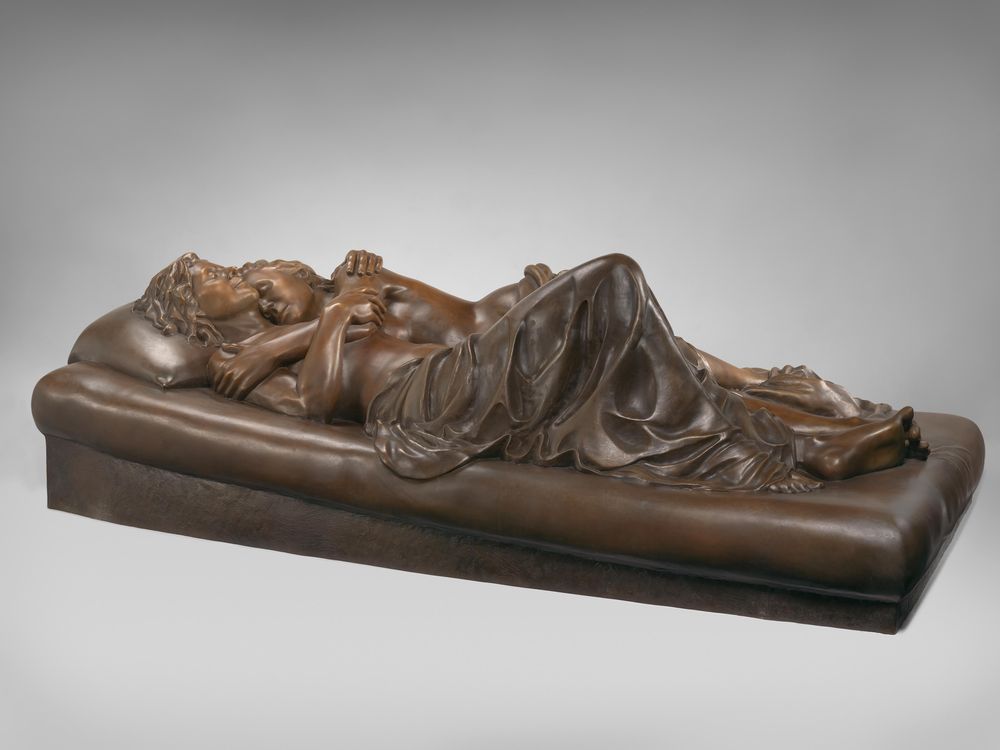 The National Portrait Gallery's latest acquisitions, whose subjects range from activist actress to glass ceiling-shattering civil servant, prodigious musician to lifesaving medical researcher, once-famous 20th-century magician to now-famous 19th-century lawyer, have just gone on view in Washington, D.C. The assortment—25 objects in all—will remain accessible through November 4 of 2018. Below is a sample of what you can look forward to in the year ahead.
David Ho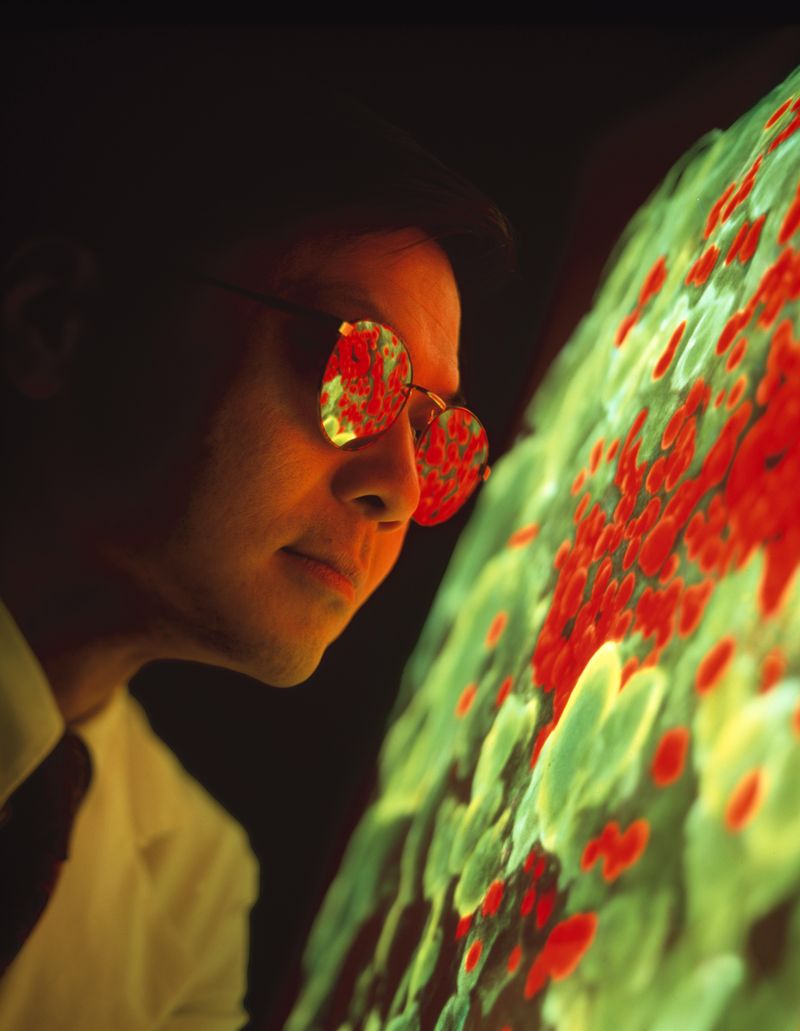 Bathed in the otherworldly yellow-green light of a large digital display, famously prolific AIDS researcher Dr. David Ho looks somehow more than human. He is contemplating a blown-up rendering of an HIV-tainted T-cell in the human bloodstream, and the bright red globules representing the virus's progress are mirrored in the wide lenses of his spectacles. One is reminded of the multifaceted eyes of a fly; given Ho's knack for rapid but thorough synthesis of observations, the resemblance is fitting.
This image is the work of portrait photographer Gregory Heisler, who captured it for Time magazine's 1996 "Man of the Year" cover. The magazine chose to honor Ho, a celebrity by no means, in light of his vital contributions to checking the proliferation of the virus in its victims. "Dr. Ho's and his collaborators' findings have made it possible for HIV carriers to better control the virus, including during dormancy," says curator Leslie Ureña.
Though his work in developing the efficacious highly active antiretroviral therapy (HAART) technique cemented Ho's place in the history books, his investigations into the mechanics of AIDS are wide-ranging, and continue to this day. In all, Ho has published upwards of 400 distinct papers germane to humanity's battle against AIDS. Lost in his own world, alone in the darkness going head-to-head with a deadly killer, Ho is a modern hero.
Rita Moreno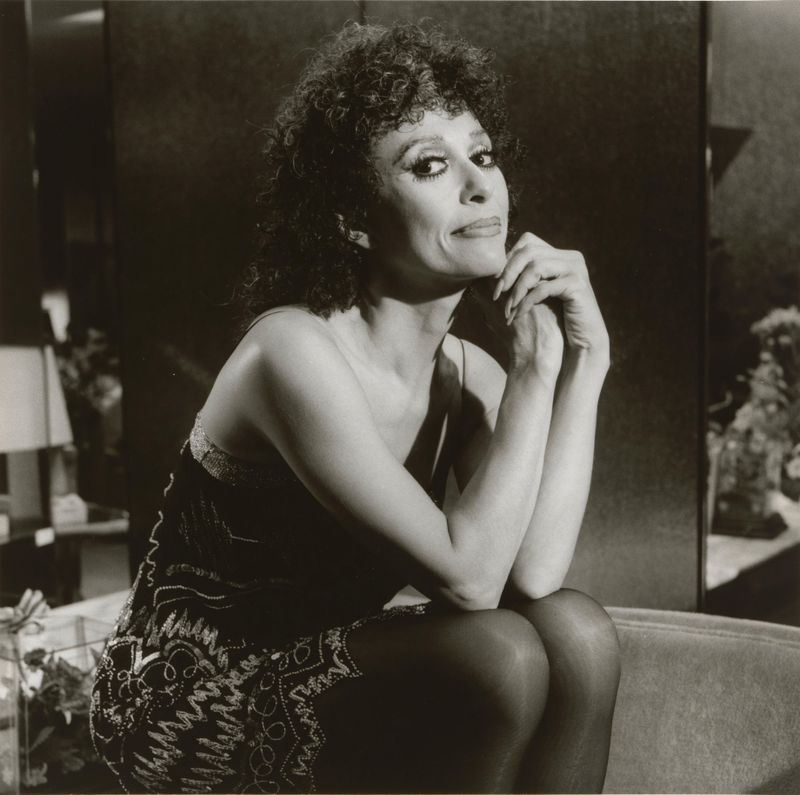 Seated with elbows on knees in an anonymous, impersonal setting suggestive of a hotel room, Puerto Rican actress Rita Moreno turns her eyes to the camera. Not quite smiling, Moreno is composed but seemingly fatigued; her accentuated eyelashes do not conceal the sorrow in her eyes, and her exotically patterned dress, smooth stockings and long fingernails play second fiddle to her arresting gaze.
The black and white image was taken by fellow Puerto Rican ADÁL, a photographer committed to documenting the nuanced lives of Puerto Ricans in answer to long-held stereotypes. There's no doubting that his work has made an impact. As curator Taína Caragol notes, "A collection of 100 portraits, including this one of Rita Moreno, was published alongside biographic essays on each sitter in The Puerto Rican Experience, edited by Luis Reyes Riviera and Julio Rodríguez, in 1984. A year later, this book became a part of the social studies curriculum in the New York public school system."
Moreno was an ideal subject for ADÁL. She is perhaps best-remembered for her role as Anita in the film adaptation of the street gang musical West Side Story, which centers on an unlikely romance in the midst of a turf war between whites and Puerto Ricans. Moreno earned a Best Supporting Actress Oscar for her work (the film itself was named Best Picture of 1961). Even so, stereotype-driven plot arcs and the caricature-like quality of songs like "America" meant that Moreno could never be fully true to her own lived experience.
This sad reality dogged her in subsequent years. Stuck in typecasting hell, Moreno soon decided to duck out of Hollywood—she was largely absent from movies for the remainder of the 1960s. And though she eventually reentered the scene, pioneering as a Puerto Rican actress while also attempting to stay true to herself and her background remained an exhausting tightrope walk. It is this weariness that ADÁL so poignantly captures in his portrait.
Spike Lee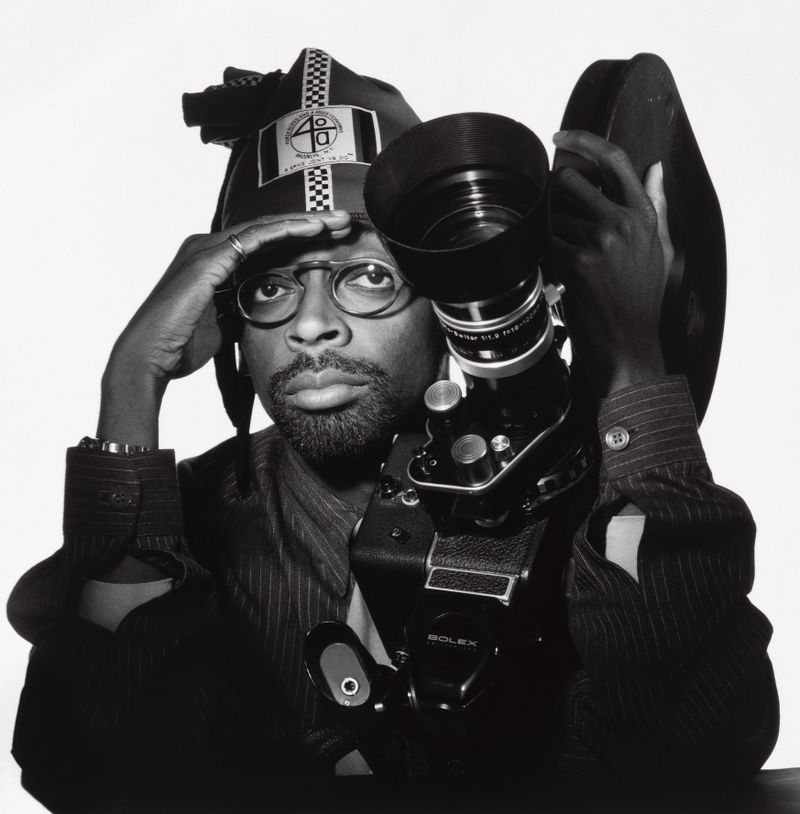 In this photograph by Jesse Frohman, acclaimed film director Spike Lee sits poised: elbows up on the table, eyes coolly focused, hulking Bolex camcorder primed for action. The crisp pinstripes of his dress shirt parallel the vertical checkerboard pattern running down his aviator hat, the exposed white sleeves of his undershirt jibe perfectly with a pale necktie, and the glint of a just-visible wristwatch is shared by a pinkie ring on his finger. At a glance, one senses that this subject is a man who knows a thing or two about crafting a distinctive image.
From the pizza parlor comedy-commentary of Do the Right Thing (1986) to the scathing urban satire of Chi-Raq (2015), Lee has never shied from contentious topics. A visionary with a lot on his mind at any given moment, Lee's passion for telling hard-hitting, personal stories is reflected in this portrait in the conspicuous Forty Acres and a Mule Filmworks insignia on his cap. Named for the Reconstruction-era promise made to freed slaves and reneged on by Andrew Johnson, Forty Acres and a Mule is Jones's proprietary production studio.
"Lee is an innovative and provocative filmmaker," says curator Ann Shumard, "who has no qualms about confronting hot-button issues of race and class in his feature films and documentaries."
Perhaps the most intriguing aspect of Frohman's image is Lee's right hand, held over his eyes as though to keep the sun out. It could be read as a salute to his community (Lee's creative products are often inspired by social phenomena), a gesture of exasperation (which Lee has voiced on numerous occasions) or simply an indication of his unwavering focus. Come hell or high water, Spike Lee is keeping his eyes on the prize.
Black Dress

Brooklyn-born figurative artist Alex Katz has long delighted in juxtaposing color in eye-popping ways, and the nine doorframe-scale portraits comprising his recent "Black Dress" series are no exception. Clad in trim, flattering shifts as dark as a starless night sky, his silkscreened subjects grace goldenrod backgrounds, leaning with practiced aplomb against the walls of their rectangular confines. With one hand draped over her waist, the other held playfully aloft, and a sly smile on her face, each profiled woman has a cosmopolitan elegance to her.
In this particular Black Dress print, which the Smithsonian acquired from New York's Mary Ryan Gallery, Katz's subject is Christy Turlington, an A-list model who rose to prominence representing Calvin Klein. Over the years, Turlington has used her high visibility to advocate for mothers' rights across the globe. She is the founder of the non-profit organization Every Mother Counts, and in 2010 composed a documentary film titled No Woman, No Cry to shed light on the experience of pregnancy in disparate parts of the globe.
Turlington, a confident subject who stares directly at the viewer, complements well Katz's own unflinching style. "The work epitomizes the monumental scale, saturated colors and radically flattened shapes that have characterized Katz's work since the 1960s," says curator Asma Naeem. Katz has always been a visually bold creator—his earliest work helped to transition the country toward pop art.
Francis Scott Key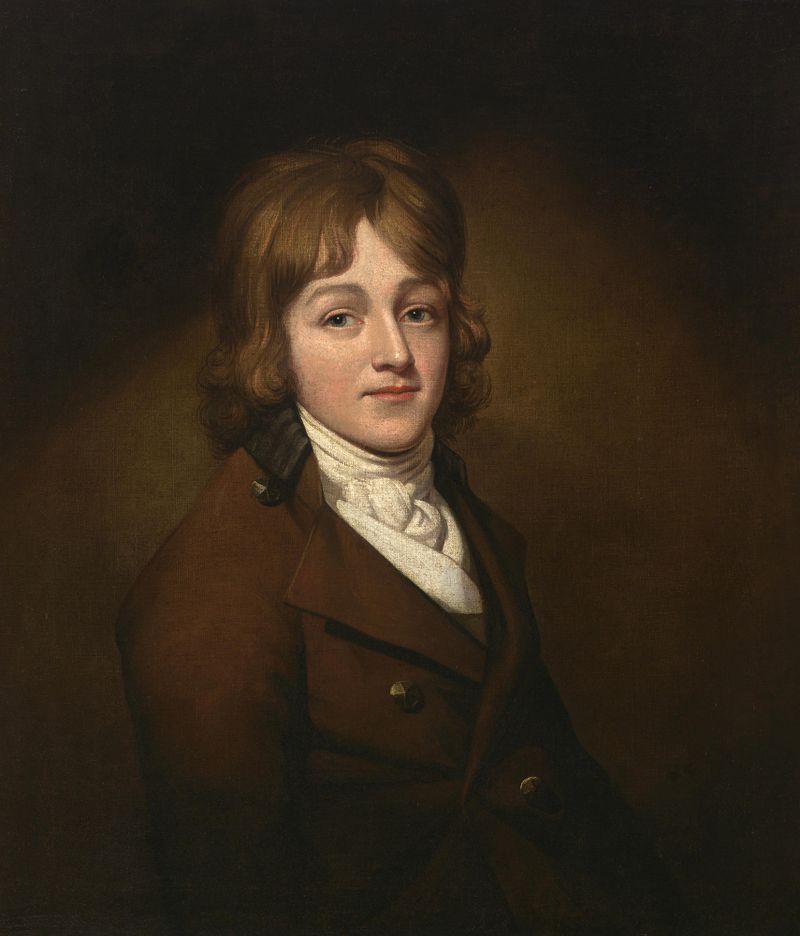 Standing straight and tall, a boyish Francis Scott Key sports a gingerbread-colored topcoat, a tasteful white cravat, and a mane of flowing tawny hair. Key's locks are dense enough to render his ears invisible, but his soft gray eyes—and arched eyebrows above—figure prominently, fixing the viewer with a look part curious and part judgmental. When a young Rembrandt Peale painted this portrait in the vicinity of 1796—the year Key concluded his studies at St. John's College in Maryland—he could not have known that his lawyerly subject would one day be a household name. Yet even at this moment, Key's shrewd gaze and confident bearing seem to mark him for serendipitous success.
The moment that immortalized Key, of course, came during the War of 1812, around two decades later, when some British sailors whose vessel he had boarded to broker the release of an American prisoner refused to let him go until the conclusion of a naval raid launched against the coastal Baltimore bastion of Fort McHenry. Pent up on a truce ship with little more than pen and paper, Key found himself moved by the sight of the American flag waving nobly over the embattled fort come morning. On the spot, the amateur poet scribbled out some verse—by the early 20th century, his lyrics would be officially canonized in the United States national anthem.
Ed Note: This article has been updated. Rembrandt Peale, not Charles Wilson Peale, is the artist of this portrait.
The World Renown [sic] Long Tack Sam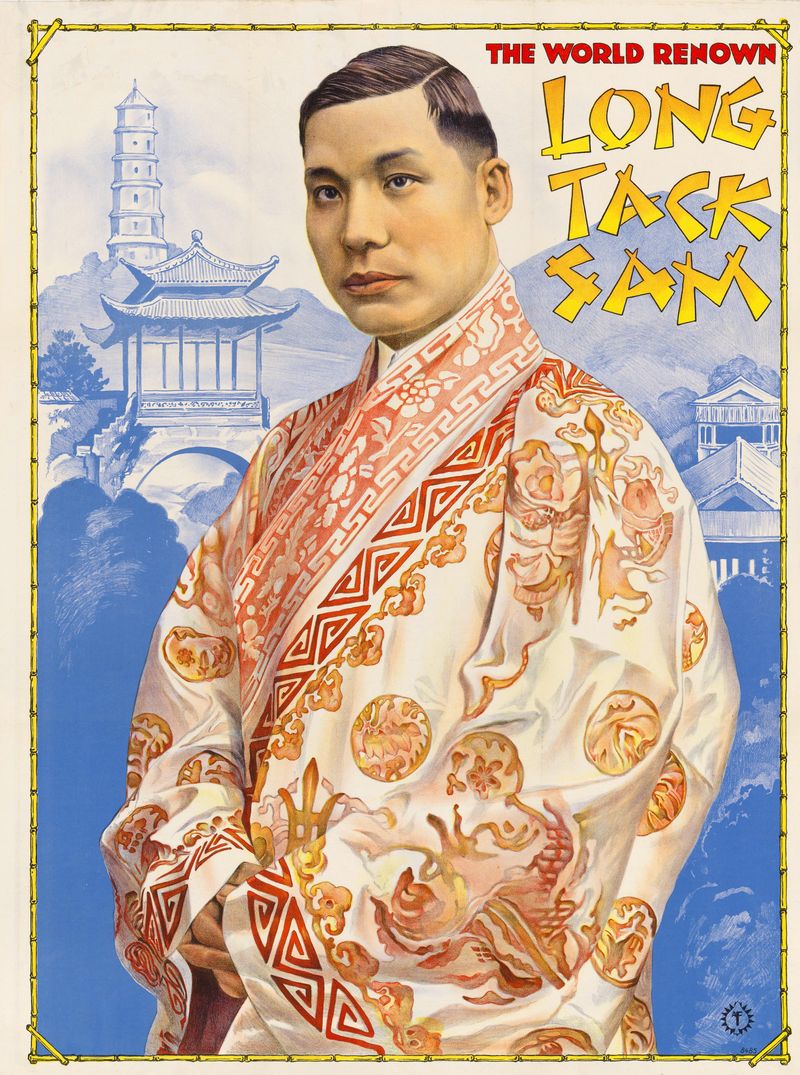 Shrouded in an ornately patterned silk robe, early-20th century magician Long Tack Sam gazes outward from this German-made vaudeville advertisement, his hands folded and his expression impenetrable. Long was born in China, and his portrayal in the lithographed poster is couched in the symbolism of a fantastical, wondrous Orient—the sort of marketing white audiences such as those Long performed for in New York City would be inclined to eat up. A mysterious shrine protrudes from the thick trees over Long's right shoulder, his name appears in a faux-Chinese font, and the whole scene is presented in a frame of vivid yellow bamboo.
Long himself was in many cases intent on bucking stereotypes. As curator Robyn Asleson notes, his career provided a rare alternative to the rampant yellow-face fare that aimed to exploit Asian culture without including any actual Asians at all, and he was a prominent critical voice in the entertainment industry more broadly. "He wrote newspaper articles correcting misconceptions of his homeland," says Asleson, "and refused invitations to appear in early Hollywood films featuring negatively stereotyped Chinese opium addicts, criminals and laundry workers."
Nevertheless, Long successfully drew on some of the less overtly harmful preconceptions of Asia to sell his tickets. "He made conscious use of luxuriously embroidered costumes and elaborate scenery in order to enhance his mystique," Asleson says, "and capitalize on Western notions of China."
Whatever his methods, the fame Long Tack Sam attained in his day was undeniably remarkable. America's bigoted Chinese Exclusion Act, passed in 1882, denied Long citizenship, and kept him in constant motion. Long managed not only to keep his career alive over the course of this globetrotting, but to amass an adoring international following.
Gertrude Hadley Jeannette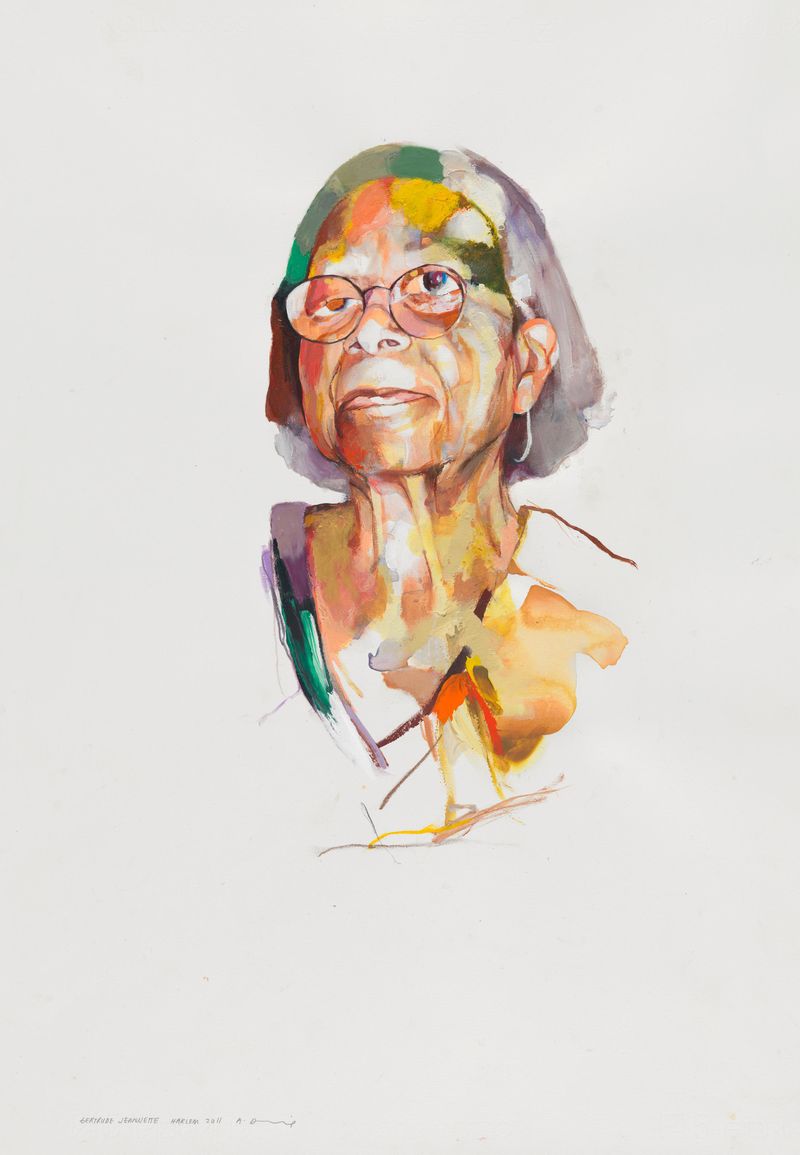 Off-center in a field of plain white are the head, neck and upper torso of Harlem theater icon Gertrude Jeannette. Colored with surreal vividness by mixed media maestro Alex Daniel, Jeannette has the appearance of a benevolent, kind-hearted ghost; one can imagine her presence lingering in the Broadway auditoriums where once she held court, silently imparting inspiration to the young actors now following in her artistic footsteps.
Commissioned by Harlem's National Black Theater, which seeks to proactively and provocatively explore the African-American experience through drama, Daniel composed his piece across several sessions in 2011. "For each of his sittings," says curator Asma Naeem, "he spends much time looking at and trying to assess the 'aura' of the individual." Incorporating acrylic paint, colored pencil, oil stick (akin to pastel) and spray paint, Daniel created a zesty pastiche, bringing to life the exuberance and texture of the actress's "aura."
In her heyday, Jeannette delighted audiences in stage shows like Lost in the Stars and Amen Corner, as well as movies such as Shaft and Cotton Comes to Harlem. A free spirit who loved immersing herself in her community, Jeannette was also the first female cabbie ever to work the Big Apple beat.
In 1979, Jeannette founded in Harlem a group called the H.A.D.L.E.Y. Players, dedicated to seeking out and cultivating theatrical talent in her neighborhood. Her inclusivity and open-heartedness continue to benefit New York youths to this day. Naeem sees the all-are-welcome attitude of Jeannette mirrored in the diverse color palette of her portrait. In the curator's view, "Daniel's colors—browns, ochres and umbers—accentuate Jeannette's presence as an accomplished community leader."
Madeleine Albright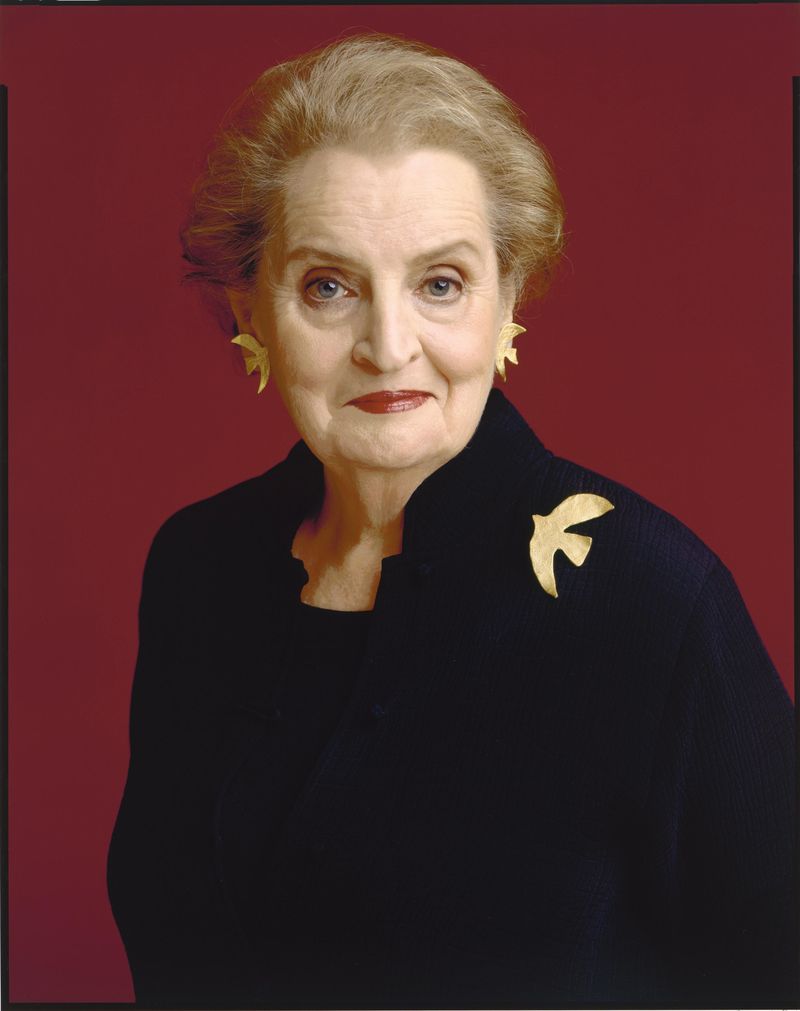 In Timothy Greenfield-Sanders's uncluttered portrait, former Secretary of State Madeleine Albright looks straight ahead, the serene blue-gray of her eyes complemented by a game half-smile. Standing before a field of solid burgundy, Albright wears a jacket of deep, noble blue, inviting the viewer to consider her brightly lit face, and the resolute expression it bears.
Also of note are Albright's few accessories: a prominently displayed brooch depicting a golden bird in flight and a pair of earrings to match. Tacit symbolism is a key skill for high-ranking members of the State Department, and Albright is a master. She "has often employed her collection of brooches as a form of diplomatic communication," says curator Ann Shumard. "The dove-shaped pin seen in this photograph was given to her by the widow of slain Israeli prime minister Yitzhak Rabin," Shumard notes, "and was worn by Secretary Albright while she was engaged in Middle East peace negotiations."
Albright's doves surely imply a wish for ultimate peace in the geopolitical hotspots of the globe, but in the context of this portrait, their significance is even broader. In 1997, Albright became the first-ever woman to hold the position of Secretary of State, setting a precedent that would soon be built upon by Condoleezza Rice and Hillary Clinton. Additionally, she was only the second foreign-born individual to reach the rank she did (after Henry Kissinger), having immigrated to the U.S. from Czechoslovakia as a girl in the late 1940s. Those doves Albright is sporting speak not just to peace, then, but to the potential of women and immigrants in America to soar to heights once thought inaccessible.
Sarah Chang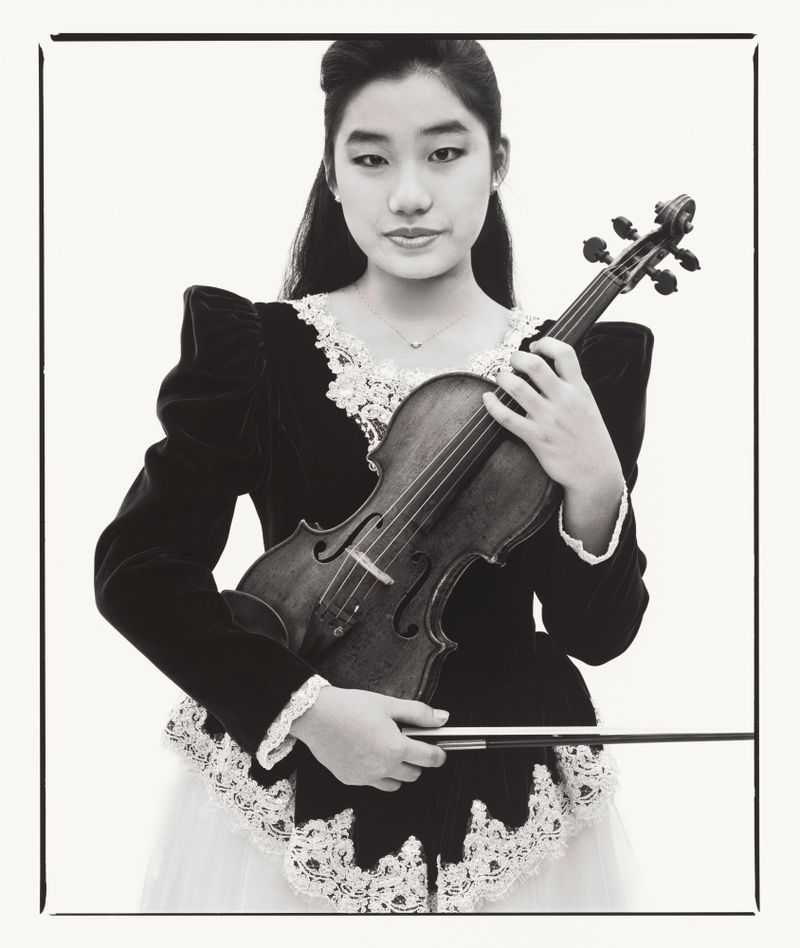 It was in 1986 that Sarah Chang wowed a panel of Juilliard judges with a Bruch concerto, securing entrée into America's most prestigious music academy and prefiguring a successful solo career. She was five years old at the time.
The Korean-American prodigy has since played hundreds of concerts all across the world, and has appeared with the Berlin Philharmonic, the New York Philharmonic, the Hong Kong Philharmonic Orchestra and the Orchestre National de France, among dozens of other esteemed groups. In 2004, Chang bore the Olympic torch, and by now, she is a seasoned cultural ambassador, a winning representative of America's better angels.
In Jesse Frohman's black-and-white portrait of Chang, just donated to the Smithsonian, the violinist regards her viewer with steely self-assuredness. The way she cradles the wooden frame of her instrument makes it clear it is a possession she holds near to her heart, figuratively as well as literally. Her drawn-back, cascading hair and soft blouse—accented with lace—create an image of beautiful simplicity. It is just that sort of effortless grace Chang has projected in her countless performances since girlhood.
Memorial to a Marriage
Though Patricia Cronin's sculpture Memorial to a Marriage portrays a pair of nude subjects entangled beneath a bedsheet, the impression it gives is not one of fiery eroticism, but rather of warm, abiding tenderness. Both of the women depicted are at rest, eyes closed; one subject nestles up against her partner's neck, a smile on her sleepy face, her free arm arced across her companion's torso. It is an intimate but quotidian scene: a picture of two women in love.
The two women, in fact, are Cronin herself and her longtime partner Deborah Kass. Initially, as its dark title suggests, the work was conceived as a statement on the impossibility of a simple human dream. "Cronin created the original marble sculpture in 2002, before same-sex marriage was legal in New York," notes curator Dorothy Moss. Cronin installed the stone "memorial" in a Bronx cemetery, on a plot of land she paid for.
Now, 15 years later, the significance of the art has evolved. The bronze cast donated to the Smithsonian by Chuck Close, a dear friend of the couple, still harbors the melancholy of loving whom you love in a disapproving world—but it also inspires more hope than ever before that that love will triumph in the end. Cronin and Kass did tie the knot, in 2011, and gay rights movements across the world have continued to find success in their pursuit of freedom and acceptance in the years since.