Celebrating Olympics Season at the American Indian Museum
The American Indian Museum tells the stories of indigenous Olympians both past and present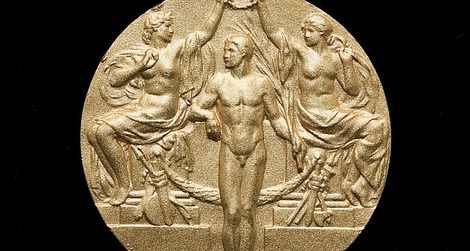 A hundred years ago at the Stockholm Olympics, Jim Thorpe of the Sac and Fox tribe swept the events of the pentathlon and decathlon, prompting King Gustav V of Sweden to name him "the greatest athlete in the world."
The International Olympic Committee later stripped Thorpe of his two gold medals after learning that he had briefly played professional baseball, violating the rule banning professional athletes from Olympic competition. In spite of the scandal, the king's title stuck and Thorpe became a legend of American athleticism. In 1983, the Committee presented replicas of his medals to his family as an acknowledgement of his achievement.
These replica medals, en route to this year's London Olympic Games, are making a pit stop at the American Indian Museum through July 9 as part of the exhibition, Best in the World: Native Athletes in the Olympics, which showcases native athletes who have fought their way to Olympic glory since the Stockholm games.
And there have been quite a few. Along with Thorpe's medals, the exhibition displays the silver medal won by Thorpe's teammate, Hawaiian swim champion Duke Kahanamoku in 1912, and the gold medal won by Billy Mills of the Oglala Lakota nation in the 1964 10,000 meter race—the only time an American has ever won that race. Besides these standouts, many other indigenous athletes left their own marks on the Games: Andrew Sockalexis (Penobscot), who placed fourth in the marathon in 1912; Lewis Tewanima (Hopi), who set the American record for 10,000 meters that same year, before Billy Mills broke it; Clarence "Taffy" Abel (Ojibwe), who won a silver medal as part of the 1924 U.S. Olympic ice hockey team and later became the first U.S.-born player in the National Hockey League; Ellison Myers Brown (Narragansett), who ran the marathon at the 1936 Olympics; Sharon and Shirley Firth (Gwich'in), twin sisters who competed in the 1972, 1976, 1980 and 1984 Games in cross-country skiing; Theoren Fleury (Métis/Cree), who won a gold medal in 2002 in ice hockey, and Carolyn Darbyshire-McRorie (Métis), who won a silver medal in curling in 2010—among many more.
Why did so many Native Americans excel in the Games? Curator Jim Adams attributes their success to three geographic traditions of native athleticism. First, the Carlisle Indian School, a boarding school founded to assimilate young Native Americans, boasted an exceptional athletic program, which nurtured Jim Thorpe's talent and sent him to Stockholm. Secondly, the sport of running has long been considered a religious practice by tribes in the southwest and northern woodlands of North America. Third, Hawaiian beach culture and surf tradition bred water sport superstars like Duke Kahanamoku.
Kahanamoku's gold in the Stockholm 100-meter freestyle and silver in the relay was "a statement of native identity," says Adams. Kahanamoku collected three gold medals and two silvers over his career, triggering a decades-long "Hawaiian dynasty," as Adams calls it, in Olympic swim and surf contests.
The Carlisle School and its athletic program shut down shortly after Thorpe's medals were stripped, making it much harder for native athletes to reach the Olympics. "Without that infrastructure and coverage of the simple expense of travel, that shut off a very important resource," Adams says. "The barriers to participating in the Olympics, just the financial ones alone, are pretty steep." Native interest in the Games flagged as a result.
But they got a jolt of excitement 48 years after Thorpe, when, Billy Mills broke the American record set by Tewanima. As Mills sprinted to the finish line, a TV sports analyst started screaming, "Look at Mills! Look at Mills!" The dramatic moment helped reinvigorate native interest in the Games, according to Adams. "Billy Mills has inspired several new generations of athletes," he says.
This summer, there are several native Olympic hopefuls who are likely to compete, including swimmer Mary Killman (Potowatomie) Canadian boxer Mary Spencer (Ojibwe) and runner Alvina Begay (Navajo). Besides celebrating the past, the exhibition also tracks in real time the journeys of these athletes to London through a news feed on their website.
 "Best in the World: Native Athletes in the Olympics" is on view at the National Museum of the American Indian through September 3, 2012.
Read more about the Olympics at Smithsonian.com