Celebrate the Cherry Blossoms With Hokusai, the Old Man Mad About Art
Meditate on "36 Views of Mt. Fuji" by Japan's most famous artist, Katsushika Hokusai, at the Sackler Gallery March 24 through June 17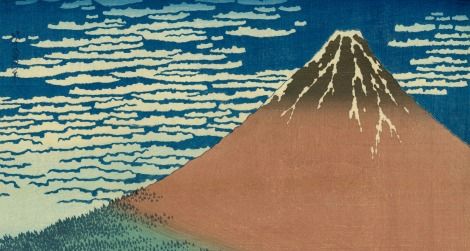 The scenes depicted in Katsushika Hokusai's famous woodblock print series, "36 Views of Mt. Fuji," are usually tranquil—fishermen, peasants and bricklayers going about their daily business in the shadow of Mt. Fuji's ever-present profile. The reality, however, was turmoil. In 19th-century Japan, "the political capital is tense with action," explains James Ulak, Curator of Japanese Art at the Sackler Gallery. "The government is wobbling, they've had a willy-nilly ten years, but things are collapsing. There are two great factions in the Japanese government: one ready to open up to the west, to modernize, and the other to seal things off." This tension came to a head in 1854, when Commodore Matthew Perry's "Black Ships" sailed into Edo Bay to demand that Japan open its ports for trade, bringing two hundred years of sakoku, or seclusion from the world, to an end.
And as this political climate was brewing, Japanese and Western art began to awaken to each other's existence.
The Sackler Gallery's exhibition of Hokusai's "36 Views of Mt. Fuji" charts the beginning of this relationship. The exhibition is part of the Cherry Blossom Festival's centennial celebration of Japan's original gift of 3,000 cherry trees to Washington—and, in this spirit, highlights the cultural exchange that was starting to creep into Japanese art.
Katsushika Hokusai (1760-1849) was one of the first print artists of his time to incorporate foreign influences in his work. Studying forbidden Dutch pastoral landscapes that had been smuggled into Japan by traders, he used western styles of realism, perspective and shadow to create a new Japanese print style.
"I think what he brought to the Japanese print was the combination of Chinese, Japanese and European ideas. And his ideas were always changing," says the show's curator Ann Yonemura. A revolutionary at 70 years of age, Hokusai's "36 Views" was the first major Japanese print series to depict landscapes. His interest in commoners was also a significant departure from the norm.
"The Japanese print really focused on celebrities, on courtesans and kabuki actors," explains Yonemura. "Hokusai's work is different in that he does include ordinary people, peasants, people who are just doing hard labor."
To Hokusai, ordinary people were not just passive subjects, but also possible artists. "He had this idea that anybody could draw," Yonemura says. "So he did a bunch of illustrated painting manuals to teach amateur artists and artist wannabes and Hokusai wannabes how to do the 'Hokusai' method." The Hokusai method meant training yourself, as Yonemura defines it, "to see the inner life force of something and capture it."
As Hokusai himself put it, "At seventy-three, I began to grasp the structures of birds and beasts, insects and fish, and of the way plants grow. If I go on trying, I will surely understand them still better by the time I am eighty-six, so that by ninety I will have penetrated to their essential nature. At one hundred, I may well have a positively divine understanding of them, while at one hundred and thirty, forty, or more I will have reached the stage where every dot and every stroke I paint will be alive."
"The Old Man Mad About Art," as he called himself, never faltered in his dedication to this mission. "36 Views" is still vibrantly alive even 150 years after his death at 88 in 1849. Long after sakoku ended, Hokusai's influence on artists that came after him, Eastern and Western alike, remains strong. The Mt. Fuji prints are familiar all over the globe ("The Wave" seems to be required decoration for every college dorm room). Yet few people have ever seen the entire print series in one place. "This is the only time I have seen the series all at once," Yonemura says. "It is an extremely rare opportunity. It's probably once in a lifetime."
"Hokusai: 36 Views of Mount Fuji" opens at the Sackler Gallery tomorrow, March 24 and will be on view through June 17. View the online exhibit here.