Catching Up With Danilo Pérez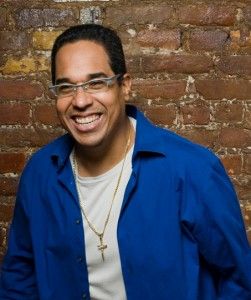 Last month, celebrated contemporary jazz pianist and bandleader Danilo Pérez received a Legacy Award from the Smithsonian Latino Center. Not familiar with those? The awards are designed to recognize individuals of Latin heritage who have made "a significant impact on American culture through their work and vision." This year's awards were part of the 2009 programming series "Panama at the Smithsonian."
A Grammy-winning artist, Pérez is influenced by the likes of Thelonious Monk and Dizzy Gillespie, but he brings a world music sound to his playing. And he doesn't forget those around him.
"Danilo Pérez has all of the attributes of a performer, conductor, impresario and purveyor of musical expression greatly needed in these uncertain times. His effort to bring to the world a beacon of hope and inspiriation . . . is a prime example of confidence in a future laden with cornucopian gifts for all humanity," says frequent bandmate jazz saxophonist Wayne Shorter.
A star not just on the keys, Pérez is dedicated to helping others, as a former cultural ambassador to his native Panama and a goodwill ambassador to UNICEF. As the founder of the Panama Jazz Festival and the Danilo Pérez Foundation, he continues to spread cultural and musical knowledge to those less unfortunate than himself.
I caught up with Pérez on his European tour with the Wayne Shorter Quartet and via email we had this exchange.
What does receiving the Legacy Award from the Smithsonian Latino Center mean to you?
It is a great honor to receive the Legacy Award, I was very thankful to meet such distinguished Panamanians and learned a lot from them. I hope I have another opportunity to spend some time with them.
Why is it especially important in today's environment to provide kids with opportunities for cultural and artistic enrichment?
Because when you provide cultural enrichment, and in the case of music for example, many social behaviors that are essential for the betterment of society are practiced on a regular basis. These include tolerance, teamwork, acceptance, active and passive listening, among many others. If we do not practice these positive behaviors, we end up easily sedated by the world that surrounds us with materialistic thoughts.
You've obviously played with many impressive musicians during your career; what's your favorite piece of advice that's been passed on to you?
That "music is only a drop in the ocean and that you end up playing who you are." (from jazz saxophonist Wayne Shorter)
What first drew you to jazz, and what keeps bringing you back?
The thing that drew me to jazz was improvisation. There is something mystical about composing on the spot. It is like life, from one tiny cell, something new can be created. When this happens, minds are opened, and they see things that are unseen to the eye, but visible to the soul.
Would you rather be known for your technical skill or your improvisational savvy?
I would rather be remembered as a story teller with my instrument and someone who spent most of his life doing philanthropic work.
What's the one thing you'd like an audience to take away from a live show of yours?
I hope I can one day inspire Hope to audiences. This is something extremely difficult to do, but I believe when you live in Hope, it eventually passes from your music to your audiences. This means the audience feels fresh, happy, ready to start a brand new day, even if that means making some changes in your life.
What are some records you're digging now? And who are some artists you'd like to work with in the future?
Courage by Milton Nascimento
Strange Fruit by Billy Holiday
Fiddler on the Roof by Cannonball Adderley
The artists I would love to work one day include Milton Nascimento (singer/songwriter from Brazil), Sibongile Khumalo (singer from South Africa) and Trilok Gurtu (percussionist from India).