Catch Them Before They Close!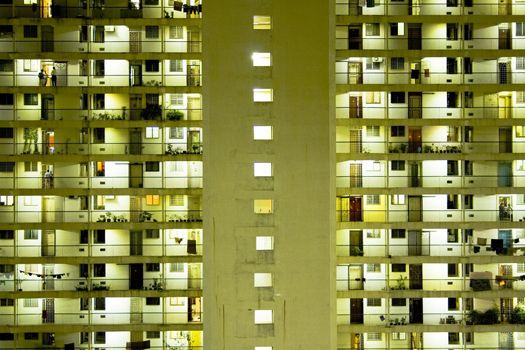 All good things must come to an end and this week, we must bid adieu to several exhibits closing in early August. Be sure to see them before they close and are gone forever!
Black Box: Chris Chong Chan Fui -- Closing August 1, 2010
The Hirshhorn's Black Box theater showcases exhibitions of contemporary artists who use film or video as their creative medium. Chris Chong Chan Fui's short film Block B captures dramas that unfold night and day on the various floors of a huge apartment complex, that houses Indian expatriates working on temporary contracts. The artist contrasts the static cinematography with vivid unpredictable narrative. Block B suggests issues related to surveillance and voyeurism, but also evokes the dramatic elements that are part of the fabric of daily life.
A Rare Encounter: Hope Diamond and Wittelsbach-Graff Diamond -- Closing August 1, 2010
In this exhibit at the Natural History Musem, the Wittelsbach-Graff Diamond and the Hope Diamond are displayed together for the first time. The Wittelsbach-Graff's deep blue color, flawless clarity, and royal history make it one of the most celebrated gemstones known. Its story goes back over 340 years, and the diamond has not appeared in public for more than 50 years. Both diamonds come from India and share the same rare blue color. Could they have come from the same mine? Smithsonian scientists compare the properties of both gems and explore this intriguing possibility. While the exhibit closes August 1, the Hope Diamond will continue to be on view on the second floor of the museum.
HIDE: Skin as Material and Metaphor: Part 1 -- Closing August 1, 2010
The featured artists selected for this exhibition at the American Indian Museum's George Gustav Heye Center in New York draw upon this rich subject in multifaceted ways, using both the material and concept of skin as a metaphor for widespread issues surrounding race, representation, as well as personal, historical and environmental trauma and perseverance. Part I includes solo installations by Sonya Kelliher-Combs (Inupiaq/Athabascan) and works by Nadia Myre (Anishinaabe).
Brian Jungen: Strange Comfort -- Closing August 8, 2010
Brian Jungen is widely regarded as the foremost Native artist of his generation; his art transforms the familiar and banal into exquisite objects that reference themes of globalization, pop culture, museums, and the commodification of Indian imagery. He first came to prominence with Prototypes for New Understandings (1998-2005), which fashioned Nike footwear into masks that suggested Northwest Coast iconography. His work has also included a pod of whales made from plastic chairs, totem poles made from golf bags, and a massive basketball court made from 224 sewing tables. This exhibit at the American Indian Museum in D.C. features some of these iconic works as well as some pieces which have, until now, never been shown in the United States.
Ramp It Up: Skateboard Culture in Native America -- Closing August 8, 2010
This exhibition at the Heye Center features rare and archival photographs and film of Native skaters, as well as skatedecks from Native companies and contemporary artists, to celebrate the vibrancy, creativity, and controversy of American Indian skate culture. Skateboarding is one of the most popular sports on Indian reservations and has inspired American Indian and Native Hawaiian communities to host skateboard competitions and build skate parks to encourage their youth. Native entrepreneurs own skateboard companies and sponsor community-based skate teams. Native artists and filmmakers, inspired by their skating experiences, credit the sport with teaching them a successful work ethic.
Graphic Masters III: Highlights from the Smithsonian American Art Museum -- Closing August 8, 2010
On view are watercolors, pastels, and drawings from the 1960s to the 1990s, to celebrate the extraordinary variety and accomplishment of American artists' works on paper. The works on view reveal the central importance of this medium for American artists, both as studies for creations in other media and as finished works of art. Artists represented include such masters as Robert Arneson, Jennifer Bartlett, Philip Guston, Luis Jimenez, and Wayne Thiebaud.