Catch the Animals at Night at ZooLights!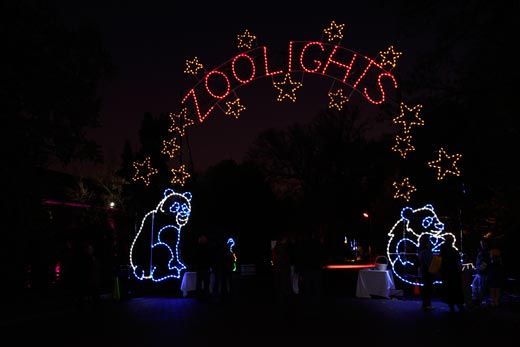 'Tis the season for ZooLights at the Smithsonian National Zoo! More than 50 light sculptures—everything from Asian elephants to an octopus, golden lion tamarins to the more obscure kori bustards—line the path from the Panda Plaza, on the zoo's north end, to the Kids' Farm, in the southeast corner (see map).
The zoo expanded its cast of characters since last year, adding zebras, naked mole-rats (FYI: those are wrinkly, buck-toothed rodents), a blue crab and a cuttlefish designed by eight-year-old Aubrey T. of Lorton, Virginia. And so you don't toss your kettle corn, I'll forewarn you; some of the critters move. There's a skulking leopard, flying bald eagle, fluttering hummingbird and a prairie dog popping out of its burrow, among other dynamic displays.
For those worried about the energy tied up in the spectacle, one fact softens the blow. The ZooLights display is powered by 100 percent LED lights, which use about one-tenth of the energy of incandescent bulbs. The 35-by-25-foot archway—ZooLights' largest exhibit with 1,100 bulbs, featured in our abridged, virtual tour above—uses 385 watts per hour compared to the 5,400 it would expend if it were lit by incandescents. Just think, that's less than four 100-watt bulbs burning in your lamps at home.
The event takes place from 6 to 8:30 p.m. every Friday through Sunday until December 14 and then every night (except Christmas Eve and Christmas day) from December 18-30. Here's a tip. Pick the night to visit, based on the entertainment offerings. Here's the schedule:
Strolling Performers
December 12 – Madrigal Singers from Barrington High School in Barrington, Illinois, will be caroling. (They have performed at the White House before and will be making another visit there this trip.)
December 19 – The Capitol Blend Singers, a D.C.-based, all-female a capella group, will serenade guests.
Performances on the Main Stage at 6:15, 7 and 7:45 p.m.
December 13-14 and December 18-21 – Alberta, Canada's Evergreen Theatre performs A Midwinter's Tail, a new play written for the zoo about how animals cope with winter.
December 22-23 – The Washington Revels singers blend music, dance, drama and poetry in celebration of the Winter Solstice.
December 26-30 – The Barefoot Puppet Theatre performs Little Red & The Gingerbread Man. You got it—a cross between the two popular fairy tales.
Tickets to ZooLights are $6 for Friends of the National Zoo (FONZ) members, $12 for nonmembers and $10 with a coupon available at participating Giant grocery stores.
See a photo gallery of ZooLights here.