Catch Dengue Fever at the Freer on Friday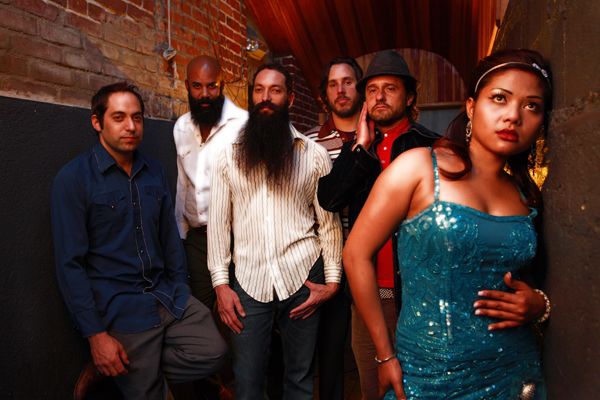 Have you got chills of anticipation as the hours draw closer to tomorrow night's Asia After Dark, the thrice-annual, after-hours party at the Freer and Sackler Gallery? Most likely you've contracted a serious case of Dengue Fever.
But don't sweat it. We're not talking the joint pains and hemorrhaging variety, we're talking the Los Angeles-based band started by American brothers Ethan and Zac Holtzman. During a trip to Cambodia in the late 1990s, keyboardist Ethan became enamored with the swirling psychedelic strains of late 60s- early 70s-era Cambodian pop, and it turns out it wasn't just a fleeting infatuation. He went on to start the group, "Dengue Fever" in 2001 with his guitarist brother Zac, recruiting traditional Khmer singer Chhom Nimol almost as soon as she arrived in the U.S. from Cambodia. With Senon Williams (bass) and Paul Smith (drums) rounding out the rhythm section, plus David Ralicke on horns, their line-up was complete. Dengue Fever's unique blending of genres—equal parts Cambodian pop and American modern rock—combined with the fact that most of the vocals are in Khmer, gives them an almost unearthly sound.
The mini-rockumentary Sleepwalking Through the Mekong (2007) follows Dengue Fever during their 2005 tour of Cambodia. The trip represented a homecoming for lead singer Nimol, and an exotic journey for the rest of the band, one in which they could immerse themselves in a new culture and perform with skilled musicians, as well as local children. The group works with Cambodian Living Arts, an organization that support the revival of traditional art forms.
Sleepwalking Through the Mekong will be playing at the Freer Gallery this Friday night, September 24. While the group won't be performing here, you can still catch band members Zac Holtzman and Senon Williams, as they make their Smithsonian rounds this week. They'll be chilling out at Asia After Dark tomorrow night, and then hanging out at the film screening on Friday.
I interviewed the brothers Holtzman, along with lead singer Chhom Nimol, via email below.
Ethan and Zac, what was it about Cambodian pop that hooked you and inspired you to mix it with American psychedelic rock?
Ethan: Well, to be honest the Cambodians mixed in the psychedelic elements first. They heard Western bands from the 60s, during the Vietnam War, and its influence found its way into some of their traditional songs. I think the vocals sung in the native tongue are what caught my ear. There is something so snaky and elegant the way the voice peaks and dips and cracks into a lower register.
Zac: We were inspired by the music coming out of Cambodia in the late 60s and early 70s. They were listening to the garage, surf, psychedelic rock being broadcasted out to the troops fighting the Vietnam/Cambodia war.  The cool thing is that they added their own thing to the style of music, instead of just emulating it.
I take it you're not the typical band touring in Cambodia. What kind of reactions do you generally get from the audience there?
EH: There is a cultural difference in the way Cambodian villagers respond to a live show. They could love the music and it would be dead silent in between songs. No applause. But most of the shows we played had a mixed crowd of Cambodians and Westerners and they got pretty crazy at our live shows.
ZH: I think our music brings back powerful emotions in some of the older people that lived through all the turmoil. The younger people are just rocking out and going crazy. We played in one building that had no AC and there was about six hundred people packed in there melting into one hot lava flow.
Chhom, Sleepwalking Through The Mekong has been described as a homecoming for you. What kind of emotions did the tour stir up?
Chhom: During that trip I felt nervous, emotional, and happy at the same time. I had the jitters wondering how would the Khmer audience respond to our music. I was happy and emotional to see my family since I've been away from Cambodia for quite some time.
What was your favorite part of the Cambodian tour documented in the film?
EH:  I like the scene where we are in a run down apartment rehearsing for a show with the kids from Cambodian Living Arts (CLA). It was so real and emotional to see the passion that the kids had for their music.
ZH: Collaborating with the CLA kids. Working together with them almost made me cry with joy. We got to perform with them again on our last trip to Cambodia. They shared the stage with us and sang a good number of our songs. Too much fun.
Describe your music in three words, using all nouns.
EH: Syncretism. Groove. Hypnosis.
ZH: That's your job!
There are quite a few brother-based bands out there–in a royal rumble between the Gallaghers (Oasis), the Robinsons (The Black Crowes) and the Holzmans, who do you think would end up on top?
EH: I know that the Black Crowes are big stoners, so I think we could take them out. Didn't Oasis break up because the Gallaghers couldn't get along? With that said, our brotherly bond is strong so I think we could take them out. Although they may have security which would be difficult to get around . . . but not impossible.
ZH: We're not fighters, we're lovers.
You've really embraced Cambodia as a whole, taking part in Cambodia-focused charitable organizations. Why do you think this is essential?
EH: It is very important because Cambodia has been through so much in its history. We need to help out and work with the organizations that are dedicated to preserving Cambodia's rich musical history. We work closely with Cambodian Living Arts, which helps teach kids traditional songs, instruments, and dances. We also work with Wildlife Alliance and the World Wildlife Fund to help stop the poaching of animals in Southeast Asia.
ZH: It's not "essential," it just feels right. We're over there working with the kids in Cambodian Living Arts, and it's only natural to want to help them.