Carry-all for Homeless Wins Design Competition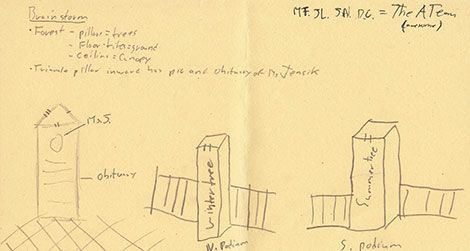 The Smithsonian's Cooper-Hewitt, National Design Museum recently announced the winners of a contest intended to challenge students to integrate innovation into their communities. Thirteen teachers from seven schools submitted plans for products that would solve a local problem identified and chosen by the students.
"We are always impressed with what kids come up with," said Kim Robledo-Diga, professional development manager at the Cooper-Hewitt. "Kids have a unique perspective on their community, and usually pick up on challenges that adults don't see."
That perspective resulted in three winning designs from schools across the country. The first-place prize of $5,000 went to the 9th-grade students of the Henry Ford Academy: Alameda School of Art + Design in San Antonio, Texas. The high school freshmen class toured a homeless shelter just around the block from their school for inspiration, and after talking with shelter volunteers and residents, came up with the idea for a carry-all bag.
The bag was designed specially for the homeless, most of whom must carry all of their possessions with them on a daily basis, said school principal Jeffrey Flores. Features of the bag included separate pockets for clean and dirty laundry, a detachable pillow and a hidden pockets for storage.
"Winning the competition gives our community, our families and our students a reassurance that there's a bigger picture when it comes to design," Flores said. "It's not just drawing or designing a video game—everything around us is involved in design. And our kids are realizing this, that it's more than just a backpack, and it's more than just making a backpack pretty."
Flores said the prize money will go toward manufacturing a prototype of the design, and he would love for his students to be able to return to the shelter and present the residents with a bag for their use.
A jury composed of experts ranging from retired industrial designers to professors of design, as well as representatives from competition sponsor Ford Motor Co. Fund, also selected second- and third-place winners.
The second-place prize of $3,000 was awarded to four 8th-grade students at the Shenandoah Middle School Museums Magnet School in Miami, Florida. They proposed a Pet Waste Station complete with disposal bins, signs and informational brochures intended to solve a dog waste problem on the sidewalks around their school.
The third-place winner was the Andrew Jackson Language Academy in Chicago, Ill. The entire school submitted a plan for a memorial to honor a kindergarten teacher who passed away. The design featured a garden with mosaic tiles illustrating the life cycle of a butterfly, a concept taught in kindergarten classes at the school. The academy received a $1,000 prize.
Robledo-Diga said the goal of the competition was to get kids to see that they have the ability to impact their communities through design, and that allowing them to take the lead on projects such as this usually produces results that surpass expectations.
"Everything around you is designed," Robledo-Diga said. "Signage, the flow of street traffic, architecture and so on, are all designed by somebody. Most communities look to their local government to address local issues. This design competition shows that kids of all ages can make real change in their neighborhood using the design process."