Caption Writing Contest #6: Winner Revealed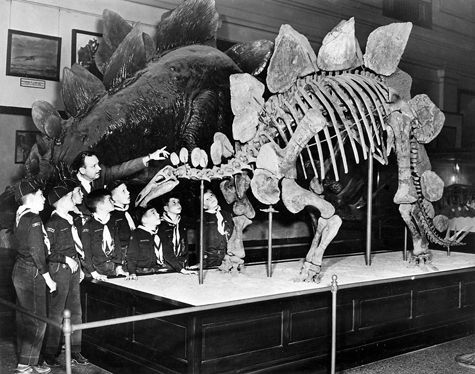 We sifted through over 100 pre-historic entries in this month's caption contest, ranging from riffs on insufficient food consumption of some type to mother-in-law jokes, but Big Steg finally has a winning caption.
See, look right there. The proof of intelligent design. It's stamped, "Made in heaven."
Many thanks to Larry Horrowitz Horowitz for his submission, and enjoy the virtual Smithsonian merit badge.
And as for the real photo caption? This image from the 1950s features a group of Cub Scouts being shown the skeleton of a Stegosaurus in the "Hall of Extinct Monsters" exhibit at the Smithsonian Natural Museum of Natural History. Behind the skeleton of the Stegosaurus looms a papier-mâché model of a Stegosaurus.
Out there in reader-land, let us know what you think.