Calling All Chocaholics. Chocolate Symposium at American History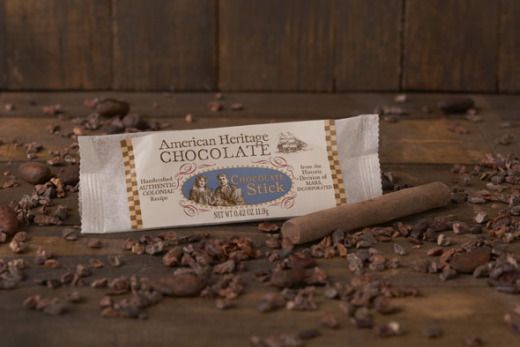 The Smithsonian's National Museum of American History is hosting "Chocolate: The North American Experience," a four-hour chocolate fest complete with presentations on the latest in chocolate research (mmm…sounds like I missed my calling), this Saturday afternoon. And we here at ATM got a heads up that Howard Shapiro, director of plant science and external research at Mars, Incorporated, and author of Chocolate: History, Culture and Heritage, will be there. He's presenting insights into the history of chocolate, and gave us these interesting facts to nibble on.
Did you know?
Chocolate was a military ration during the American Revolutionary War.
In 1768, when there was a boycott of tea from China sold by the British East India Company, patriotic American colonists instead breakfasted on coffee and chocolate.
Chocolate was drunk for its purported medicinal benefits during the Lewis and Clark Expedition and on the Overland Trails by California Gold Rush miners.
Chocolate was served at President Abraham Lincoln's second inaugural ball (at the Old Patent Office in D.C., now the Smithsonian's Reynolds Center for American Art and Portraiture). It's mentioned twice on the bill of fare.
Amelia Earhart had a cup of chocolate during her record-setting flight over the Pacific from Hawaii to the U.S. mainland on January 11, 1935.
When Sir Edmund Hillary and Sherpa Tenzing Norgay became the first people to reach the top of Mount Everest in 1953, they did not eat a bar of chocolate as was rumored. However, Tenzing buried some chocolate in the snow as a gesture to the gods.
The modern chocolate making process is finely calibrated to consistently produce a smooth texture. In Colonial America, chocolate was either ground by hand or with stone mills. Sometimes chocolate makers, or "chocolate millers" as they were called, were diversified and also made ginger, mustard and pepper in their mills. As a result, early American chocolate often carried hints of these flavors.
​People tend to associate chocolate with European culture, yet the confection's roots are actually a whole lot deeper in the Americas. The first written documentation of chocolate dates back to 1642.
It sounds like if you go Saturday you can sink your teeth into some chocolate samples too. There will be demos on the roasting and grinding of cocoa pods and beans into sweet drinks, candy bars and mole sauces.
Our Food & Think blogger, Amanda Bensen, recently interviewed Shapiro, so stay tuned for her blog next week!