Breathing New Life Into Old Classics: Darwyn Cooke Reimagines 'The Hunter'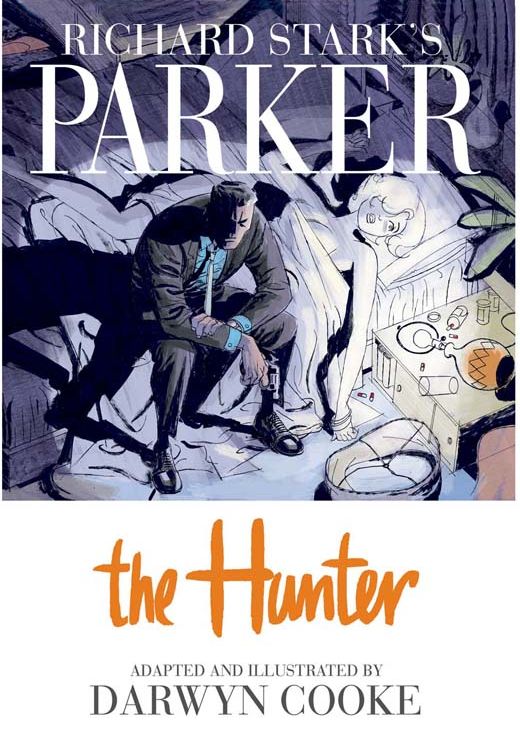 Move over, Elvis.
Another old classic is making a comeback. The 1962 crime fiction classic, The Hunter by Donald E. Westlake (under the pseudonym of Richard Stark) is the inspiration for a new graphic novel to be published this July.  On Saturday, January 30, the graphic novel's creator, comic artist and animator Darwyn Cooke will speak at the Smithsonian American Art Museum. The Hunter is the first of four in a series of graphic novels that Cooke will publish.  The second, The Outfit, is scheduled for release in October.
Cooke gained notoriety in the 1990s for his work as a storyboard artist for two of television's finest comic book recreations, Batman: The Animated Series and Superman: The Animated Series. He went on to work as a director for another made-for-television program, Sony Animation's Men in Black: The Series in 1997.  Since then, he's been involved with, or the author of, several other projects and novels, including DC: The New Frontier (2004).
His most recent work, says the Washington Post, shows "a particular gift for the space-age designs and stripped-down chiaroscuro that were in vogue a half-century ago. His loose, ragged slashes of black and cobalt blue evoke the ascendancy of Hugh Hefner so powerfully you can almost hear a walking jazz bass."
We caught Cooke at his home last week to ask him about graphic novels and the relationship between text and art.
Would you give some insight into your process for The Hunter?
The Hunter features a character named Parker, a very remorseless criminal.  And the author, the late Donald E. Westlake, chose a pseudonym to write the book.  He went with the name Richard Stark.  He chose that name because he wanted the prose to be as stark and stripped down and lean as possible. And understanding that, I looked at the book the same way artistically and tried to make sure that my work was as stripped down, and lean, and almost as crude as I could make it look, to try to complement the prose style. The other thing I had to do was restrain myself a bit because there were opportunities in the book where I could have added my own interpretations, or maybe switched things up a bit to make it a little more visually exciting.  It took a great deal of restraint not to do that and to make sure I was honoring the tone and the intention of the novel.
This is sort of your first project outside of mainstream comics. Why did you choose Richard Stark's novel as inspiration?
I've been a crime fiction fan since I was four or five years old, and started to read. It started with The Hardy Boys, probably, and I worked through all of the great American crime fiction writers. And when Westlake was writing as Stark, he was definitely one of the best, if not the best. I've always had a really high regard for these novels, so when I began to consider the idea of working on something outside of the mainstream comics industry I wanted to make sure it would be independently viable. I thought it would be wonderful to adapt Stark's work, because there's a built-in audience there already; there's a very loyal following of the book. And if we marry that to my audience, and then marry that to the people who just generally enjoy crime fiction and graphic novels, we should be able to find a pretty broad readership and make it work. To me, that was a big part of it: Trying to create a project that not only shows the potential of graphic novels, but also brought other people in.
You were a former art director, graphic and product designer and also an editorial artist, and then left to work in animation and comic books (I'm sure you're making a lot of people out there jealous). What were some of the challenges that came with that decision?
I always had an interest in doing comic books and cartooning since I was a young guy. But it was a tough way to make a living when I was a kid, especially in Canada, where I was raised. I ended up getting involved in the graphic design and advertising art direction because I couldn't do what I really wanted to do. And, by the time I got into my mid-30s, which was about 10 years ago, there was enough technology out there, and the industry had changed enough, so that I could look at making a living with cartooning again. So as soon as I could do that, I dove in with both feet.
Graphic novels have become more popular in the past decade or so, but some people remain skeptical of how well their authors can turn a text into art without losing the story. How would you respond to that?
The wonderful thing about graphic novels is that they can be created in almost any way—it can be a wholly originally piece of work, a piece written and drawn specifically for the graphic novel, or it can be an adaption of existing prose, which is the case with The Hunter. And once you're adapting a piece of prose, I think you've really got one question, and that is, 'Does this piece of prose work and does it have all the visual information I need to illustrate it—and if it doesn't work, then what am I going to do with it to make it work?' And obviously in the case of The Hunter I didn't have to fix anything. I just embraced what was already there.
People have said your drawings fall under the Bruce Timm style. What does that mean? How does your style differ from other artists'?
What's often called the Bruce Timm style is the result of the work of a guy I used to work with, Bruce Timm. He was the executive producer at Warner Animation for quite a while. He did the Batman and Superman cartoons. Gee, we're going back 10, 15 years now, 20 years. But what he did was take a style of classic comic book illustration, and he married it to a classic animation design style, to come up with a very simple and clean sort of approach to cartooning that hadn't been seen in quite a while. Myself, and there's probably a couple dozen of us out there, were all students of his  work. A lot of us are kind of categorized that way, because Bruce has cast such a giant shadow in the industry. It generally means that the work has a simpler look—there's not a lot of rendering. It involves strong design and lighting, and emotive cartooning, as opposed to super-realistic illustration.
Where do you see the future of graphic novels going?
From this point forward so much of it depends on the publishers and how they try to position themselves. But right now, as far as I can see, the sky is the limit. We have an aging market that appreciates comics and is probably ready for more literate and adult and full-length stories. They can also afford to have the purchasing power to go out and buy them. I think that what we've seen in the last decade is that the form is capable of carrying almost any message, whether it's something very literate and high-blown, like Asterios Polyp by David Mazzucchelli, or pure entertainment, like The Hunter. We look at books like Persepolis , American Born Chinese or Scott Pilgrim , and see there's certainly room for any type of engaging or entertaining visual story. So I think there is a huge readership out there and it's a matter of us reaching them.
You actually had your first comic book work appear in a short story in New Talent Showcase #19, part of a revived anthology series by DC Comics. It was published when you were 23. Is there anything you would say to your 23-year-old self?
Well, it's hard for me to know what I would say to myself at that time. Economics just wouldn't allow me to pursue it as a career. But it meant a lot to me at that young age to know that I, at least, had the skill for them to consider publishing me. I'd be more interested in the kind of advice I'd give a 23-year-old today and that would be: Take a good long look at whether you want to do this, and if you do, I would suggest you don't even look at print. The electronic media is already here—concentrate on getting your work, and your message, out that way. If I was a kid today, that's what I'd tell myself.
Cooke's reading will begin at 4 p.m.  Saturday in the McEvoy Auditorium, in the lower level of the Smithsonian American Art Museum, on 8th and F Streets, N.W. Limited free tickets (two per person) will be available in the G Street Lobby, one hour prior to the reading. A book signing will follow the event.