Breaking News: Bozie the Elephant to Join National Zoo
A new Asian Elephant will soon arrive at the National Zoo, on loan from the Baton Rogue Zoo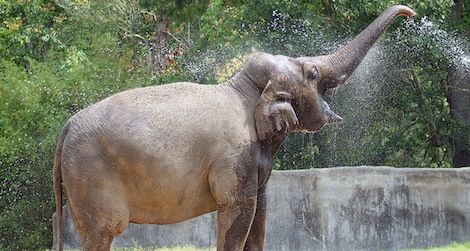 The National Zoo's three Asian elephants are about to get a new friend. Today, the Zoo announced the pending arrival of Bozie, a 37-year-old female Asian Elephant who will be on-loan from the Baton Rouge Zoo.
Baton Rogue recently decided to find a new home for Bozie after her last elephant companion, Judy, died of chronic gastrointestinal irritation from arthritis medication in March. Female elephants are social animals, so they are happiest and healthiest when living with others.
Judy had been at the Baton Rogue Zoo since 1974. Bozie, who was born in the wild in Sri Lanka, arrived at Baton Rogue in 1998 after living at other zoos.
The National Zoo has plenty of room to accommodate Bozie, now that the final major phase of its seven-year, $56 million renovation project of its Elephant Trails Habitat was completed in March. The Zoo is regarded as a leader in elephant research, particularly on Asian elephants, which are both less studied and far more endangered than their African relatives. (Around 30,000 to 50,000 Asian elephants are alive today, compared to around 400,000 African ones.)
"One of our major goals is to create an environment where elephants can live as a more natural social unit," Marie Galloway, elephant manager at the National Zoo, said when the renovations were completed.
We look forward to welcoming Bozie when she arrives, date TBA.