Body Art at the Hirshhorn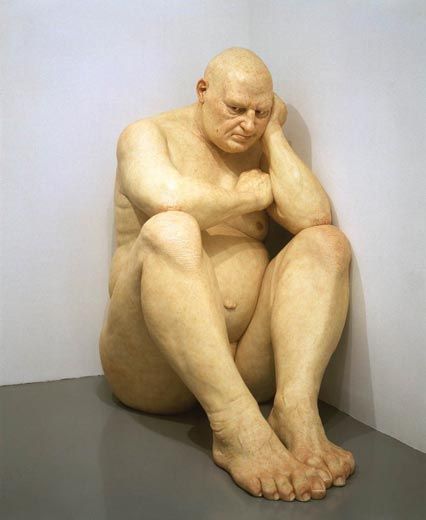 The Hirshhorn's new figurative art exhibit is called strange bodies—so don't say you weren't prepared. The collection features artistic representations of the human body from the 20th century and later. The gathered pieces are like a chart of human evolution, as seen by modern and contemporary artists.
Some of the Hirshhorn's most famous pieces make a reappearance, like Ron Mueck's "Big Man," a resin and fiberglass sculpture of an enormous man, seemingly hiding in a corner. (I'm no art critic, but I was memerized by this piece: the big man seems almost angry at how much space he takes up.)
Further on down, curators chose Alberto Giacometti's "The Nose," an almost militaristic interpretation of that organ. (The sculpted nose resembles a sword in its length and sharpness). Robert Gober's "Untitled" is a leg without a body.
Of the lesser-known works, George Grosz' "The Painter of the Hole I," has a Dr. Seuss feel to it. But the loopy and colorful technique would be a challenge for kid lit. The exhibition is a new interpretation on a body of art.
Check out "Strange Bodies" at the Hirshhorn Museum until early 2010.