Bobcat Company Archives Goes to Smithsonian American History Museum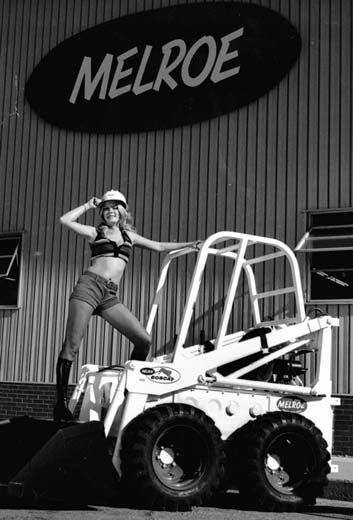 Warning: Do not operate heavy equipment.
But really, who would pass up a chance to get behind the wheel of a bulldozer, a dump truck or that ever prevalent skid-steer loader, the Bobcat.
What if spending a week cruising around in a front-end loader and other pieces of heavy equipment was a job requirement? If you ask a Bobcat dealer about Bobcat Boot Camp in Fargo, North Dakota, stories of heavy equipment derring-do might come up.
Smithsonian archivist Alison Oswald spent a day there two years ago learning how to drive and operate heavy equipment. After training and getting her kicks at raising the bucket and lowering it again, Oswald said the most difficult thing about operating the machine was turning off the engine and walking away from it. Boot camp is offered to Bobcat dealers to familiarize themselves with Bobcat products. That's how it's designed anyway. Sometimes the camp ends up being more fun than educational.
The National Museum of American History recently received a cache of archival material, some 56 cubic feet of photos, films and pamphlets that document the company's 50-year history. An exhibition on the Bobcat Co. is in the works for November.
The first Bobcat model was built in 1957 by Louis and Cyril Keller of Rothsay, Minnesota. The Keller brothers owned a machinist-blacksmith shop where they repaired local farming equipment. Cyril and Louis were approached by a local turkey farmer, Eddie Velo, who needed an agile machine he could maneuver easily within the tight confines of his barn. The two took on the challenge and soon delivered a three-wheeled loader to Mr. Velo. With the ability to turn 360 degrees in one place and light enough to be lifted to the second floor, the customized loader soon became a popular piece of farm equipment.
Word about the versatile and effective "Keller Loader" spread quickly. The Kellers' uncle Les Anton Christianson, a Melroe farm equipment dealer and recognized the promise in his nephews' invention. Les Keller Christianson introduced the brothers and their prototype to Les Melroe of the Melroe company. After a demonstration at the 1958 Minnesota State Fair, the Melroe Company began producing the little loaders. Cyril and Louis remained on as staff, demonstrating and developing equipment.
The M-400 model, released in 1960, was the first true four-wheel drive skid-steer loader. It wasn't until 1962 that the machine actually became Bobcat. Lyn Bickett, of Gould, Brown and Bickett, a marketing firm in Minneapolis, recommended the name Bobcat because of the animal's "tough, quick and agile" demeanor.
But the little Bobcat didn't catch on right away, so the company added film and testimonial ads to the traditional sales pitch of equipment demos and information pamphlets.
Bobcat marketing manager Leroy Anderson is sure that Bobcat was ahead of its time. One rather racy but affective 1960s advertising campaign, "Bobcat A Go Go," featured a North Dakota go go dancer mimicking the machine's movements. Go go girls selling heavy equipment was a bold move back then. But then again, with out the boldness to try something new, this American icon might never have left the turkey barn.
(The post was updated to accurately reflect the involvement of the Kellers' uncle, Anton Christianson, in the development of the Bobcat company)