Bob Dylan's Jacket Comes to the American History Museum
The legendary performer's leather jacket from the night he went electric will be part of a new exhibition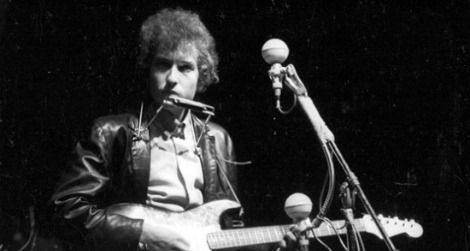 On July 25, 1965, Bob Dylan took the stage at the Newport Folk Festival in Newport, Rhode Island. Although he was known as the king of American folk music—a genre that was steadfastly acoustic—and had played an acoustic set the previous day, he plugged his guitar in and played accompanied by the Paul Butterfield Blues Band, a Chicago group that used electric amplification. To many shocked members of the folk audience, who largely considered rock and roll a commercial mainstream genre, his act was nothing less than treasonous.
The performance would soon spark a significant shift in American music. 'The music changed," says archivist Jeff Place, who oversees the Ralph Rinzler Folklife Archives and Collections at the Smithsonian. "It got to be more creative, and artists began exploring rock as a palette to express themselves."
This startling break from tradition, though, became most famous for the mixed response it elicited from the festival audience. Dylan, who had been termed the "spokesman of a generation" by popular media outlets, was booed by the crowd (though some cheered).
This week the American History Museum announced that an anonymous donor would loan the black leather jacket Dylan wore that day for its upcoming exhibition, "American Stories." Opening on April 5, the new show will feature a host of world-famous cultural artifacts from the museum's holdings such as the ruby slippers that actress Judy Garland wore in the 1936 film, The Wizard of Oz, Abraham Lincoln's gold pocket watch and Muhammad Ali's boxing gloves.
Place says that, contrary to many retellings of the fateful event, Dylan's decision did not come out of nowhere. He'd always been interested in the genre and had even played some of Little Richard's music. He had always been uncomfortable with the expectations put on him by folk music organizers, who envisioned him endlessly crafting protest-friendly lyrics to traditional acoustic folk melodies. "Dylan has always been a provocative guy," Place says.
"Dylan did his whole set, and there was some booing and catcalls," explains Place, "so he got pissed off and came back with his acoustic guitar and sang one song: 'It's All Over Now, Baby Blue.'"
Why did Dylan rebel against the folk music establishment?
Reportedly, he was angered by hearing festival board member Alan Lomax condescendingly mock the electric Paul Butterfield Blues Band as he introduced them the previous day. But for much longer, he had chafed within the circumscribed role others assumed he would play. "He's been quoted as saying he didn't want to be the poet of his generation," says Place. "So maybe he was trying to basically jettison people, make them go away, saying 'I don't want to be this hero to everybody.'"
After the Newport performance, Dylan split each of his tour concerts into folk and rock and roll performances. Although he continued to encounter mixed responses early on, his innovative songwriting and riveting live performances won over many of his critics and eventually led other musicians to follow him into the electric era."Whether he wanted to be the leader or not, half the other bands in the world followed him," Place says. "Folk rock started, and the next thing you know, all the protest stuff was being done with electric instruments."
The jacket Dylan wore that day, in some ways, symbolized his resistance to expectations. "For the folk audience, dressing like James Dean, with a leather jacket, was also sort of a statement about rock and roll," says Place. "They were wearing the flannel shirt and jeans look, and here he comes in with a black leather jacket."