Smithsonian Names Billie Jean King One of Its 'Great Americans"'
The tennis icon chatted about her life and legacy in a wide-ranging conversation at the National Museum of American History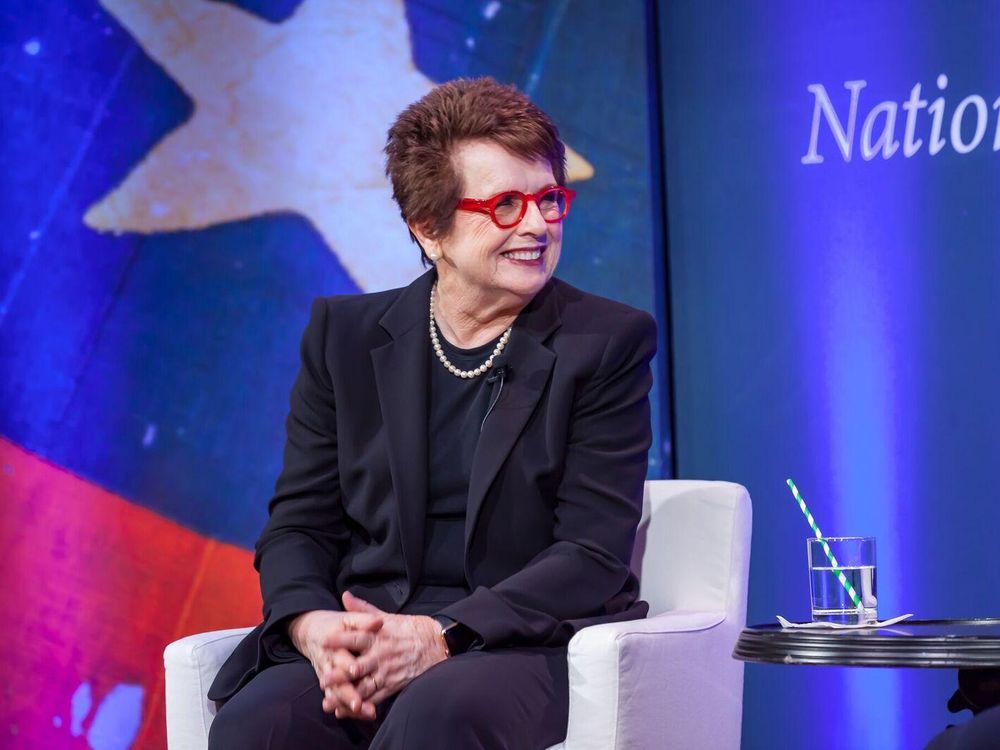 Tennis great Billie Jean King shows no sign of slowing down. She is approaching 75, and has eight knee operations under her belt, but the holder of 39 Grand Slam titles and a Presidential Medal of Freedom proved she can volley words as nimbly as she handled a tennis ball during a ceremony held in her honor at the Smithsonian's National Museum of American History last night.
In conversation with Smithsonian Board of Regents chair David M. Rubenstein, King—the fifth recipient of the Smithsonian "Great Americans" medal, recognizing "lifetime contributions that embody American ideals and ideas"—reflected on a wide range of topics, including her childhood growing up in a working-class household in Long Beach, California.
King, born Billie Jean Moffitt in 1943, started off as a softball player, even though she really wanted to try her hand at baseball. "If you're a girl, they make you play softball" she says, something she joked she'd "have to talk to the Dodgers about" in reference to the news that she and partner Ilana Kloss recently became minority owners in the franchise. Everything changed, though, when a friend asked her to play tennis, a sport where "you get to run, jump and hit a ball." King was in: "Those are my three most favorite things."
She got lucky. The local parks and recreation department offered free tennis instruction every Tuesday. Her parents and her brother, Randy, supported her every step of the way as she rose from the public tennis courts of Long Beach to superstardom. Her teachers also cheered her on, as did her church's reverend, who just so happened to be Bob Richards, better known as the "Vaulting Vicar," the first athlete to appear on the front of the Wheaties box. "Talk about it takes a village," King says. "If I didn't have all these different steps in my life. Just think about what it took."
Almost from the start, she knew what she wanted out of the sport. At the age of 12, she viscerally remembers entering the Los Angeles Tennis Club and seeing "white, white, white"—white outfits, white balls, white people. She knew if she made herself matter in the sport, if she could become number one, then she'd have a platform to enact change.
She did just that. A fierce advocate for equality on and off the court, King's legacy is far ranging, working for racial justice, LGBTQ equality, and women's rights. She is most remembered for taking part in the most-watched tennis match of all time, where she triumphed over retired Wimbledon champ Bobby Riggs in the "Battle of the Sexes." She says she took that game like she took every one—one ball at a time. She had initially refused to play him, but after he won against Australian champ Margaret Court, she finally acquiesced. She knew the stakes of the game. "I'm only going to play this once because this is about history, this is about equality," she told him before the match.
"Ms. King is a global sports icon and social justice pioneer who uses her platform to forge a better future for those who follow," says Susan B. Fruchter, interim director of National Museum of American History. "She has a fearless dedication to equality for all people, and we are profoundly grateful for her service to our nation."
King also has a clear eye for history. Speaking with Smithsonian.com before the event, she reveals she was behind the recent push to bring an Althea Gibson statue to the USTA Billie Jean King National Tennis Center in Flushing Meadows-Corona Park in New York. King was just 13 years old when she saw Gibson—one of tennis's best players and the first to break the international color line in the sport—play at the Los Angeles Tennis Club. "She's our Jackie Robinson of tennis," says King. "Without Althea, there wouldn't have been an Arthur Ashe, and without Althea there actually wouldn't have been me, because I watched her play when she was number one in the world."
King's oft-repeated phrase is that if you can see it, you can be it. Watching Gibson power the ball on a court just 20 feet away from her, she learned what it took to be the greatest. "I was watching, mesmerized," she says. "I was like, oh, wow, that's what number one looks like. . . She was just such an inspiration to me."
King says she had been advocating for the statue of Gibson for decades. Finally, she and Kloss wrote a letter so that board president Katrina Adams, the first African-American president and CEO of the USTA, could be the one to present it before her historic term came to a close. "It's just getting down to writing the darn letter," says King, who says that after Adams presented the letter to the board, they voted for it unanimously.
When it comes to the revolution in women's sports, King says it's far from complete. "We're not even at five percent yet," she says. "We've just got so far to go."