Beyond Riverdance: Enjoy Classic Celtic Music for St. Patrick's Day
A new release from Smithsonian Folkways showcases the best of Celtic classics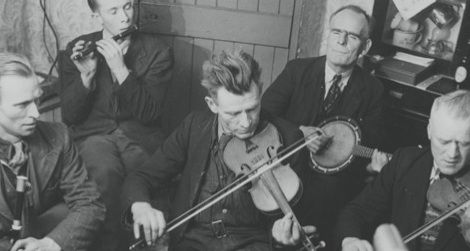 Beyond "Danny Boy" Celtic music, says Richard Carlin, a record producer who has long specialized in the genre, "runs far, far deeper than something like Riverdance." For the just-released Classic Celtic Music, he combed the Smithsonian Folkways vaults for 23 choice tracks, recorded between 1945 and 1986, that would brighten anybody's St. Patrick's Day: a jig by fiddler Michael Gorman and banjoist Margaret Barry, an air with Billy Pigg on Northumbrian smallpipes, a song by the Irish vocalist Sorcha Ní Ghuairim in the lilting, haunting style known as sean-nós. Dancing encouraged but not required.
Listen:

D-tigeas Ó Deabhasa (Children's Game Song) by Sorcha Ní Ghuairim
Carlin, who play the concertina, has been interested in Celtic music for decades, even recording his own album with Folkways in 1977, "In Come A Bumblebee." Around the Mall spoke with Carlin by telephone.
You've worked with Folkways and know its catalog of offerings well?
I worked for Folkways in the mid-70s and did some production of Irish albums for them at that time when it was still an independent company. And then some years later, I wrote a history of the label and in writing that history, thought, you know there are lots of different aspects of the catalog that haven't been, that aren't as well known, as explored. And a lot of people weren't aware that as early as the mid-40s, Moses Asch, the man who owned Folkways, was already recording traditional Irish music. So, that was where the idea came from, to draw on the catalog, to highlight—because there's over, I don't know, 2,200 albums that were released during his lifetime and so it's a massive catalog and everybody knows about Pete Seeger and Lead Belly and what not, but not many people, I think, were aware of some of the other things he did.
What makes Celtic music unique, what defines it?
Celtic music is sort of a catch-all term that really wasn't used by the musicians themselves even when I played with those musicians. They didn't call themselves Celtic musicians. That wasn't even at that time really a genre that people talked about. It started out with the Celtic Twilight School at the turn of the century where there was a revival of all things Irish, Gaelic, people like Yeats and John Millington Synge. It was a literary movement. Then there was the formation of Irish cultural organizations that were formed to promote traditional dance and traditional music. In general, the term is used to refer to traditional musics of the British Isles and the related cultures, there's Celtic cultures in France, in Canada, in Brittany, in various different areas, but it's become sort of a catch-all phrase, mostly applied to Irish traditional music or Scottish.
People like to say, "This music has been known for thousands of years, since the dawn of time." But not so much. Polka for example was an Eastern European tradition that became very popular in the mid-19th century and spread to Ireland, so now it's considered traditional Irish dance music but it certainly isn't that old in the grand scheme of things and really was sort of like saying 100 years ago, disco might be considered traditional music, because polka was very much the same way that disco was, a European, fad music.
How did it change when it came to America?
When musicians play the music they like—and again this is often to the embarrassment of folklorists—you know, you go to record a traditional ballad singer, and they'll start singing Elvis Presley, and in the past, you wouldn't put that on the record. You'd only put on the record, the traditional ballads they sang, which was, in a way, somewhat misrepresentative, but it's because we were only interested in hearing the "true" folk music. These musicians played the music they like and therefore, like any immigrant group, when the Irish came to America they were very influenced. The Irish dance bands of the 20s and 30s played for dancing, so they not only played Irish dance music, they played, popular swing music, and they incorporated similar instruments like saxophones.
How did you get interested in the type of music, I know when you went to Oberlin College you found a thriving Irish music scene in Cleveland, what drew you in?
I was playing the music myself and just wanted to play music and had no idea that there was this large traditional community there and so it really just started out as myself and a few friends of mine visiting with these others musicians in the basements of their homes, which is mostly where they played and it was just out of a love of playing the music and wanting to play more and that kind of thing than the idea that, oh, I'm going to record an album or anything like that.