Bei Bei the Panda Cub Celebrates his Second Birthday in Style
The notorious sleepyhead manages to rouse himself for fans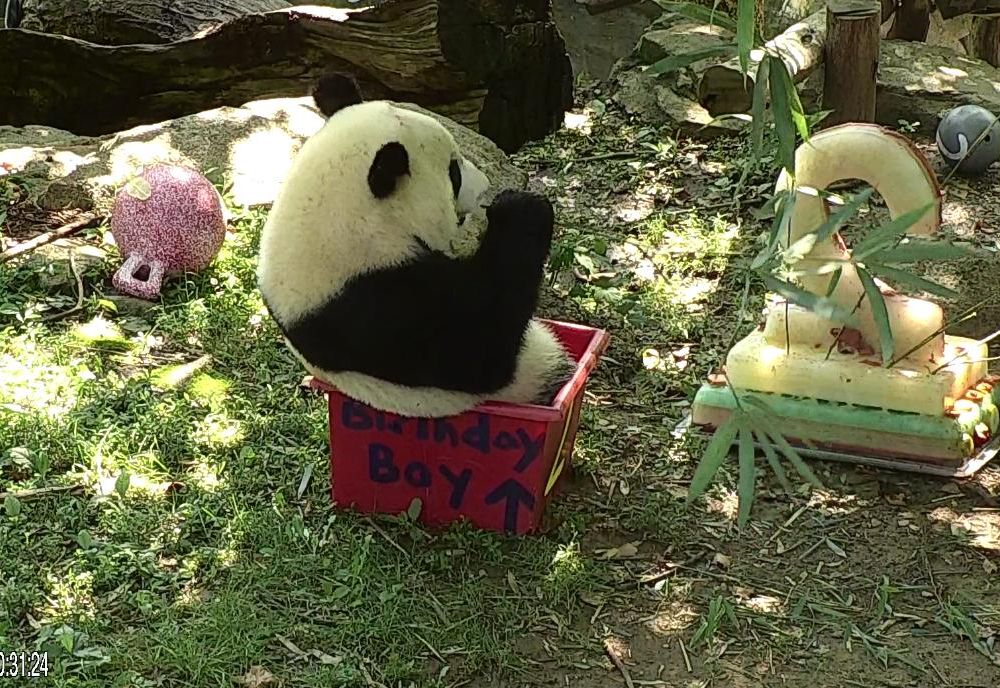 On the occasion of his second birthday yesterday, Bei Bei the panda cub was feeling generous. Last year he decided to celebrate by sleeping through his own party, but this time around, the 150-pound, black and white cotton ball deigned to put in an appearance for his fans. The eager humans massed outside his enclosure at the National Zoo in Washington, D.C., keeping their smartphone cameras and children directed toward the action.
With uncharacteristic elegance, Bei Bei—whose name translates to "precious treasure"—bit off a bamboo shoot to snack on and gingerly lowered himself into a red carton provided for him by zookeepers. On the side of the tub, in prominent purple, were written the words "Birthday Boy."
After chillaxing a while under the gaze of his adoring crowd, Bei Bei turned his focus to the specially prepared "cake" his caretakers had left in his enclosure. Like last year's offering—which mama Mei Xiang, acting on the "you snooze, you lose" principle, had ended up eating herself—this treat was composed primarily of frozen dilute juice, with bits of fruit, sweet potato and panda-friendly biscuit thrown in for flavor and texture.
Bei Bei also got in some tree-climbing, one of his favorite pastimes. Gone are the days when Mei Xiang had to rescue him from his ill-advised escapades. Now, the youngster—weaned earlier this year—can both climb and descend all on his own, though admittedly many of his "descents" take the form of klutzy kerplops to the grassy floor of his quarters, as panda cam devotees well know.
Happily, Mother Nature made pandas sufficiently fat and fluffy to survive such incidents no sweat—zookeepers are less concerned about the mischievous mammal and more concerned about the legions of broken tree branches he tends to leave in his wake.
National Zoo trainers note that Bei Bei is well on his way to transitioning to more sophisticated toys, the sort that demand a bit of puzzling in exchange for a tasty reward. Balls filled with extractable biscuits will test the panda's cognitive chops, and will no doubt provide hours and hours of YouTube hilarity.
With all the tension in international politics, it's comforting to know that Chinese "panda diplomacy" is still in full swing. Bei Bei's sister Bao Bao, born in America, made a transoceanic voyage to China this past February. If all goes according to plan, she'll be breeding there. In honor of her brother's second, Bao Bao went to town on a large bamboo shoot, whiling away the previous day as depicted in a just-uploaded video.
Meanwhile, back in the U.S., National Zoo keepers are holding out hope that Mei Xiang and Bei Bei's father Tian Tian will conceive another cub. At age 20, Mei is no spring chicken; it's definitely a long shot. All we can do is be optimistic—like Tian Tian, who according to zookeepers is hot to trot.