Before Miley, Bob Fosse Elevated the Sleaze in Dance to an Art Form
The choreographer and director sparked this curator's imagination with his trademark razzle dazzle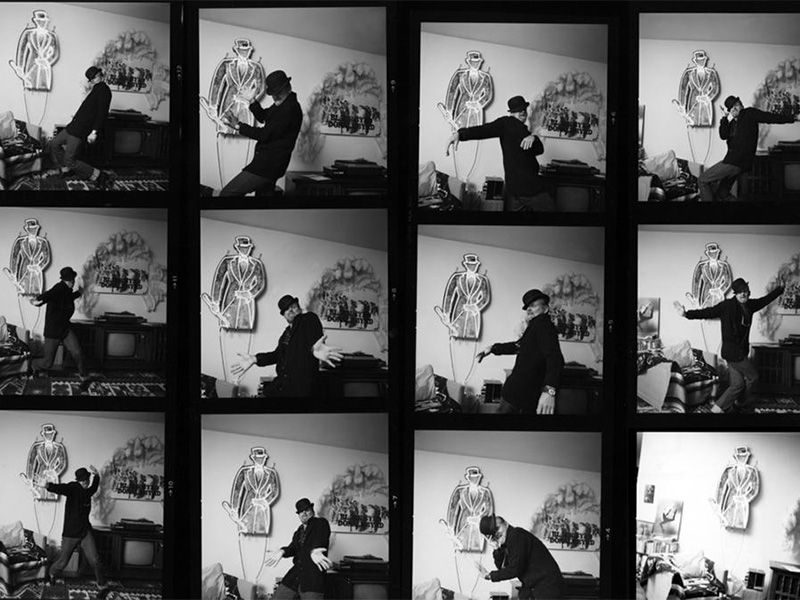 As anyone who has ever taken tap or ballet knows, timing is essential. You need to start on the right foot and step off when everyone else does. Rhythm counts, too.
The exhibition "Dancing the Dream" currently on view at the National Portrait Gallery, explains how timing in a larger sense was crucial to the evolution of dance as America's culture in motion.  For the past century, the fleeting nature of dance has brilliantly reflected America's life and times in captured "moments." Examples include the work of Loie Fuller, who danced barefoot and nearly-naked as she interpreted the "New Woman" in the early 20th century, and Russian greats Rudolf Nureyev and Mikhail Baryshnikov, who sought artistic freedom here during the Cold War and electrified the American dance world.
Timing and media technology are inextricably linked in our constantly changing culture, and dance is a fascinating illumination of this connection. Iconic dancers from Josephine Baker to Beyoncé trace the cultural shift from live performance to viral videos, but choreographers have also shaped the cultural landscape.
Recently, my attention has been focused on the work of Bob Fosse. A new biography Fosse by film critic Sam Wasson narrates the choreographer's creative journey from postwar Broadway through movies and television in post-Watergate America—decades that began with an optimistic sense of unity and ended with a drumbeat of cultural dissolve.
Wasson, author of the best-selling Fifth Avenue, 5 A.M.: Audrey Hepburn, Breakfast at Tiffany's, and the Dawn of the Modern Woman, depicts Fosse as a modern master of dance. Timing—gritty, intricate, and aggressive—was his choreographic signature.
Growing up in Chicago, Fosse had a tap dance act that he performed in burlesque houses. His mother thought that nothing untoward would affect him because he was a "good boy." As it happened, the strippers proved not only fond companions but also stamped Fosse's work with a lasting appreciation for sleaze. His choreography always reverberated with a cock-of-the-walk intensity and a style that radiated edginess: fingers snapped, shoulders rolled, hips swiveled and dancers strutted.
Fosse's first Broadway hit was the 1954 Pajama Game, whose big number, "Steam Heat," featured dancers jerking, bobbing and otherwise comporting like parts of a plumbing system. Over the next 20 years, he became a leading Broadway choreographer with such successes as Sweet Charity in 1955 and How to Succeed in Business without Really Trying in 1961. Verging off into movies and television, he created the ground-breaking 1972 movie musical Cabaret, which won eight Academy Awards (including a Best Director Oscar for Fosse), and the 1972 NBC special "Liza with a Z," which won him an Emmy.
Surprisingly, Fosse's life-long hero was the elegant, gentlemanly Fred Astaire. Wasson describes how Astaire wowed him even more when he effortlessly toe-tapped a nail lying on the ground—he simply "flicked his foot, and ping!—the nail was in the air and then careening off the sound-stage wall with the force of a rifle shot." After Astaire floated away, Fosse tried to duplicate the "ping" sound, but after dozens of kicks, Wasson notes, he was still Bob Fosse.
Fosse's most important partner was Gwen Verdon, his third wife and a strong influence on the evolution of his dance style. A renowned dancer herself, she was instrumental in persuading him to create the 1975 Chicago, a story originally derived from the actual trials of two Chicago women who were both acquitted of murder in 1924. With music by John Kander, lyrics by Fred Ebb, and book, direction and choreography by Fosse, Chicago starred Verdon as one of the murderers, Roxie Hart and Chita Rivera as the other, Velma Kelly.
Wasson thinks it was the perfectly timed cultural moment for Chicago to become a smash hit: in the wake of President Nixon's resignation, the show echoed the country's cynicism. New York Times critic Walter Kerr called it "deliberately seedy" and filled with "wicked chorus girls" costumed in black netting and spiked heels. He decried its "aura of doomsday," and regretted that it substituted raunchiness for heart. But people flocked to the box office, and the show ran for 936 performances.
Kander and Ebb's score included "All That Jazz," "Cell Block Tango," "When You're Good to Mama," "We Both Reached for the Gun," "Razzle Dazzle," and "Nowadays/Hot Honey Rag."  Fosse brought their score to life with a choreography that was in-your-face sinister and brassy. He lived as hard as the dances he created, and he died of a heart attack in 1987. The lyrics for "All That Jazz" suited:
Come on, babe
Why don't we paint the town?
And all that jazz….
Come on, babe
We're gonna brush the sky
I betcha Lucky Lindy
Never flew so high
'Cause in the stratosphere
How could he lend an ear
To all that jazz?