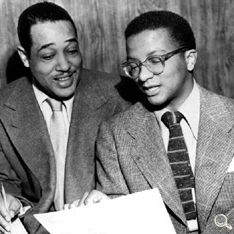 Jazz Appreciation Month continues in full force with the opening of Duke Ellington and Billy Strayhorn: Jazz Composers at the Smithsonian's National Museum of American History
Now either one of those musicians by himself is exhibit-worthy, so the National Museum of American History wisely narrowed their focus to one piece per composer. For the man on the back of the District of Columbia quarter, it was the exotic-sounding "Caravan," composed by Ellington and Juan Tizol. And for the often-overlooked Billy Strayhorn? It was the definitely not-so-overlooked jazz standard "Take the 'A' Train."
Two great tastes that taste great together? Hopefully so.
Visitors can listen to live and studio recordings of the pieces at the touch of a finger on the interactive features. There's also plenty of visual candy, like sheet music from different eras, as well as musical scores – including an Ellington pencil-scrawled score of "Caravan," in which he designates the parts by bandmate nicknames. And there's even a stylish reproduction of an Ellington painting of Strayhorn. Talk about synergy! Be there or be square, hepcats.