At the Hirshhorn, Crouching Spider, Hidden Meaning?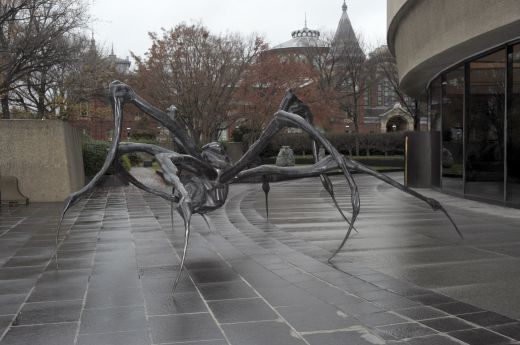 ​Been by the Hirshhorn lately? If so, you've probably noticed the new spider sculpture outside the museum's Independence Avenue entrance. At 9 feet tall and 27 feet wide, the bronze and steel arachnid is hard to miss.
I passed it on my way in to work the other day and imagined that it was something horrific that the rain washed in, like those spiny, prehistoric- looking horseshoe crabs that the tide drags into shore. It seemed to be battling its reflection, or perhaps just vainly admiring itself, in the glass exterior of the museum's ground floor. I felt the impulse to weave in and out of its spindly legs, and did, but couldn't help but cringe.
The artist, Louise Bourgeois, would probably have advised me not to feel threatened though. She has created many such spiders and seems to consider them maternal protectresses that are powerful and delicate at the same time. (Note how its legs balance so precariously on the ground.) Her spiders can be found at the Guggenheim Museum Bilbao, the National Gallery of Canada, the Jardin des Tuileries in Paris and even the National Gallery of Art Sculpture Garden, just across the Mall, among other places.
The "Crouching Spider" at the Hirshhorn comes as a precursor to an exhibition of more than 120 of Bourgeois' sculptures, paintings and drawings opening February 26.