At New York City's American Indian Museum, An Artist Questions the Meaning of the Museum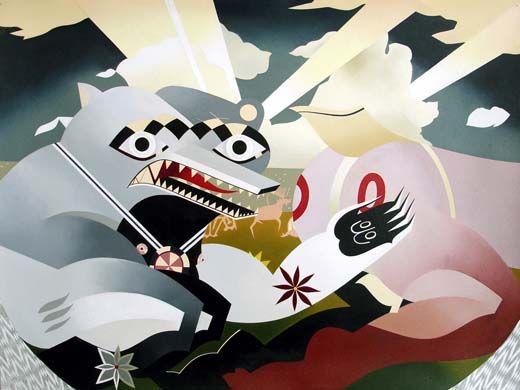 Picture an artifact. It could be a painting, an old wooden toy, a ceramic dish. Anything will do. Who made it, where does it come from, what's its story? Typically, these are the questions that museum curators ask when they exhibit artifacts.
But, if you place that object in the middle of a vast room. Set it on a white pedestal, and light it to bring out its best qualities, does the artifact begin to lose its significance or its story? Does it gain a new meaning or become a new piece all together?
These are the questions mixed-medium artist Andrea Carlson asks visitors to ponder when they look at her works of art. The Minnesota-based artist's works are a sharp commentary on museums and their collections. "The museum kind of becomes the storyteller," Carlson says. "From an artist's perspective, when we are collected; we feel a little bit consumed." Carlson (Anishinaabe) has 20 pieces on display at the National Museum of the American Indian's George Gustav Heye Center in New York City through January 10, 2010.
Carlson says she tries to avoid talking specifically about her culture. "People are interested, but they feel like they can't participate. When I took a step back and started talking about cultural things in general, everyone started talking to me. Everyone had formed an opinion."
"The conversation needs to happen within the museum," Carlson adds. "Staff and curators are really open. It's other people, the visitors, who are shocked. I like that. I think that's a good thing. It's healthy."