Artist Preston Singletary's Career is a Work in Progress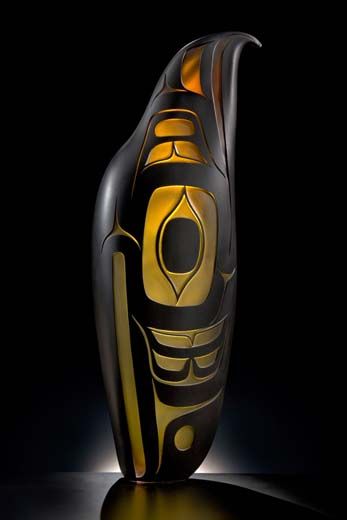 Storytelling is one of the rich cultural traditions of the Tlingit Indians of the Pacific Northwest Coast. This is the story of Preston Singletary, one of their native sons, and how he became the internationally renowned glass artist who almost wasn't.
Preston Singletary, who grew up in a creative family surrounded by art and music, began his  career as a musician. "My first interest was music," he says. "I started playing piano, then guitar, and then switched to bass guitar in the end."
He found his way to glass blowing through a high school friend whose father, Paul Marioni, was an early pioneer in the glass art world. After high school, Singletary got a job working in a factory, later attending workshops at Seattle's Pilchuck Glass School, where he learned how to work with glass, as well as how to work with other artists. Without formal university art school training, Singletary forged his own path.
In the beginning, he created decorative pieces, vases and bowls. A nod, he says, to more European sensibilities. Then, he began connecting with his own culture. "I wanted to set myself apart from everything else that was going on in the glass world, so I ended up applying the Tlingit designs onto the glass," Singletary says. "I was trying to find my own voice with the material."
Soon the young artist began using glass to create contemporary interpretations of Tlingit cultural legends and myths. To do this, Singletary takes a single aspect of a story and then figures out how to represent it visually; the results are brilliantly hued pieces of art in the form of both abstract and literal objects.
Success, he says, didn't happen overnight. Nor, did the decision to pursue his art seriously. "It wasn't really until 1999 when I decided that I would put my music career on the back burner, and try to get a little more serious with my art work."
And he has. For more than two decades, Singletary has developed a sculptural style that sets him apart. The exhibition "Preston Singletary: Echoes, Fire and Shadows," which recently opened at the George Gustav Heye Center in New York City, is the first mid-career survey of his work. The exhibition takes visitors on a journey through the evolution of his craft from his earlier vases and glasses to the symbolic representations of Tlingit legends and the glass blown sculptures that reference Shaman amulets, Singletary's work is a nod both to his cultural heritage and to the use of today's technologies to give them a modern interpretation. Placing an emphasis on symbolism and spirituality, Singletary uses his art to connect the past with the present.
"I feel like there's a genetic memory that's awakening within me that I try to adhere to and I try to let it guide me in my work." And it was with this awareness that he came up with the title for the exhibit. "It was a poetic title," he says. "It was supposed to the echoes of the ancestors, the fire from the creation of the artwork and the shadows of the monumentality of culture."
Never one to settle, Singletary is already working on the next phase in his groundbreaking career. Collaborating closely with Walter Porter, a Tlingit elder and storyteller, Singletary is interested in comparative mythologies and examining symbolism across cultures. "I'm pretty excited about turning the page and coming up with a whole new way of working," Singletary says. "Now that I have the recognition, I feel that I'm in the position to really move on and push my artwork and try new things."
See "Preston Singletary: Echoes, Fire and Shadows," at the American Indian Museum's Heye Center in New York City, until September 5.