Artist John Akomfrah Is Having a Moment
The works of the recently knighted filmmaker address contemporary issues in two different Smithsonian museums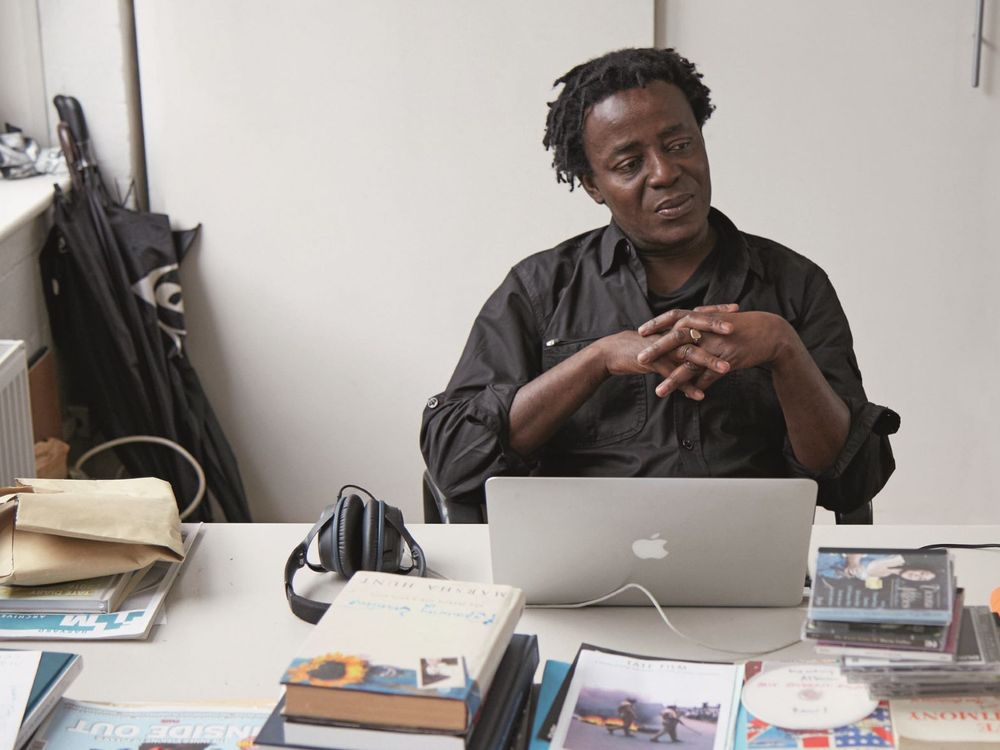 Our daily immersion in a bombardment of images, in repeated patterns, at a fraught moment in contemporary history, makes the multichannel work of the artist John Akomfrah both familiar and especially compelling.
And the Ghanaian-born, London-based filmmaker is getting noticed for it. Already this year Akomfrah has been knighted—and chosen to represent Great Britain in the 2024 Venice Biennale, where he's been featured twice before.
In 2023, his work is being featured in three different exhibitions in Washington, D.C. alone, including at two Smithsonian museums. The 1986 Handsworth Songs was on view earlier this year in the exhibition "This Is Britain: Photographs From the 1970s and 1980s" at the National Gallery of Art. The 2017 video installation Purple, which the Hirshhorn Museum and Sculpture Garden purchased in 2021, opened last November and continues to run for the rest of the year. And this month, his 2021 Five Murmurations went on view at the National Museum of African Art.
The immersive, six-screen Purple deals with the environmental crisis, balancing cinematic scenes of solitary figures standing in nature with the encroachment of smoke-belching factories and power lines. Photography from Alaska, French Polynesia and Greenland is juxtaposed with archival images of industry, political movements and even scenes of life and death, with the sounds of burbling brooks and birdsong heard amid spoken word and occasional song (from Billie Holiday).
Five Murmurations, by contrast, is a black-and-white meditation on the recent era of Covid-19 and Black Lives Matter, depicting scenes of handwashing and isolation with those of protests following the 2020 murder of George Floyd, whose final minutes, as viewed through the smudged lens of a police camera, are accompanied by Floyd's haunting cries for help. Disturbing scenes of past colonialism pop up. And seen intermittently throughout the production are kaleidoscopic flocks of birds, flying and changing directions together in a synchronous act that ornithologists call murmuration—a strategy that wards off predators.
The weight of being represented in a single year by three concurrent showings on the National Mall in Washington, D.C.—each addressing the era's largest concerns—is not lost on Akomfrah.
"Growing up poor in Accra is a very different experience than being in Washington," he told a crowd at a Hirshhorn artist's talk in April. "So the politics of location, the question of location, seems to me to matter a huge amount."
"It's not entirely coincidental that the two [Smithsonian] museums are in the center of the greatest power on earth," he said. "Nor is it a coincidence that when I was asked to do something I was like, 'Yes!'"
It was in 1982 that Akomfrah, who had moved to the United Kingdom with his family as a child, co-founded the Black Audio Film Collective. One of the collective's significant early works was the single-channel piece Handsworth Songs, which Akomfrah directed. Like the artist's other works on display in Washington this year, it runs about an hour.
"I spent about ten years in television making documentaries, and one of the things that I hated, because it seemed so old-fashioned, was what they called the 'cradle-to-grave' documentary," Akomfrah said at the Hirshhorn. But he soon realized that the format, so overdone in documentaries, might actually work in an art piece.
So for the ambitious Purple, he said, "I set out consciously to create what could be called a cradle-to-grave structure: Start off with people being born, and you watch them grow and die in the Anthropocene. That's the point of view."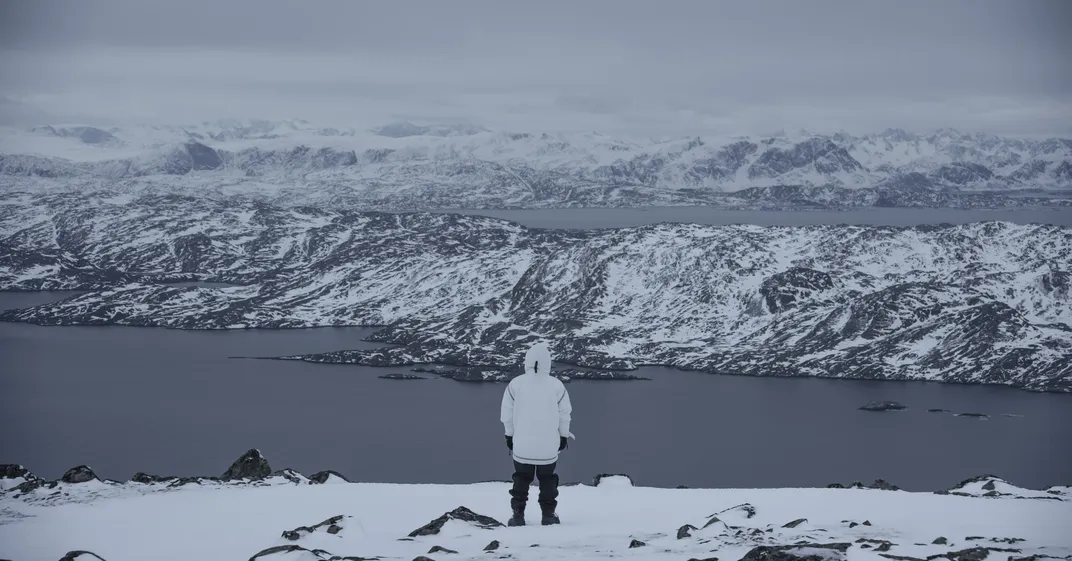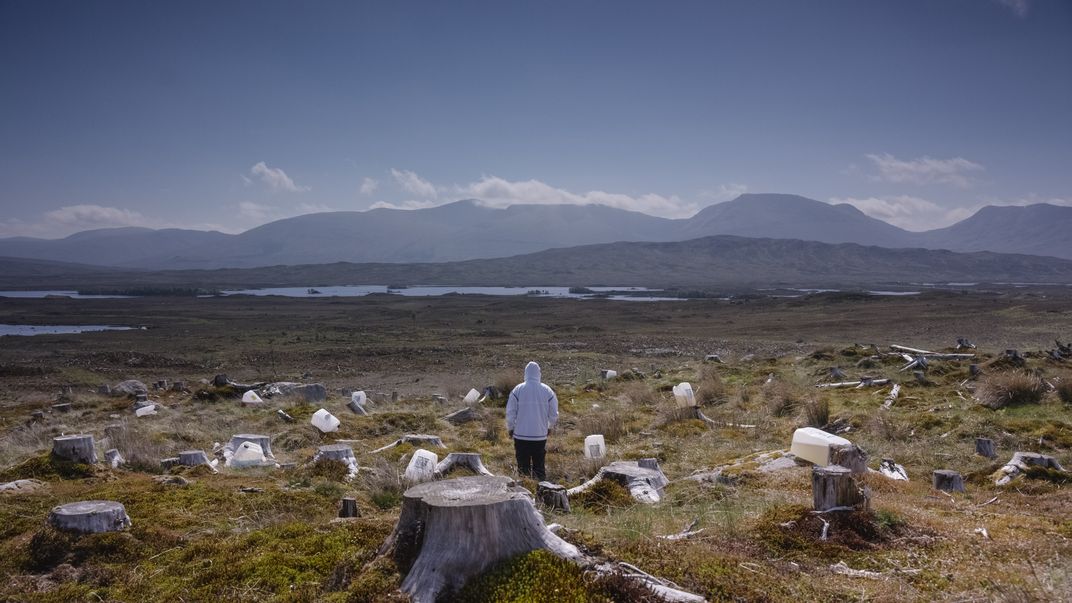 The Anthropocene, the term for the current geological epoch, is defined by the human impact on the planet's ecosystems. "The reality is that we as a planetary entity, human beings, have suddenly found ourselves in a place where, since 1945, we are apparently, we have left an imprint on the planet," Akomfrah said. "We're on the verge of extinction but we don't know what catalytic roles we have played in all of this. Purple starts from this recognition."
Purple, so named for the traditional color of mourning in Ghana, includes his own memories, growing up in southwest London next to a power station spewing out smoke and carbon. Did the power station's toxic output affect an entire generation that breathed it in? Did it help cause their generational rebelliousness?
"The two things were completely understood as being mutually exclusive," Akomfrah said. "So Purple is also about trying to make these connections, which were not apparent as I lived through it."
The film also includes clips from a 1960 movie, Sons and Lovers, adapted from the semi-autobiographical novel by the English writer D.H. Lawrence. "I was really interested in finding a way to register grief, and mourning, and the sense of loss in some way." And the fact that both his mother and Lawrence grew up in Nottinghamshire—the heart of coal mining in England—was compelling, he said. "All of those things suggested that it was willing to participate in this conversation."
It is the conversation between the moving images on the various channels that create the art, he pointed out. "In order for any multichannel piece to work, every sequence, every image, is made up of units that are prepared to participate in some kind of conversation with each other," Akomfrah said. "So the process of arriving at what would work usually involves trying to find things that can talk to each other in some way."
That's what happens, too, in Five Murmurations, though in some ways the works are quite different. One stretches out on six screens; the other, three. One is in color; the other, black and white. And the issues they address, though contemporary, are different.
"Partly what accounts for the difference between the two is obviously the pandemic," he said. "Suddenly, many of us in the studio found ourselves unable not only to work together, but to go anywhere at all."
Purple was completed in 2017, a time when his team could travel to locations all over the globe and shoot in high resolution, back "when the world still felt like you could roam it unchallenged," Akomfrah explained. But, by contrast, Five Murmurations was made with far more basic equipment, often on still cameras.
The isolation of the Covid-19 era was reflected in shots that included the artist himself, captured dourly in mirrors.
The catalyst was the killing of George Floyd. Even with the pandemic putting a halt to so much human activity, "It felt naturally that that should be what we did something on," said Akomfrah, "as a kind of act of homage, as a remembrance, as a monument."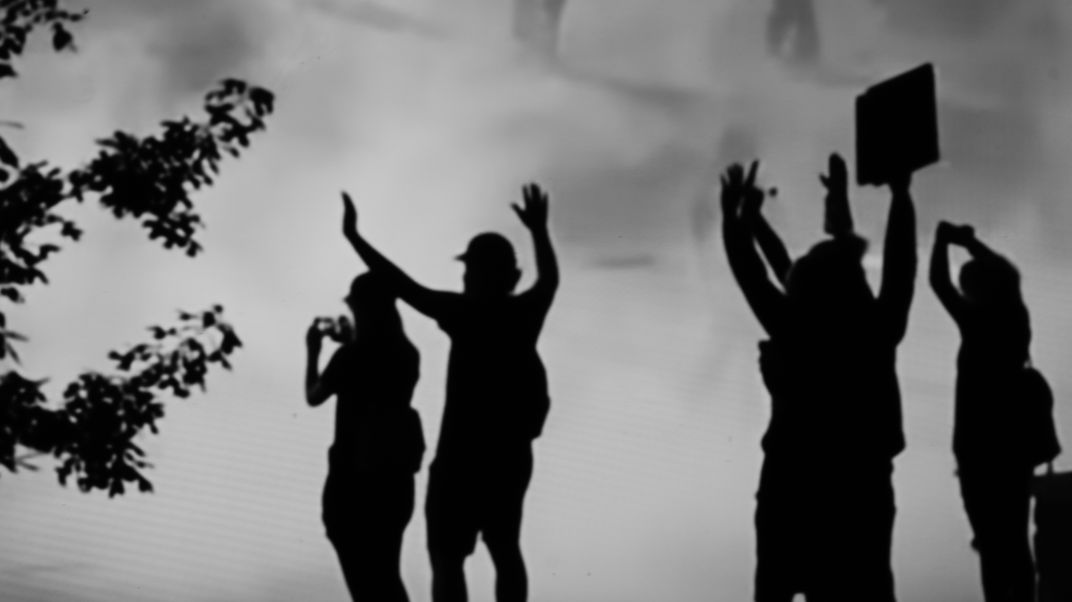 Culling from art history, the artist juxtaposes the ominous and consequential crowd-captured footage with the unsettling 1502 painting The Conjurer by Hieronymus Bosch, as well as the 1483 piece Lamentation Over the Dead Christ by the Italian Renaissance painter Andrea Mantegna, featuring a dramatic angle and perspective that in turn reminded him of the death footage of Argentine revolutionary Che Guevara.
"I couldn't see the Floyd images—especially the very last bit, where his head is on the ground, and the officer's knee is on his neck—you can't see that and the Mantegna without seeing some similarities between them," Akomfrah said.
Certainly, the museums' presentations of the works, in darkened rooms with couches, invite viewer contemplation as they take in the images and sounds.
Of his upcoming work at the Venice Biennale, Akomfrah said "there will be some continuities" with his previous work. But, he added, "the way in which you'll experience that pavilion will be very different to how you have seen it used in the past. I promise you that."
"John Akomfrah: Purple" continues at the Hirshhorn Museum and Sculpture Garden in Washington, D.C. through January 7, 2024.
"John Akomfrah: Five Murmurations" opened October 14 at the National Museum of African Art in Washington, D.C. Its closing date hasn't been determined.