Artist Gabriel Dawe Made a Rainbow Out of 60 Miles of Thread
The artwork is an optical illusion that delights the senses; as if the artist embroidered the air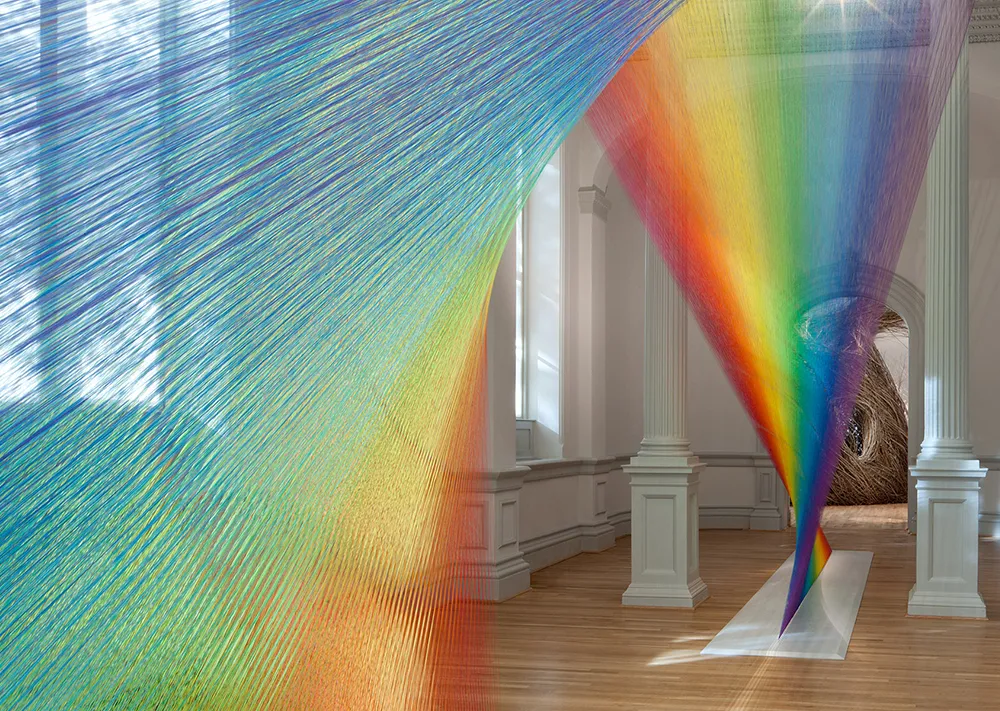 Gabriel Dawe's indoor rainbows almost defy understanding. It is a visual representation of the full spectrum of natural light, a harnessing of a prismatic view of sunshine that has been confined within the four walls of a gallery space.
Up close, the artist's tricks are revealed. The artwork is made of ordinary embroidery thread that has been hooked from floor to ceiling in a repeating overlay. Crafting an ethereal and shimmery pattern that, like a mirage, creates an optical illusion that delights the senses but distorts perceptions, it is almost as if the artist embroidered the air.
The threaded installation is part of a series called "Plexus"—which is the word for the interlacing network of blood vessels and nerves that sustain the body. Dawe says that he specifically chose plexus for his works because "it refers to the connection of the body with its environment, but it also relates directly to the intricate network of threads forming the installation itself, and to the inherent tension in the thread, vibrating with an almost tangible luminosity."
Plexus A1, his installation that is part of the "Wonder" exhibition at the Renwick Gallery of the Smithsonian American Art Museum, continues that theme, exploring man's connection to the greater whole of nature. They also symbolize the unseen. "When you see a rainbow in nature you get a glimpse of the order that exists behind nature," says Dawe. "There are certain laws of physics working behind that."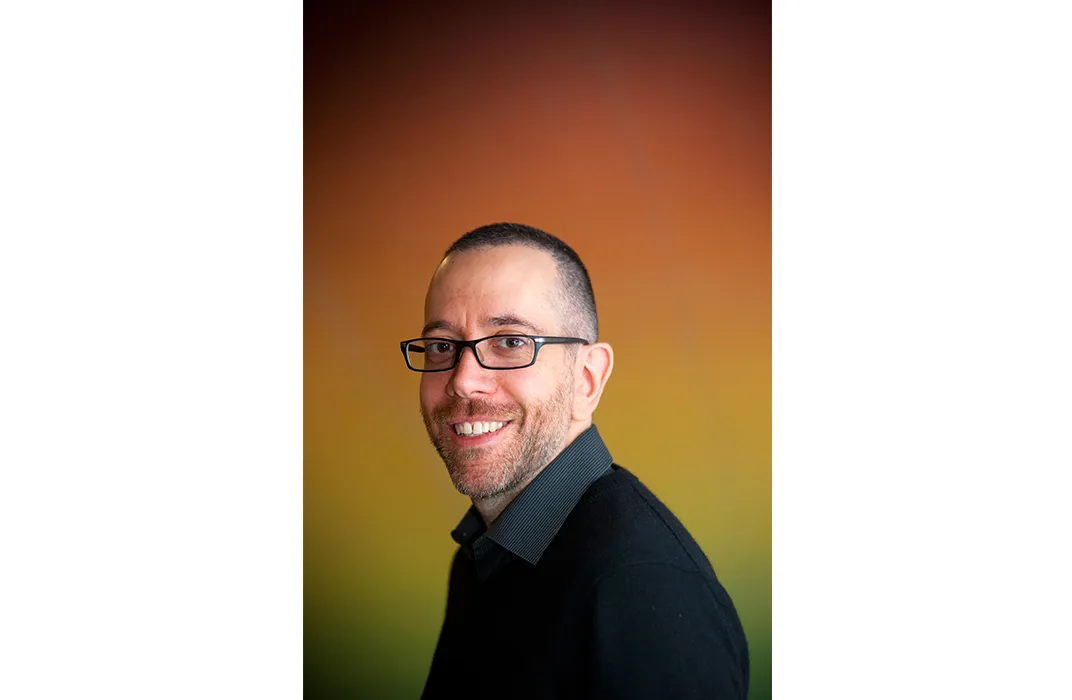 Dawe, a bespectacled 42-year-old who speaks in a slow, thoughtful manner, says humans are often oblivious to those connections, and instead are lurching towards "killing everything into the ground."
Plexus A1 is composed of 15 colors—representing the full spectrum of visible light, from magenta through red. The installation took close to 60 miles of thread and 10 days to build.
Dawe's installations have to stay within a contained order. Every one is precisely designed for the room that will hold it. He uses software to make his sketches, but does not use computer-aided design or any computer-generated algorithm to create his shapes.
"I always try to know in advance how the process will work," he says. He arrives, armed with a graphed-out plan of which color threads go where. "I don't have a lot of time to improvise because of the intensive nature of the work," he says. He works in a specific order, constructing the pieces in layers.
Each site comes with its own challenges. The Renwick space offered the freedom of 19-foot-tall ceilings, but four massive support columns essentially dictated the length and breadth of the installation. And the long, narrow space made it harder for Dawe to get his desired effect, which is accomplished by making "a volume of thread in space."
Dawe, has figured out his design principles over the relatively short five years that he's been making Plexus installations. And now, just ten years after he began making art for public consumption, he's being exhibited at the Renwick, one of the nation's pre-eminent galleries for contemporary artists who are passionate about making and materials.
"Yeah, I know," he says, grinning. "It's pretty sweet."
His work initially came from his childhood. Machismo came with the territory in Mexico City, where he grew up. He remembers being ridiculed for wanting to embroider like his grandmother, who held fast to her cultural belief that sewing was for girls, not boys. She taught his sister to embroider, but not him.
Dawe channeled his creative desires into an undergraduate degree in graphic design, which he earned in 1998. Soon enough, he found himself "in this fairly corporate job, and it was just killing me," he says.
Dawe received a masters degree in fine arts from the University of Texas at Dallas in 2011. Though he had begun showing art in solo and group shows before that in 2002. Among his first works was an embroidery of what he describes as "basically a gaping a**hole," which he says, in hindsight, references the frustration he felt at being excluded as a child from the traditional art form.
"After that, I tried to come to terms with that personal history," Dawe says. He paid tribute to his grandmother in a sense, when he borrowed some stamps from her collection, and blew them up into larger images he then embroidered over. She was aware of his art then, but did not have much to say and did not live to see his current success, he says.
Using needlework as a central aspect of his art was a challenge to the gender stereotypes he'd encountered in his youth. The later Plexus installations have been less overtly about challenging those ideas, he says. Some viewers might interpret his decision to display giant rainbows as a political statement—since rainbow flags are used to symbolize pride and equality in the LGBTQ community—but he says that was not his intention.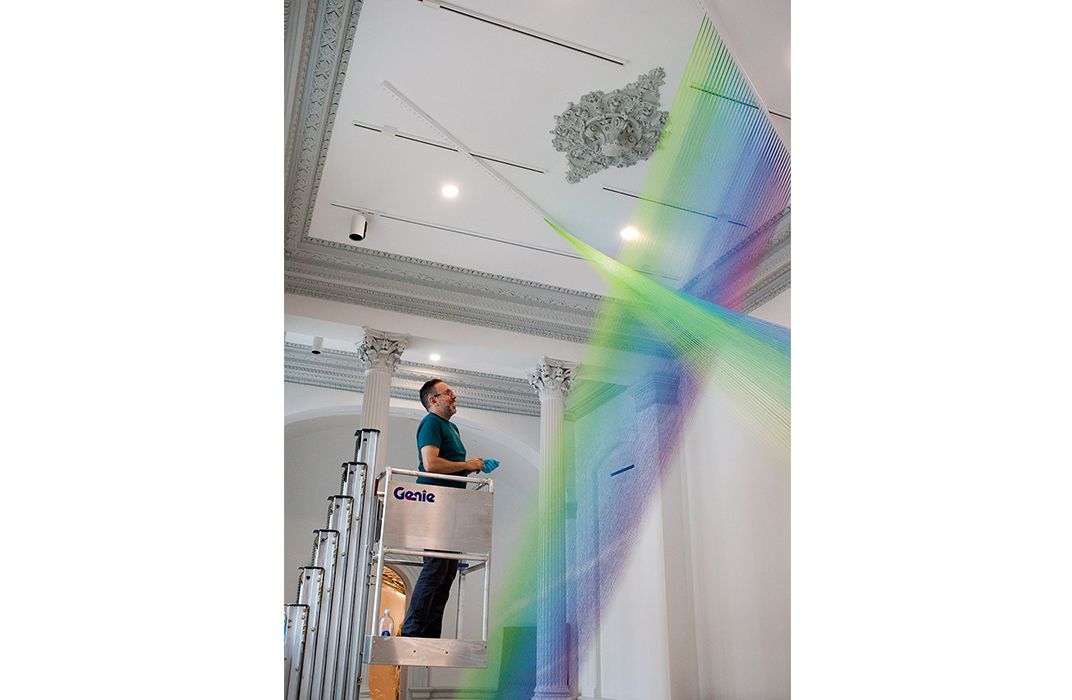 "I've never made it about that," says Dawe. He does say, however, that a rainbow represents light, not dark, and "the idea that everything is one, and inclusion and unity."
The Plexus works came about as sort of a natural extension, literally, of his smaller art pieces. But he credits another of the "Wonder" artists, Jennifer Angus, with moving him in the new direction. Seeing her insect-patterned show A Terrible Beauty in 2005 at the Textile Museum of Canada in Toronto was life-changing, inspiring him to think bigger, both literally and figuratively.
His first Plexus, which he constructed in 2010, "started as a big experiment in my studio," Dawe says. He decided to create an embroidery pattern on a wall. It took weeks, but it led to a show in Dallas, and from there, new installations at galleries and small museums across the country, and in London and the Netherlands.
The show at the Renwick, however, will be his largest stage to date, likely to attract a broader audience. He says he loved having to work with the building's 19th-century architectural details—like the ceiling florettes—as a backdrop. The modern, angular geometric shape and bold colors of Plexus A1, planted among those 1850s-era flourishes, "makes for a really nice contrast," he says.
It is having what he calls "an intuitive dialog with the space," but also with the viewers, who must navigate their way around the installation's uncertain boundaries. "Sometimes you don't know where they end, or where they begin," he says of the multitude of threads. "So you have this dance with the piece itself."
The dialog also symbolizes the uncertainties of navigating social conventions. "We are doing this continuous dance," he says, "sometimes pushing boundaries of what is allowed, and sometimes staying in those boundaries."
"Wonder" curator Nicholas Bell says the installation "almost causes a sense of vertigo in some people as they walk around." 
But while people are trying to work out in their minds what they are seeing, "you're completely beholden to it. It's just you and the object," says Bell. The viewer "is so captivated that the rest of the world falls away," says Bell.
"That was the moment of engagement I was hoping to find," Bell says.
Gabriel Dawe is one of nine contemporary artists featured in the exhibition "Wonder," on view November 13, 2015 through July 10, 2016, at the Renwick Gallery of the Smithsonian American Art Museum in Washington, D.C.