Artist Chakaia Booker Gives Tires a Powerful Retread
Booker empowers her monumental sculptures with new life, shaped by the shearing and bending and folding of repurposed rubber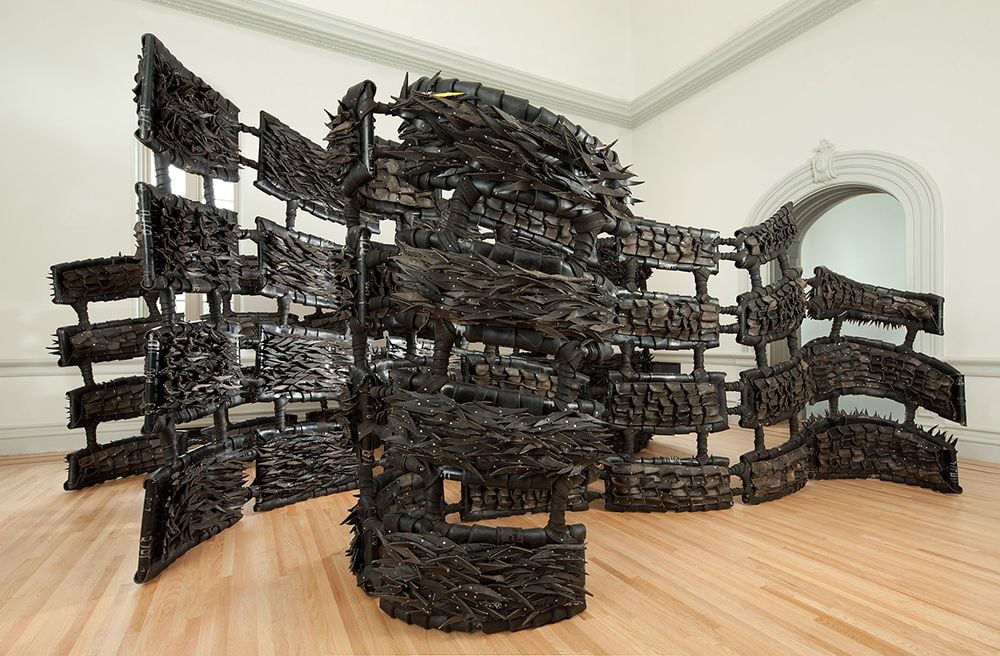 The first thing you notice is the smell. It's a bit industrial, but also, maybe a tiny bit pleasant.
The odor encapsulates Chakaia Booker's latest massive sculptural work, displayed as part of the "Wonder" exhibition at the recently reopened Renwick Gallery of the Smithsonian American Art Museum. The piece, like its smell, might be at home on a factory floor. It is a bit dark and threatening. But, there's also something inviting about both the odor and the artwork. It draws you into the room, to stroll between the sculpture's three undulating walls, and to touch their seemingly animated shreds.
From a distance, the sculpture recalls a school of swimming fish, or an orderly grouping of fall leaves. But these forms are constructed of tires that have been shredded and diced and sliced and then wrapped around stainless steel.
Proudly and fiercely displayed; waste made into beauty, with a material that may fade, but almost never completely degrades or disappears. It's a repurposing of a product that is so difficult to get rid of that America is filled with mountains of them, pyramids of black Spaghetti-Os hidden behind green privacy fences.
Booker does not want to belabor her process or the meaning of her work. At various times over her four-decade career, she's said her abstractions speak to the environment and ecology, the diversity of humanity and African Americans in particular, the slavery experience, the industrial world and communication.
She says she does not pre-ordain values or expectations—the products of her labor are there for the public to enjoy or not, to make their own interpretations, or to take them simply for what they are: giant assemblages of rubber and steel. "My intention is to translate materials into imagery that will stimulate people to consider themselves as a part of their environment, as one piece of a larger whole," Booker told Sculpture magazine in 2003, in a rare lengthy interview.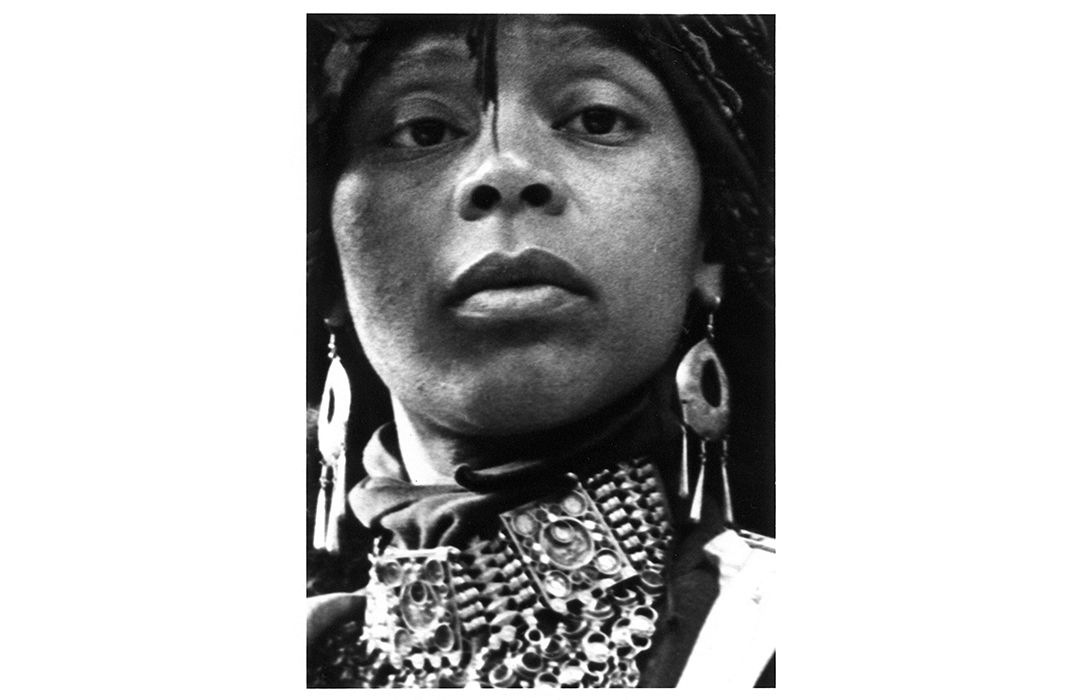 "Whether I use an architectural format or something to look at, I believe art should dialog with viewers," she added. She says she feels the same about Anonymous Donor, her piece at the Renwick. Though the title refers to what she calls "the lack of inclusion," it is up to the viewer to decide what it is telling them, says Booker.
It's an approach that the show's curator Nicholas Bell endorses. "I don't want to be telling people what they may be seeing," he says. "I really just want people to try and spend some time figuring out what they're reacting to, and what that means for them."
Booker's art fit in perfectly with what Bell envisioned for "Wonder." She has always worked on an architectural scale and was sensitive to space, he says. That was important, as Booker, along with the other artists, had to tailor their pieces to their assigned room in the Gallery. The artists also had to be "passionate about materials and making things," he says.
"I've thought of [Booker] as almost aggressively interested in the materiality and the shape and the sense of tires," says Bell. "She has a profound relationship with that material."
He was also looking for people who made art that was very much about the visitor's response, to remind the viewer why going to a museum is more rewarding than seeing something on paper or on-line. "A museum is a place that helps you see the rest of the world differently," he says. "You engage with things that are extraordinary or perhaps ordinary, but put in extraordinary circumstances."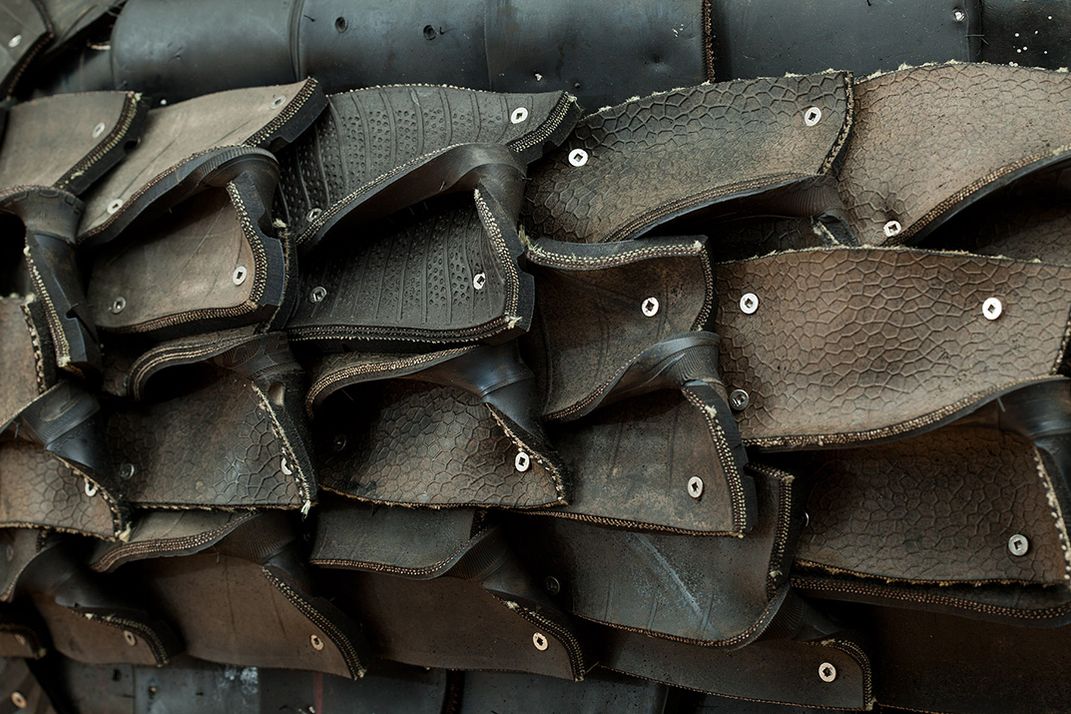 Booker takes the ordinary—tires—and renders them into the extraordinary. "When do you think of a car tire? Probably only when you buy one or it goes flat," Bell writes in the exhibition catalog. Booker has commandeered the unseen, unconscious item and "turned it into something that is strange and fearful," he says.
Anonymous Donor looms, at more than ten feet tall. "As you are walking through it you're just engulfed by the object," says Bell.
Booker also says she loves that interactive experience. She gives her sculptures—a majority of them monumental pieces displayed outdoors—life and shape through shearing and bending and folding of the tires.
Shearing, nipping, cutting, and re-arranging: Booker, who grew up in Newark, New Jersey, acquired those skills as a teenager, when she began making her own clothing, following in the footsteps of her aunt and sister.
Ever since, Booker has been creating wearable art. She likes to say that she sculpts herself every morning and then follows her muse into the studio.
As a young woman, art was not her primary pursuit, however. She studied sociology at Rutgers University, receiving her BA in 1976. Booker took up ceramics, participating in several apprenticeships in Manhattan, and also basket weaving, all the while making wearable sculptures, incorporating found items like pieces of wood or broken dishes.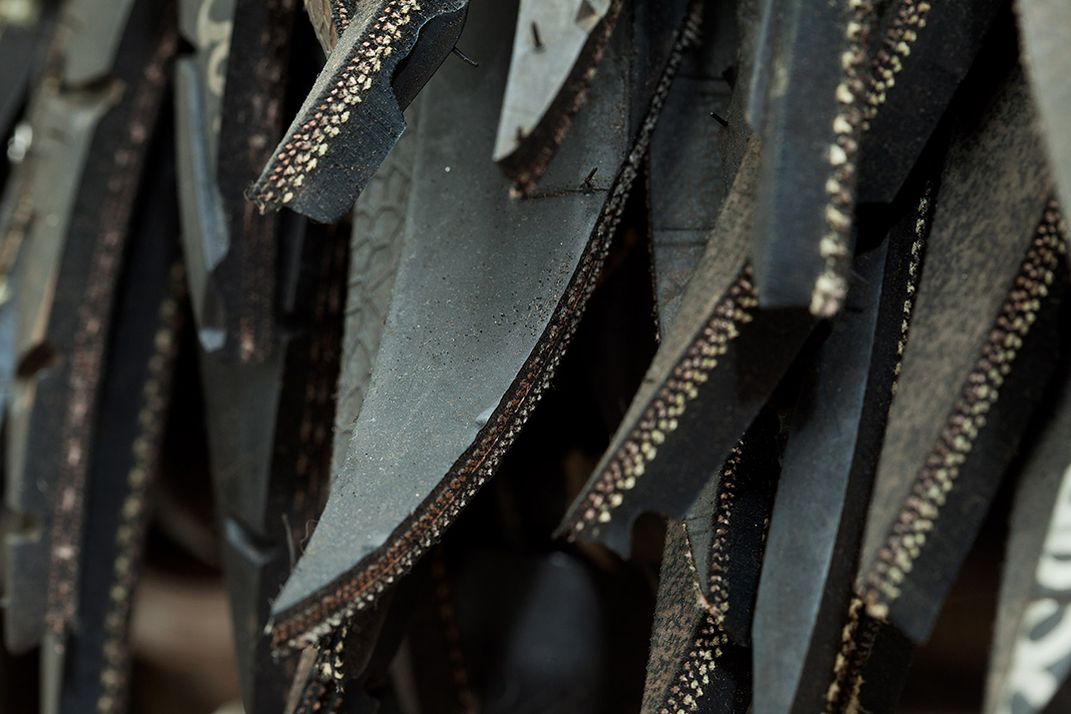 Her interest in rubber was sparked in large part by her environment. In the 1980s, downtown Manhattan's East Village—where she still lives—was a graffiti-riddled, chaotic, dirty and high-crime area, like much of the city. Booker walked the streets, and combed the empty lots, picking up the detritus of the era. Shredded tires and pooled rubber—the result of frequently raging car fires—became her material of choice.
Using discarded, trashed items, Booker remade them into statements. She sheared the rubber into strips, with the tread displayed or the underbelly exposed, rendering different colors, surfaces and patterns. Slick, smooth inner tubes gave another look. "Like a painter having a palette, my palette is the textures of the treads, the fibers from discarded materials, and tires that I use to create varied effects," Booker told Sculpture magazine in 2003.
Art became a central purpose in her life. Booker had her first group exhibition in 1984 and her first solo show in 1991. She acquired a masters of fine arts from the City College of New York in 1993.
The soft-spoken, retiring artist has become a well-exhibited and much-celebrated sculptor. In 1996, her Repugnant Rapunzel was part of a multi-year exhibition of 20th century sculpture at the White House, organized by then-First Lady Hillary Clinton. Booker's It's So Hard to Be Green, was part of the Whitney Biennial in 2000—a major show held every two years since 1973 at one of New York's most storied contemporary art museums. In 2002, she received the Pollock-Krasner Grant, an award given by the foundation that was established by Lee Krasner's estate. Krasner, an artist, was also painter Jackson Pollock's widow. Booker also received a prestigious fellowship from the Guggenheim Foundation in 2005.
Her sculptures and other works are in the collections of the Newark Museum, the Metropolitan Museum of Art, and the Studio Museum in Harlem. Booker has had solo exhibitions at the National Museum of Women in the Arts, the Storm King Art Center in Mountainville, New York and the Akron Art Museum in Ohio.
Booker is in high demand these days. She's often working on multiple shows at once—a Herculean feat, given the rigors of procuring and hauling tires, coaxing and cutting them into her desired designs and then erecting them in various spaces, indoors and out.
It took two weeks and eight people, including Booker, to erect Anonymous Donor at the Renwick. Booker was simultaneously overseeing the installment of a work to be displayed as part of "The 606," a new recreation area in Chicago that is similar to New York's High Line park.
She is the first to say that making the pieces is extremely taxing. A daily Tai Chi practice helps to keep her in peak physical and mental balance, she says. Despite the demands, the artist has given no thought to stopping, and said that as long as she is breathing, she will continue to manipulate rubber.
"I enjoy my work very much and I have no plans to retire," Booker says.
Chakaia Booker is one of nine contemporary artists featured in the exhibition "Wonder," on view November 13, 2015 through July 10, 2016, at the Renwick Gallery of the Smithsonian American Art Museum in Washington, D.C. Booker's installation closes on May 8, 2016.