Archives of American Art Releases Photo Collection to Wikimedia Commons
The Smithsonian makes a big contribution to one of Wikipedia's projects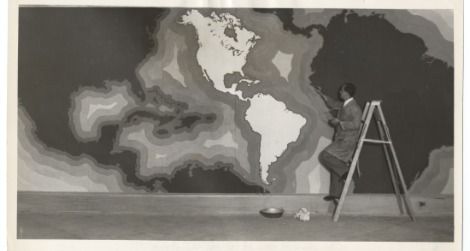 Wikipedia, the most widely used encyclopedia on the world, consistently ranks among the web's top sites and garners instant recognition among nearly all internet users. A related project—Wikimedia Commons, a source of free-use, public domain photos, video and other multimedia available to anyone—is less widely known, but essential for supplying multimedia content for Wikipedia articles.
Earlier this month, the Wikimedia Foundation (the umbrella organization for both of these wiki projects, as well as several others) began a landmark collaboration with the Smithsonian Institution when the Archives of American Art donated a trove of 285 WPA-era photographs to the Commons database.
"We've been interested in Wikipedia for years, but we didn't really know how big the Foundation was and the efforts of the Commons until Sarah Stierch came on," says Sara Snyder, an IT specialist at the Archives of American Art. Stierch became the Smithsonian's first "Wikipedian-in-Residence" this summer at the Archives, as part of Wikimedia's "GLAM" Project (Galleries, Libraries, Archives and Museums) that strives to increase the flow of information between these institutions and Wikimedia.
"She really opened our eyes to how many opportunities there are, not just editing articles, but being able to donate or share content on the Wikimedia platform through the Commons," Snyder says.
The Archives team started out by trying to find a batch of photos without any intellectual property restrictions that would be appropriate for a donation. "The first thing we thought of was, 'well, what do we have that's public domain?'" says Stierch. "This collection was a clear candidate, because first of all, it's really engaging, and it's all created by the government, so its clearly in the public domain," says Snyder.
The images donated are all part of the Archives' collection of Works Progress Administration (WPA) photography, and this is the first time they are available to the public in a high-resolution, digitized format. The WPA was a Great Depression-era government program intended to provide relief for the unemployed. In addition to completing infrastructure and education projects, the WPA commissioned artists to produce paintings, murals and sculptures. Many of the photographs in the donation detail these activities, while others were creative assignments for exhibitions and photo murals.
"The different types of people and artists featured, it's really remarkable," says Stierch. "We've got photographs of works being created—showing the techniques of how to make a lithograph, how to make stained glass, how they sketch these giant murals. It's a really varied collection of photographs, showing all different processes of art creation, documenting some of the most important as well as some of the lesser-known artists of the 20th century."
As a collection of multimedia intended for unrestricted use, the Wikimedia Foundation anticipates these photos being used for anything from education to artistic inspiration.
"We hope that art students will look at these photographs and find inspiration in them. We hope that they're going to be utilized in Wikimedia projects, whether its Wikipedia articles on these artists or anything else," Stierch says. "If someone can find some educational or aesthetic or special value in these photographs, and I know they will, that's what we hope comes out of it."
Stierch and Snyder both envision this donation as the beginning of a long-lasting collaboration between the Wikimedia Foundation and the Smithsonian Institution. "There are 19 units of the Smithsonian, and a lot of those have photographs or images in their collections that are in the public domian, everything from dinosaur bones to WPA paintings," Stierch says. "It all comes down to what is valuable for the public to be able to learn from."