Another Smash Hit on the Thanksgiving Tour: Rovaldi's "Opening Day"
The next must-see item in our roundup of family-friendly Smithsonian stops is an homage to both baseball and video art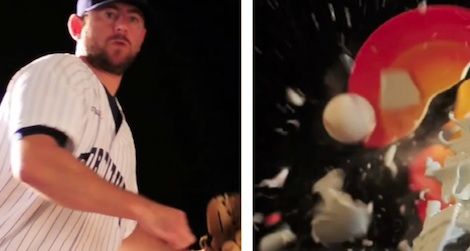 Take me out to the ball game, take me out to the museum? If your family is already counting down the days until pitchers and catchers report to spring training, then you'll want to head to the Hirshhorn for the video installation equivalent of a home run. The piece was so popular, the exhibit was extended through January 13.
Italian video artist Antonio Rovaldi's installation, "The Opening Day" joins baseball to high art. Projected on one side of a small, dark room, Italian-league pitcher Fabio Betto winds up and throws the ball speeding at the camera. The baseball disappears from view only to reappear on the other side of the room as it crashes into an assortment of ceramic tchotchkes, including a spotted dog figurine. On the Hirshhorn's Tumblr page, the museum postulates that the destruction is also a metaphorical smashing of the fine arts categories that had once kept video art out. Reviewer Kayleigh Bryant writes, "It would be easy to stand in the doorway of this gallery for hours in deep contemplation as the intensity and beauty of these mysterious and destructive events unfold. "Opening Day" is distinctly original—and memorable—yet it speaks to the exhibition history of the Hirshhorn and the place of video works in contemporary art."
More than just a transformation of video art, the playful piece also turns the gallery goer into a sporting spectator. Peanuts and Cracker Jacks not included.
And for visitors heading into town for the holidays, don't forget to download our Visitors Guide and Tours app. We've packed it with specialty tours, must-see exhibitions, museum floor plans and custom postcards. Get it on Google Play and in the Apple Store for just 99 cents.
More from our Thanksgiving must-sees:
Going West: The American History Museum's Conestoga Wagon