Another Birth to Celebrate at the National Zoo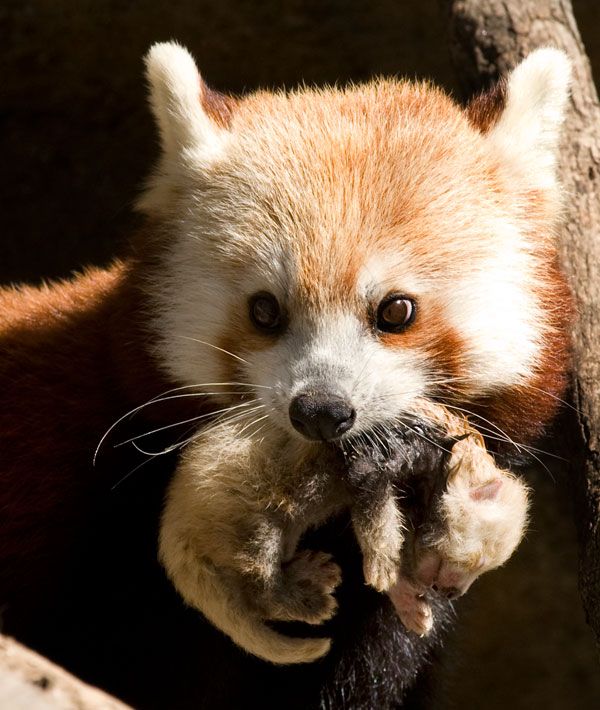 Last week the National Zoo welcomed another baby animal to their steadily increasing brood. On June 16, Shama and Tate, a pair of red pandas, became proud parents to a single cub: a tiny, sandy-haired creature that will achieve its full adult fur and coloring when it is around 90-days old. The birth is a first for both Shama and Tate, and is the first red panda birth at the National Zoo in Washington, D.C. in fifteen years.
The cub's parents were introduced 18 months ago, when Tate came from the Nashville Zoo to breed with the then 2-year-old Shama. The pair did not waste any time and displayed typical reproductive behavior within seconds of their meeting. But, like giant pandas, red pandas only have the opportunity to conceive once a year, and for this inexperienced pair, it took a couple of attempts before they were successful.
The birth of this new club not only represents a triumph for the National Zoo, but also for the entire conservation community. At present, there are fewer than 2,500 red pandas left in the wild and due to habitat loss, they are considered an endangered species. The director of the Zoo, Dennis Kelly, explains that, "As red panda numbers decline in the wild, a healthy, thriving captive population will become more and more important to the survival of the species."
The presence of the new arrival indicates that the red pandas are comfortable and well adjusted to their home here, which is characteristic of their natural habitat of the cool bamboo forests in Asia.
Scientists and biologists at the Zoo have a history of studying the reproduction of red pandas and the new cub, who is yet to be named, will become an important part of their work. Tom Barthel, curator of the Asia Trail says, "We are excited about the opportunity we'll have to watch and learn from the interactions between the red pandas as Shama raises the cub."
To ensure that Shama and her new cub benefit from the peace and quiet they need to bond, the red panda section of the Asia Trail has been closed off. Once keepers determine that Shama has adjusted to her new life with the cub, the area will reopen and visitors will have the chance to view the newest furry inhabitant at the Zoo.