Anne Truitt Show Opens at Hirshhorn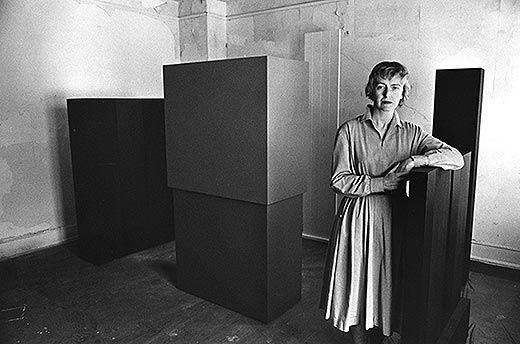 Anne Truitt, who lived and worked in Washington, D.C., is most well known for her minimalist sculptures. Tomorrow, the first retrospective show of her 50-year career opens at the Hirshhorn Museum and will display sculptures as well as lesser known paintings and drawings. The exhibit includes more than 35 two-dimensional works and 49 examples of her signature minimalist, painted sculptures.
Truitt's inspiration for her sculptures came from a show she saw in 1961 at the Guggenheim Museum in New York City. "I was so excited that night in New York that I scarcely slept," she wrote in Prospect, the third of her published journals. "I saw too that I had the freedom to make whatever I chose. And, suddenly, the whole landscape of my childhood flooded into my inner eye: plain white clapboard fences and houses, barns, solitary trees in flat fields, all set in the wide winding tidewaters around Easton. At one stroke, the yearning to express myself transformed into a yearning to express what this landscape meant to me…"
The first such sculpture she ever made, First, which resembles a white picket fence, will be on display. Many of her works pull from her childhood on Maryland's Eastern Shore and teenage years in North Carolina.
"This exhibition is a long-awaited look at the depth and scope of this significant artist's work," said Richard Koshalek, director of the museum. "We are pleased to present this exhibition here on the National Mall and to recognize her unique contribution to art history."
The exhibit will be on display through January 3, 2010. Smithsonian.com published a profile of Truitt last month.