And the Winner of Our Second Caption Writing Contest is…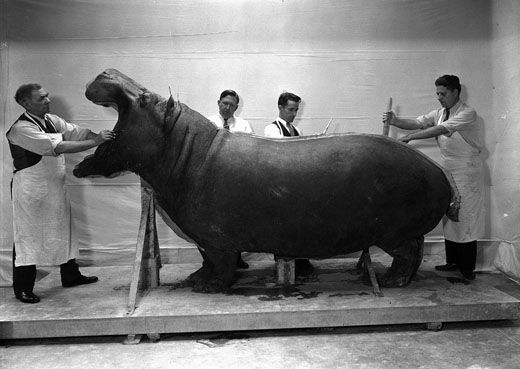 Okay, so we're a little late in announcing the winner of our caption writing contest. (Sorry! Even we get a little sidetracked from time to time.) To refresh our heads, here is the photo:
And here is the winning caption: "After the success of the Horse, the Greeks decided to try the Trojan Hippo," by Christine. Congratulations Christine! You have won water cooler bragging rights!
So, what is really going on in this picture?

Old Mom was a 5,000 pound hippo who lived at the National Zoo and departed this world on February 4, 1930. Taxidermist William L. Brown (above, far right) had been observing and sketching Old Mom for a period of twenty years before he was faced with the daunting task of tanning and preparing a hippo for museum exhibition. Old Mom went on display in 1934 and this buxom beauty can still be seen at the Natural History Museum—not to mention the January 2003 issue of Smithsonian.
What did you think of our contestants for this caption writing contest? Here are our top four picks. Vote for which one you think should have nabbed the top spot.