An Unofficial Guide to Celebrating Bastille Day at the Smithsonian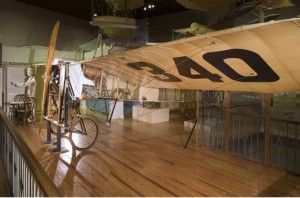 To celebrate Bastille Day, the national holiday commemorating the storming of the infamous prison and the birth of France as a modern country, you can head to your local patisserie to eat an eclair (Wayne Thiebaud style) while listening to Edith Piaf or watching the New Wave films of Truffaut and Godard. But may we suggest you take this unofficial tour of all things French at the Smithsonian, as conceived by the Around the Mall staff:
National Museum of American History: Although Julia Child was born and raised in the United States, her introduction of French cuisine with her first cookbook Mastering the Art of French Cooking gave the average American a new way to prepare and even think about food. If you want to witness a piece of The French Chef's life, walk by Julia Child's kitchen and say, "Bon Appetit!" -- Jacqueline Sheppard
National Portrait Gallery: A military hero of the American Revolution, the Marquis de Lafayette returned home to France where he helmed the National Guard and strove to maintain order as his country fought to restructure itself. Unfortunately, in the throes of political upheaval, Lafayette eventually lost support from both the revolutionaries as well as the monarchy and was later imprisoned. A copy of a marble bust (currently on view) by Jean-Antoine Houdon depicts the Marquis at age 23 and commemorates his meritorious actions at the Battle of Yorktown.. -- Jesse Rhodes
Cooper-Hewitt Design Museum: In spite of popular mythology, Marie Antoinette never uttered the words "Let them eat cake" as a flippant response to her starving subjects. She did, however, have a penchant for the finer things in life—as evidenced by this design for a mirror frame emblazoned with her monogram. She didn't exactly have a head for frugal financial practice and exacerbated the national debt—and after revolutionaries made her stand trial on trumped-up charges, she didn't have a head at all. The mirror design is available for online viewing at the Cooper-Hewitt website. -- Jesse Rhodes
The Hirshhorn: The museum's exhibition, "Yves Klein: With the Void, Full Powers" features conceptual works by one of the 20th century's most influential artists. Klein, a native of Nice, France, was an artist, composer, judo master, and performance artist who believed in the transformative power of art. -- Jamie Simon
And don't forget to check out Auguste Rodin's "Crouching Women" sculpture of bronze in the Hirshhorn's sculpture garden. Rodin is one of France's most notable artists and "Crouching Woman" is the Parisian sculptor's celebrated expression of French eroticism and prurient rebellion. It might also serve as an apéritif to the Hirshhorn's collection of alluring Matisse sculptures. -- Brandon Springer
National Air and Space Museum: In 1909, Frenchman Louis Blériot became the first to fly a plane 25 miles across the English Channel. An example of the record-breaking Blériot XI, collaboration between Blériot himself and French inventor Raymond Saulnier, is on display in the museum's Early Flight gallery. After its debut, it quickly became the most popular pre-World War I monoplane.
BONUS! Headed out to the Udvar-Hazy Center? Celebrate France's continued excellence in aviation by viewing a triumph of modern aviation—the supersonic Concorde, known for its unprecedented speed (about twice the speed of sound). Designed by Aérospatiale of France and the British Aviation Corporation, the airliner was donated to the Smithsonian by Air France in 2003. -- Jess Righthand
National Postal Museum: In July 1962, the French Space Station, Pleumeur-Bodou, successfully received images from the commercial communications satellite, Telstar 1, as if they had originated only "twenty miles away". To celebrate, France released a series of stamps which can be seen at the National Postal Museum. -- Katherine Purvis