Amy Henderson: Team USA!
Guest blogger and Portrait Gallery historian Amy Henderson reflects on the Gallery's Olympian collection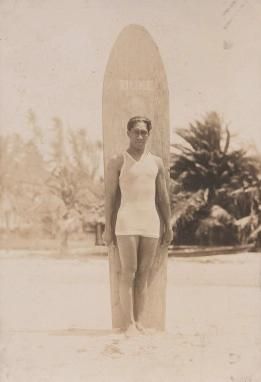 This post is part of our ongoing series in which ATM invites guest bloggers from among the Smithsonian Institution's scientists, curators, researchers and historians to write for us. The National Portrait Gallery's cultural historian Amy Henderson recently wrote about new technologies and the 1940 Census.
With the 2012 Summer Olympics opening in London on July 27th, I decided to explore the Portrait Gallery's images to see what historic or current Olympians we have in our collections. What I discovered was a fascinating group of very different characters connected only by their supreme athletic excellence.
First, some Olympics background: the modern Olympics were reconstituted in Athens in 1896, with fourteen nations and 241 athletes competing in forty-three events. After being occasionally interrupted in the 20th century by disorganization and war, the Summer Olympics today are held every four years. For the XXX Olympiad in London this summer, an estimated 204 countries and 10,500 athletes will compete in 26 sports.
The Portrait Gallery's earliest Olympian is Duke Kahanamoku (1890-1968, right), a Hawaiian swimmer who helped popularize the sport of surfing, both in Hawaii and on the mainland. From 1912 to 1924, he won three gold and two silver Olympic medals in swimming. He lived in Southern California in these years, working as a character actor in Hollywood movie studios and surfing on his long, pine surfboard.
Sports in 1920s America flourished in a "golden age," notably in swimming, tennis, golf, baseball, and boxing. One of the most famous American swimmers was Gertrude Ederle (1905-2003), who competed in the 1924 Summer Olympics and won a gold medal in the 400-meter freestyle relay team and bronze for the 100-meter and 400-meter freestyle races. Ederle would win lasting fame two years later as the first woman to swim across the English Channel. Two works in the collection commemorate this athlete: a 1925 photograph of her with her swim gear and a 1963 oil painting.
One of the key figures in women's tennis was Helen Wills Moody (1905-1998), who dominated U.S. courts between the wars. Numerous photographs in the gallery capture her on the court and a 1936 terra cotta bust of Moody demonstrates why she was nicknamed "Little Miss Poker Face." She won 31 Grand Slam titles, including seven singles titles at the U.S. Championships, eight at Wimbledon, and four at the French Championships. At the 1924 Summer Olympics in Paris, she captured gold medals in women's singles and doubles. These Olympics marked the last time tennis was an Olympic sport until 1988.
An extraordinary image in our Olympian collection is Leni Riefenstahl's photograph of American track and field star Jesse Owens (1913-1980) at the 1936 Summer Olympics in Berlin. Riefenstahl was commissioned by Hitler to film the Olympics to promote "Aryan racial superiority." But when Owens became the most successful athlete of the Olympics, he couldn't be ignored. He had been a star of college competitions, and in Berlin generated international headlines by winning four gold Olympic medals—one each in the 100-meters, 200-meters, the long jump, and as part of the relay team. Riefenstahl's still photograph of the African-American champion is a remarkable document of his personal "triumph of the will."
In more modern decades, the Gallery's Summer Olympics collection continues to represent track and field champions. Carl Lewis (b. 1961) was a pre-eminent American sprinter and long jumper from 1981 through the mid-1990s, winning ten Olympic medals, including nine gold, in the 100-meter, 200-meter, and long jump events. Two 1984 photographs by Neil Leifer show Lewis celebrating his success, including one picturing the athlete leaping into the air with the Statue of Liberty behind him. He won his last Olympic event in 1996, and in 1999 was voted "Sportsman of the Century" by the International Olympic Committee.
Jackie Joyner-Kersee (b. 1962) was also one of America's greatest athletes. At the 1984 Olympics, she won a silver medal in the women's heptathlon; two golds in the heptathlon and women's long jump in 1988; a gold and a bronze at the Barcelona Olympics in 1992; and a bronze at the 1996 games, which were her final Olympics. A black and white photograph in the collection from that year shows Joyner-Kersee facing away from the camera in contemplation. Sports Illustrated voted her the greatest female athlete of the 20th century.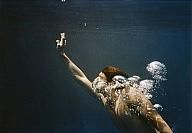 The Gallery's most contemporary Olympic champion is swimmer Michael Phelps, who is competing this summer in London. At the 2004 Olympics in Athens and the 2008 games in Beijing, Phelps won sixteen medals: six gold and two bronze in Athens, and eight gold in Beijing. He was the most successful athlete at both events, and his eight gold medals in 2008 broke U.S. swimmer Mark Spitz's seven-gold record set in 1972.
Like the Olympic athletes competing this summer, the Gallery's sports figures inspire us with their remarkable stories. For about two weeks in the July and August heat, we'll happily watch and cheer and be thrilled. Get the popcorn ready!