Amy Henderson: Satchmo at the National Press Club
Guest blogger and Portrait Gallery historian Amy Henderson discusses Louis Armstrong and the meaning of stardom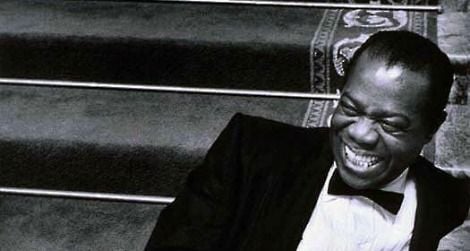 This post is part of our ongoing series in which ATM invites guest bloggers from among the Smithsonian Institution's scientists, curators, researchers and historians to write for us. The National Portrait Gallery's cultural historian Amy Henderson last wrote about the real-life stories of American socialites who married into British nobility.
Recently, I gave a talk called "Going Gaga: Media and the Rise of Celebrity Culture," in which I began with George Washington and ended with Lady Gaga. Outrageous? Yes, but early American culture embraced role models who evoked "character," while later the emergence of a mass media culture shifted our focus to "personality."
When I give talks like this, people often ask me what characterizes a role model in today's celebrity culture? Not the notorious figures of tabloid headlines, but iconic figures people want to emulate and who somehow encapsulate "stardom"—movie stars like Gable or Hepburn, dancers like Baryshnikov, rockers like Springsteen. It is a difficult thing to explain, except that we know it when we see it. Last week, for example, I saw the New York City Ballet dance a Gershwin medley with choreography by George Balanchine, and I was transported. Gershwin's wonderful music and Balanchine's magical movements transmitted sheer, heart-thumping genius. No other music, nor any other choreography, could have combined to create this unique sense of something extraordinary.
Similarly, when I was growing up my parents played a lot of Louis Armstrong LPs, and even as a child, I understood that Armstrong was "special." I certainly didn't know about his role as a pioneering jazz figure then, but I knew I liked the sound of the ebullient personality that came through in his gravelly voice and, of course, in his astonishing trumpet-playing. They would have been overjoyed at the news of a fresh Armstrong recording being discovered and released this spring!
On January 29, 1971, Louis Armstrong played his trumpet in public for what is believed to be his last recorded performance. The occasion was the inauguration of a fellow-Louisianan, Vernon Louviere, as president of the National Press Club. Keeping with a Louisiana theme, Louviere was sworn in holding a bottle of Tabasco sauce instead of a Bible, and the dinner in the Ballroom featured such New Orleans specialties (and Armstrong favorites) as red beans and rice, and seafood gumbo. The evening's emcee was the witty British television journalist David Frost, newly-knighted by the Queen and popular on both sides of the Atlantic for his high-on-the-radar interview programs.
Armstrong's performance at the black-tie gala was recorded on a limited edition LP of 300 copies. The original liner notes by Ralph de Toledano explained that the 69-year-old jazz legend had been in such poor health that his doctors warned him not to play for more than ten minutes, but the crowd's warmth and cheers stretched his performance to half an hour. De Toledano reported, "He played, he sang, he scatted." Joined by longtime band-mates Tyree Glenn and Tommy Gwaltney, he showed no frailty as he rollicked through such favorites as "Rockin' Chair," "Hello, Dolly," "When It's Sleepy Time Down South," "Mack the Knife," and a never before recorded "Boy from New Orleans," a musical autobiography that he sang to the tune of "When the Saints Go Marching In."
Today, Smithsonian Folkways Recordings made this historic performance widely available. Listen to his rendition of "Hello Dolly" here.
Released as part of the Smithsonian's 11th annual celebration of Jazz Appreciation Month, "Satchmo at the National Press Club: Red Beans and Rice-ly Yours" is the culmination of a multi-year collaboration involving the Press Club, Folkways, and the Louis Armstrong Foundation. Press Club executive director William McCarren explained that although his organization is known worldwide for news and history, it is also "a venue for music and the arts and a forum for entertainers of all kinds."  That "one of the world's great entertainers found his way to our stage. . . is a pleasure to tell," and the Club was happy to help make this "great gift to the world" available to all.
The album's subtitle refers to how Armstrong often signed his letters—"Red Beans and Rice-ly Yours." Nearly three dozen of his favorite Louisiana recipes are included in the recording's liner notes, as they were in the original pressing. Now, you too can feast on such Armstrong favorites as shrimp mousse, Louisiana caviar, or Walter McIlhenny's "Frogs a la Creole."  Where else will you find Armstrong's version of "Pat O'Brien's Hurricane Punch" or his real-deal "Sazerac Cocktail"?
Armstrong died five months after his Press Club appearance. This newly-released 58-minute recording includes not only his historic performance, but tracks from a tribute concert that Tyree Glenn and his band performed at the Press Club shortly after Armstrong's death, featuring such classics as "Mood Indigo" and "A Kiss to Build a Dream On."
The recording will be released on CD and digital download via Folkways as well as through such retailers as iTunes and Amazon.  According to D.A. Sonneborn Armstrong, the associate director of Folkways, the recording has "a wonderful live quality. Armstrong was in fine form that evening. We all wish we could've been there, and now we can!"