American Sabor: Latinos in U.S. Popular Music
"American Sabor: Latinos in U.S. Popular Music," invites visitors to explore the Latino music, a sound that is at once distinctive, and all-American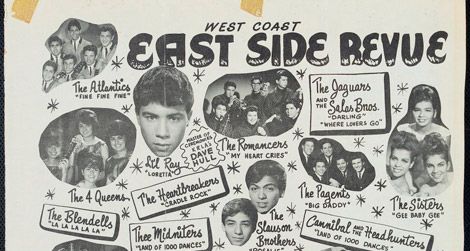 When you think of Latin music, the sounds that have typically defined it—mambo, merengue, salsa, cha-cha-cha—naturally, come to mind. But what about music's influence on more traditional U.S. genres like jazz, R&B, rock 'n' roll and hip-hop?
A newly opened exhibit, "American Sabor: Latinos in U.S. Popular Music," invites visitors to explore the depth and breadth of Latino music, which, historically, encompasses a sound that is at once distinctive, and all-American.
"In a huge way, what this is about is not just Latino music in a bubble, which, as we know, never exists in a bubble," says Ranald Woodaman, of the Smithsonian Latino Center. "It really is a huge story about Latin music, kind of at the heart of America."
Divided regionally into the five cities best-known to American audiences in terms of Latino music production—New York, Miami, San Antonio, Los Angeles and San Francisco—this interactive exhibition focuses on post-World War II Latino music. While there are parts of the Latino music story that date back to the Great Depression, World War II was the era when many Latino musicians fighting in the war, like Tito Puente and Ray Barretto, were exposed to jazz, says Woodaman. From that exposure, the mambo sound was developed, "a fusion of more traditional Afro-Cuban, Afro-Caribbean rhythms with a U.S. jazz approach."
Mambo would not be the only new sound created from melding cultures and influences, as the bilingual exhibit explains. From the rebellious Pachuco of the late 1930s, a counterculture created by Mexican-Americans who felt rejected by both societies, which would lay the foundation for Chicano music, to the intersections of Mexican music with that of German and Czech immigrants in Texas and the fusion of Caribbean cultures with urban cultures in Los Angeles and New York, Latino sound can be heard across genres.
With music playing in the background, maps, original records, fliers, promotional posters, videos, films and other ephemera from the era, including: Carlos Santana's mariachi, Eva Ybarra's accordion, a Celia Cruz outfit, original records from both independent and commercial music labels, as well as items from Héctor Lavoe, Ruben Bladés and Gloria Estefan, among others, tell the story. Listening booths, a mixing station and a dance floor encourage visitors to be a part of it.
"Learning is important," says Woodaman, "but this exhibit offers an opportunity to immerse yourself in the music, in the rhythms, and use that as an entry point for learning."
"I'd like people to come to this exhibit and basically get a sense of how varied, especially by region, Latino music traditions really are," Woodaman says. "It's really old, it's been in the United States for a long time and … at the end of the day, what we call Latin music is part and parcel of the American experience."
See "American Sabor: Latinos in U.S. Popular Music" at the S. Dillon Ripley Center's International Gallery until October 9. Learn more about Latino music and the exhibit at the American Sabor website. Created by the Experience Music Project in Seattle, Washington with curators from the University of Washington, the 5,000 square-foot exhibition was designed to be accessible to visitors of all ages. The Smithsonian Institution Traveling Exhibition Service (SITES) also designed a smaller version of the exhibit, intended for libraries and community centers, which is traveling the country simultaneously.