American History Transformed, Watch the New Museum Evolve
An exclusive, behind-the-scenes look at the National Museum of American History's building as it is transformed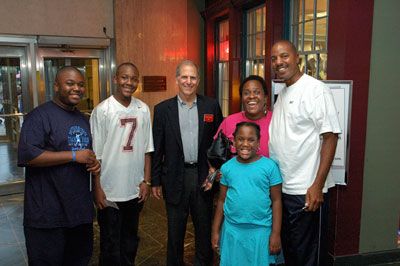 All week long we've been writing about tomorrow's grand reopening of the National Museum of American History, and now you can get an exclusive, behind-the-scenes look at the building as it is transformed. Watch the above video to see the stark differences between the museum of old and today's stunning transformation.
One story from a family of museum fans:
In 2006, the Dubose family from Largo, Maryland had been touring the American History museum on its last day before it was shuttered for its two-year, $85 million renovation. At closing time, the Smithsonian guards ordered the remaining stragglers to leave the building, but Mrs. Demetria Dubose had to make a quick visit to the ladies room. Thus she and her family earned an ignoble 15 minutes of fame, posing for posterity with the museum's director Brent Glass.
"Two-years went by fast," Demetria Dubose laughed as she told us the story at last weekend's sneak-peek preview. The last-to-leave Duboses were invited back to be among the first to see the new museum. Looking around the place, Demetria marveled at the new atrium. "A wonderful infusion of old and new," she declared, "very fresh and open."