American History Museum Dances the Night Away With Van Halen's Guitar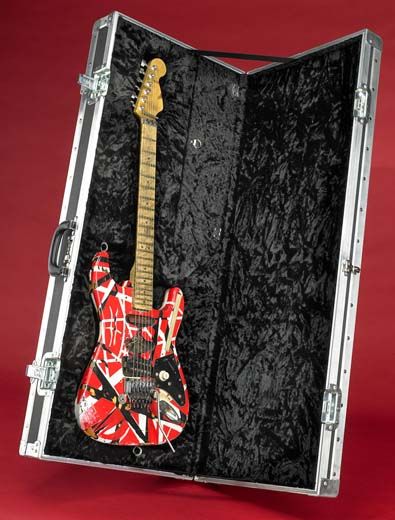 A guitar played and made famous by Eddie Van Halen is now in the collections of the National Museum of American History.
Edward "Eddie" Van Halen, 55, keyboardist, songwriter, producer and all-around rock star is best known for his innovative performing and recording styles popularizing techniques like the quick-styled, two-handed tapping and extremely intense solos.
The guitar, known as "Frank 2," is an exact replica of a guitar that Van Halen handcrafted after he realized that no existing guitar had the features he needed to create his unique sound. Van Halen's custom creation, a literal "Frankenstein" of guitar designs, was part of his stage performance for more than 30 years. Though the Frankenstein, also referred to as "Frankenstrat," has gone through many updates, additions and decorative changes since its creation in 1975; and is one of the most recognized guitars in rock history.
In 2006, Chip Ellis, a guitar builder from Fender Musical Instruments, created an exact replica of Van Halen's "Frankenstein" so similar to the original, it seemed indistinguishable. "Frank 2" was used in the majority of performances during his 2007 -2008 North American tour with David Lee Roth, his longtime partner in the band Van Halen.
Eddie Van Halen is "both artistically and technologically inventive," says Eric Jentsch, director of the division of culture and the arts at the museum. This artifact is unique, Jentsch adds, because the musician had the know-how to not only make the music but also the credentials to invent the instrument to perform it.
The guitar was a joint donation from the artist and Fender Musical Instruments. Currently, the guitar is not on exhibit, but the museum hopes to get it on view in 2011.