American History Museum Acquires John Isner's Tennis Racket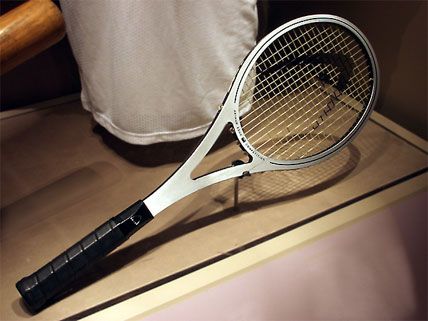 As the first rounds of the U.S. Open get underway in New York City, the Smithsonian's National Museum of American History announces its acquisition of an exciting piece of tennis history—John Isner's tennis racket from the longest match ever played.
The first-round standoff between 23rd-seed Isner and Frenchman Nicolas Mahut at Wimbledon this past June lasted a grueling 11 hours and 5 minutes over three days before Isner clinched a win in the fifth set.  Not surprisingly, the match smashed the previous record for length, 6 hours and 33 minutes set at the 2004 French Open. (The fifth set alone lasted over eight hours!) And other records were set in the process. The match is now the longest in terms of games played (183). Isner holds the record for number of aces served in a Wimbledon match (113), and Mahut holds the bittersweet record for most games won in a match by a losing player (91).
A little worse for the wear, Isner went on to lose to Thiemo de Bakker in the second round of the tournament. But his performance helped boost his ranking to 18th in the world. Currently, he is ranked 19th, with Andy Roddick being the only American player bettering his standing.
Discussions between the museum and Isner's agents began less than a week after the tournament, and though there are no set plans for displaying the racket, Jane Rogers, associate curator of the museum's division of culture and the arts, hopes that in the future it might help visitors appreciate the "sheer power of breaking such a record and the two players' ability to play such a long match." Over the 11 epic hours, the players endured 2,198 strokes (489 of which were backhands), according to ESPN.
The museum's sports collection includes tennis rackets used by tennis great Arthur Ashe, the first African-American to win a Grand Slam event, and Chris Evert, one of the top female tennis players of the 1970s and '80s. But, says Rogers, Isner's racket, one of four used during the match, "adds a contemporary racket, which we have been lacking."