American Art Museum Acquires Work of Nam June Paik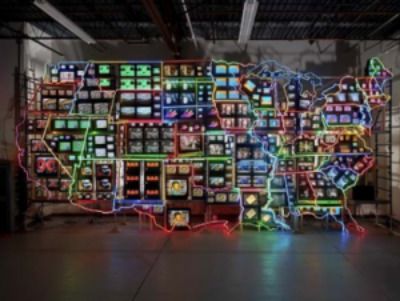 The Smithsonian American Art Museum recently acquired the complete archives of video installation artist Nam June Paik. If the name doesn't ring a bell, maybe the artwork above does. Paik's "Electronic Superhighway," a 15- by 40-foot map of the United States comprised of TVs playing video related in some way to the states (i.e. a video of potatoes plays in Iowa and a segment of the Wizard of Oz plays in Kansas) is a popular piece at the museum. I recently caught up with John Hanhardt, consulting senior curator for film and media arts at the museum and the foremost expert on Paik's work, to get a feel for the artist and what having his writings on art, history and technology; correspondences with other artists; production notes; equipment; photographs and unpublished interviews means to the museum.
What made Nam June Paik such a radical artist?
Nam June Paik was a true visionary who transformed video into an artist's medium. Today he is an inspiration to a new generation of artists working in digital media and the internet. He created new artist instruments that introduced a whole range of image making possibilities into video, and he remade television into an interactive medium, creating videotapes and global satellite telecasts that linked artists and performers from around the world. His videotapes, sculptures, installations and performances gave a whole new dimension to contemporary art. Today we are a media culture and the moving image is a powerful part of the art world. The artist who foresaw that future and made it happen was Nam June Paik. It is an extraordinary achievement!
Have there been any surprises so far in what you've learned about him or his process from the archives?
The Archive is going to be full of surprises! I have already located correspondence and notes on early artworks that shed new light on how he worked. In addition there are texts that show how Paik was intellectually engaged in issues of science, technology, politics and history. As we look deeper into the Archive, we see how Paik developed new ways to see and understand ourselves and the world around us. The various televisions and objects that were part of his studio show how he was inspired by many cultures and forms of art making. They also give us a unique insight into his working methods as he traveled and gathered materials and ideas and transformed them through his art.
What are your hopes in terms of future exhibitions featuring the materials?
I am looking forward to creating a series of exhibitions that will reflect on Nam June Paik's creative process. What inspired him to see the potential of television and video? How did his performance pieces and compositions inspire his interest in the moving image? How did he draw from various materials and remake them in his sculptures? How are his writings on technology and the sources of his thinking linked to the videotapes, television pieces, sculptures and installations? And how did he work in drawing and painting, and how are they part of his aesthetic and artistic vision? Through the exhibitions, the public will have a unique opportunity to learn how this artist worked and created and how video became a contemporary art form.
Why is SAAM a fitting place for the collection?
I have been very impressed with how SAAM has made Nam June Paik an important part of its collection and has represented his work in the galleries. "Electronic Superhighway: Continental U.S., Alaska, Hawaii" and "Megatron /Matrix" are major large scale pieces and "Zen for TV" is a key early work. SAAM has also made a strong commitment to artist estates and archives which include Williiam H. Johnson, Gene Davis, and Joseph Cornell. It is the perfect home for the Archive!