Albert Paley's Gates Return to Renwick Gallery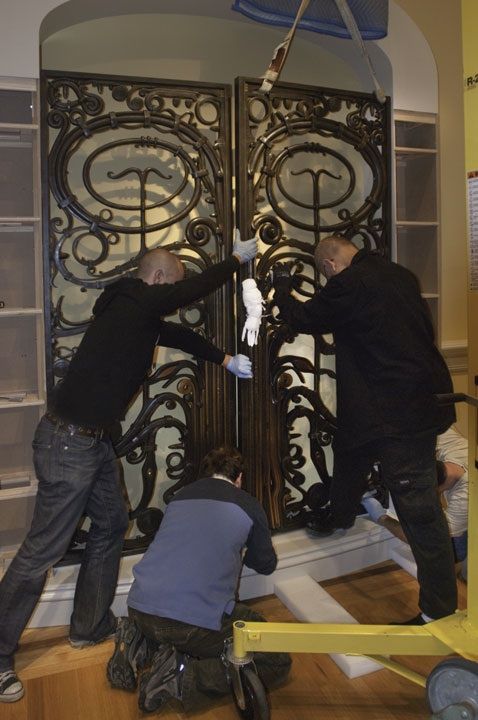 The Renwick Gallery's famed Portal Gates by master sculptor and blacksmith Albert Paley are once again back home, reinstalled last week on the second floor in a custom-made alcove, after going on exhibit at Iowa State University. The gates have been a much-loved staple at the gallery since their installation in 1976, when they met with critical acclaim and praise from the press. The Washington Post called them "one of the most important iron and brass works of art since Louis Sullivan."
In fact, a work by Louis Sullivan figures in the story of how the gates came to be commissioned by the museum. When the newly renovated Renwick Gallery opened in 1972,  two elevator grills designed by Louis Sullivan for the Stock Exchange in Chicago were lent to the gallery by another Smithsonian museum,  the National Museum of American History, and installed in an alcove adjacent to the museum's store. But according to the Renwick's then-director Lloyd Herman, American History officials had second thoughts about the loan once they saw how beautiful the work was at the Renwick. So, "they asked for them back for installation there," Herman explained in a letter to a visitor in 1982.
After losing the Sullivan elevator grills, the Renwick decided to commission the creation of new artwork from contemporary artists and invited several metalsmiths, including Paley, to submit designs. Paley, an art professor at the University of Rochester in New York and internationally reknowned for his one-of-a-kind jewelry pieces, won the $4,800 commission. His detailed drawings, Herman wrote in the same letter, made a "stunning addition to this fine old building."
Paley and his assistant, Richard Palmer, spent 3,800 hours and seven months creating the 1,200-pound gates. (For the re-installation, museum staff had to use a crank to lift and position them.) Their scale had an overwhelming effect on the young jeweler.  "I felt rather like Gulliver," he told the Washington Post.  "It didn't seem as though the objects I was working on changed in scale but instead it was as if I had suddenly shrunk to Lilliputian size."
Paley was born in Philadelphia in 1944 and grew up in a middle-class family. He decided against attending college, and instead worked as a salesman in a department store until someone suggested he attend the Tyler School of Art at Temple University. "I got a scholarship," he told the Post.  "And I realized that art was who I was." He worked primarily as a jeweler until attending a three-day blacksmith's workshop at Southern Illinois University in 1970. Today, Paley holds an endowed chair at the Rochester Institute of Technology and continues to work in his studio there.
See more photos from the installation on the Smithsonian American Art Museum's Facebook page.