Ai Weiwei Depicts the Brutality of Authoritarianism in an Unusual Medium–Legos
The renowned Chinese Artist finally gets to see his work about political prisoners at the Hirshhorn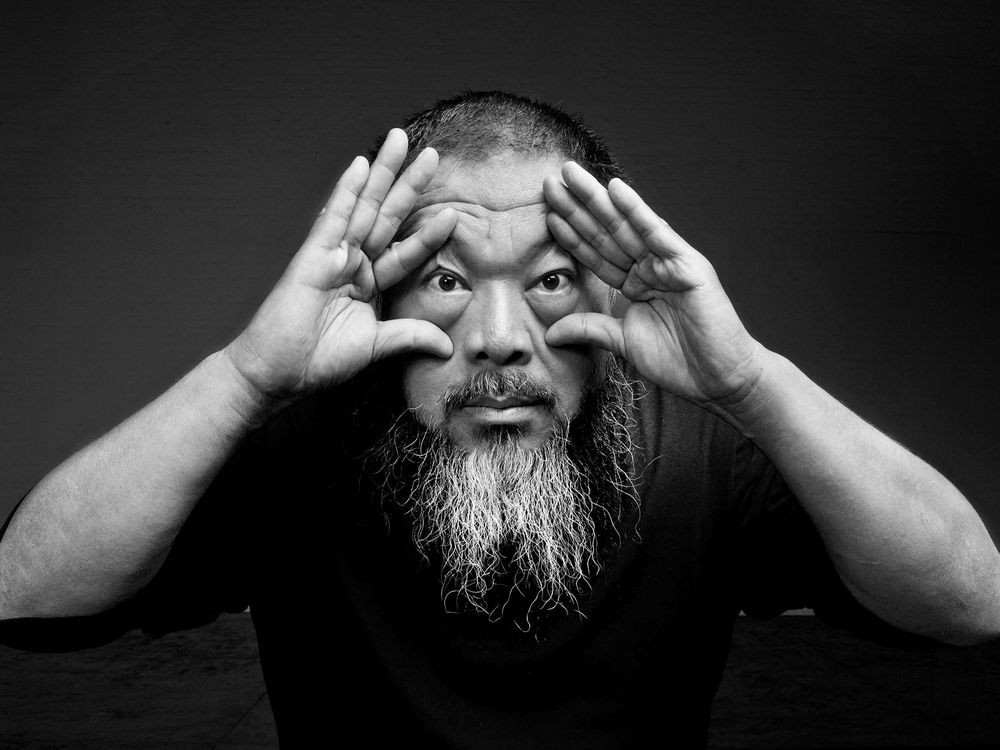 Listen to this episode from the Smithsonian podcast Sidedoor, produced with support from PRX, that discusses the Ai Wei Wei exhibit at the Hirshhorn in depth.
It was the artist Ai Weiwei's own experience as a prisoner of conscience—detained and jailed by the Chinese government for 81 days in 2011—that led him to share the images and stories of 176 other activists and advocates of free speech.
"Trace" was first created as part of a 2014 retrospective at the famous island jail turned contemporary art space, Alcatraz. It came at a time when Ai was detained; when "Trace" opened in California, he was forbidden to leave China; his passport had been revoked. 
It wasn't until the exhibition opened this summer at the Smithsonian's Hirshhorn Museum and Sculpture Garden in Washington, D.C. that the celebrated artist, provocateur and architect—the famous Bird's Nest design of the Beijing National Stadium at the 2008 Olympics was his—got to see it. (The Hirshhorn was host to his first American retrospective in 2012. But he didn't get to see that either.)
Once his passport was restored to him in July 2015, Ai Weiwei moved abroad, to live and work in Berlin. 
Called "Trace at Hirshhorn," the installation is sprawled on six large panels across the expanse of the museum's entire second floor. The surprisingly soft-spoken artist told a packed audience at his June 27 James T. Demetrian Lecture, on the eve of the show's opening, that it was "beautifully displayed."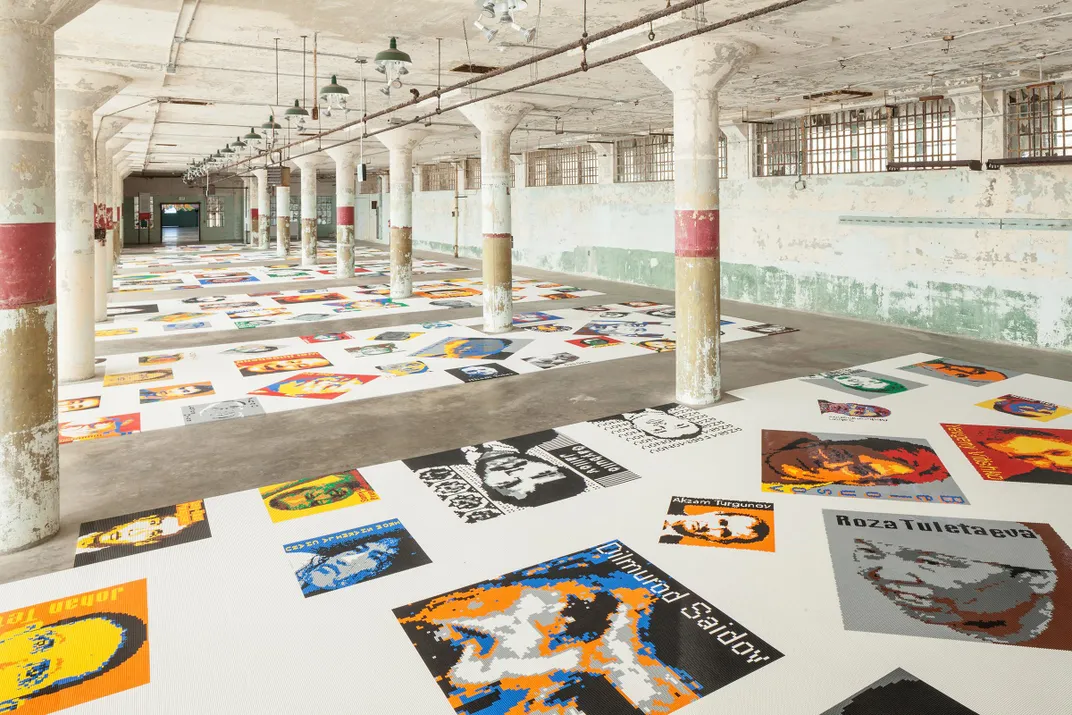 Because of his own detention, Ai said he wanted to "do something in relation to prison life or prisoners who lost their freedom because of their beliefs." He worked with Amnesty International and other groups to collect the stories of people from 33 countries. Some were well known, but many were not.
"Some had short sentences, some had lifetime sentences," Ai said. "I got to know these stories. They are real people. Every image has a long story behind them." Accordingly, banks of touch screen computers accompany each large panel to give the prisoner's backstory and status (as of spring 2017).
The seriousness of the issues, though, contrasts with the surprisingly whimsical material employed to craft their images—colorful Lego blocks—1.2 million of them in all.
"My son plays all the time with Lego," Ai said. He was reminded how its blocks could easily translate pixilated pictures and make clear some of the blurry photos that in some cases were the only available images of the prisoners he wanted to depict. 
"It also can reflect culture through geometric backgrounds," he said.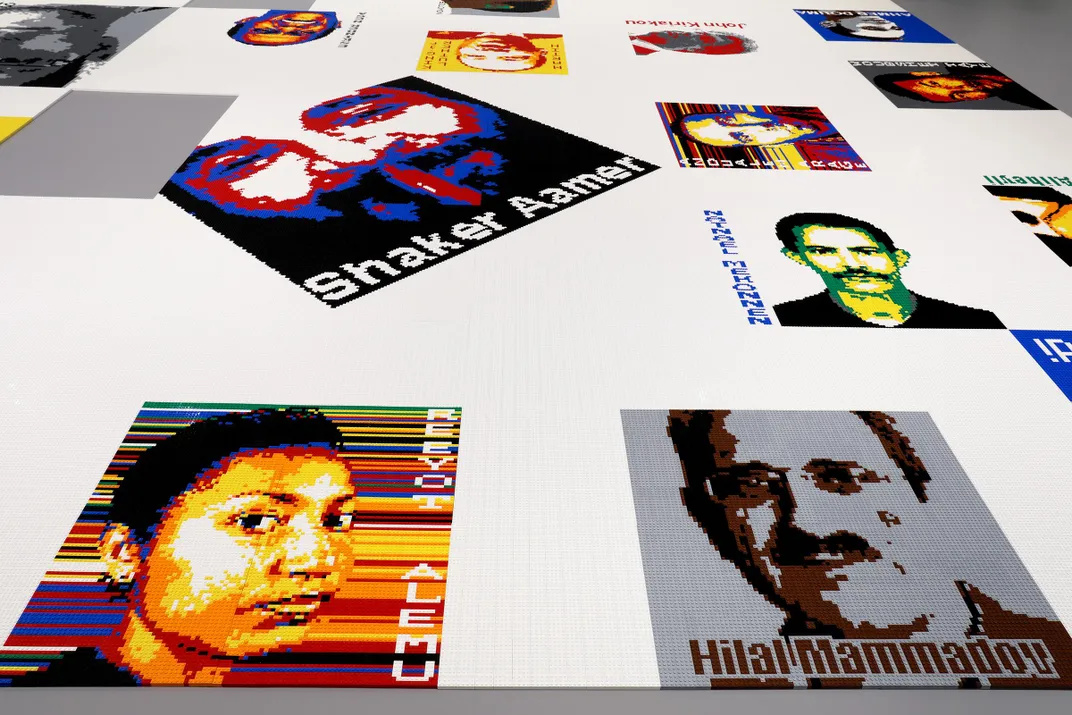 So his staff of 100 or so went to work assembling plastic mosaics of the prisoners. Lego initially refused to cooperate because it didn't want its bricks used "for political purposes," a position that had changed by July 2016.
Hirshhorn Director Melissa Chiu said Ai was particularly happy to see the piece in a museum. "Seeing it in a museum gives it new life, and gives it a different perspective because we can talk about its place in art history," she says.
"I'm very happy that the Legos can be shown again in Washington D.C. It's an important place to show these," Ai says in a video accompanying the exhibition. 
But in a political city like Washington, the display comes with unusual fine print from a museum, which receives at least part of its funding from the federal government: "Note that the choices of whom to depict and assessments of their situations are solely Ai Weiwei's. The artist's choices do not necessarily reflect the position, if any, of the Hirshhorn or the Smithsonian. The exhibition presents the artist's expressive point of view about a key, often contentious topic of our times." The D.C. show also omitted a postcard project that was offered at the original Alcatraz showing to remind prisoners that they were not forgotten.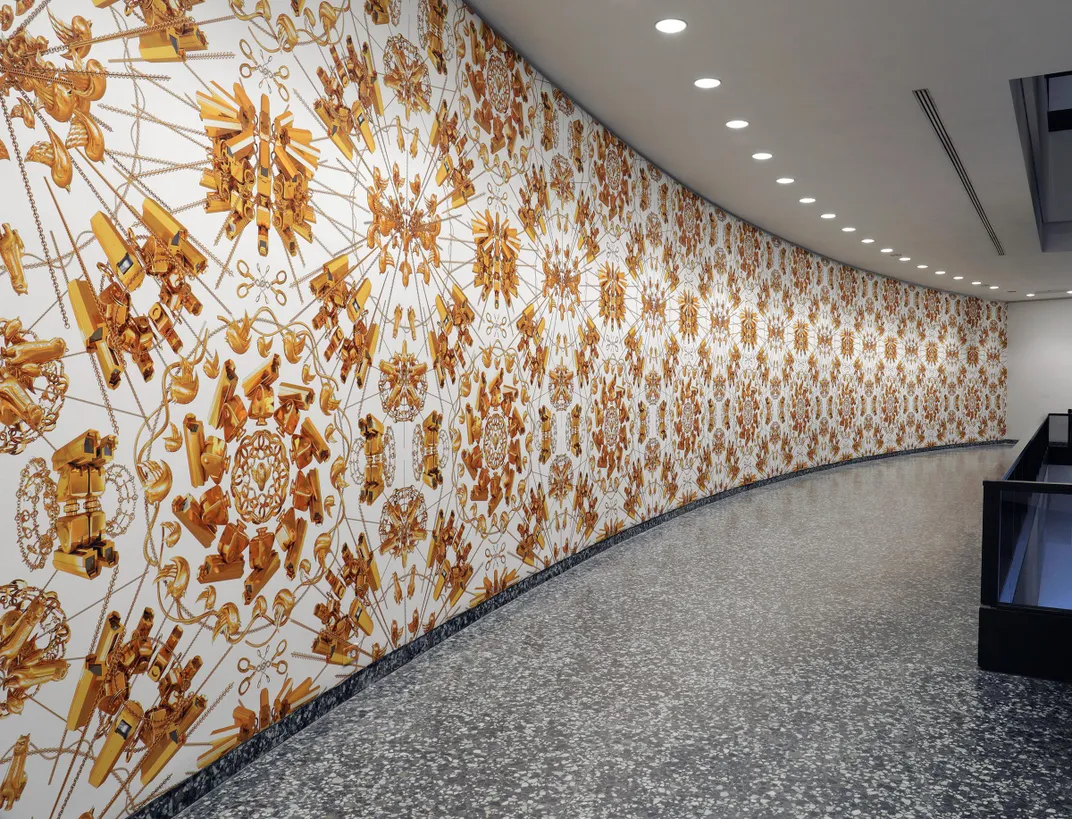 Among the half dozen Americans depicted in "Trace," one is the civil rights icon Martin Luther King, Jr, whose monumental statue gazes across the Tidal Basin down the road from the museum. But the work also includes controversial figures like Edward Snowden, who is charged with theft of government property and two counts of violating the U.S. Espionage Act for revealing classified documents showing widespread domestic and global surveillance; and Chelsea Manning, who released a wealth of sensitive and classified documents about war details to WikiLeaks and whose 35-year sentence in 2013 was commuted by President Obama in January.
Following this trend of imprisoned leakers of classified material, one might expect one of the blank squares in "Trace" to be reserved for the recently arrested Reality Winner (but it turns out that those blank spots are merely the spaces where columns went when the work was originally installed at Alcatraz).
Other Americans depicted might not be household names, but include: John Kiriakou, a former CIA analyst, who first disclosed the use of waterboarding for interrogation and was sentenced to 30 months in prison in 2013 before being released in 2015; Shakir Hamoodi, who was sentenced to three years prison in 2012 for sending money to Iraqi relatives during a time of sanctions against that country; and Shaker Aamer, a Saudi citizen and British legal resident, cleared of terrorism ties in 2007 and 2009, who languished at Guantanamo until his 2015 release to Great Britain.
Among world renown names like Nelson Mandela are scores of lesser known ones. One is Nobel Peace Prize winner Liu Xiaobo, detained in China since 2009, who was only released days before the Hirshhorn opening to obtain cancer treatment. [Editor's Note: Following publication of this story, Liu Xiaobo died in Chinese captivity on July 13, 2017.]
As one might expect, there are far more prisoners depicted from China than any other country, with 38; the country dominates one entire panel and most of another. But there are also more than what would be expected from Vietnam (16) and Bahrain (15). There are nine from Russia and three from North Korea.
Some are rendered in stark black and white Lego arrangements, others in a blast of color; all are on white backing that came shipped in 12- by 12-foot panels. Assembling them was easy, the museum says; the initial cleaning after its Alcatraz showing was difficult, requiring toothpicks between each of the little circular studs.
Accompanying the expanse of portraits on the floor is a new piece—wallpaper that extends nearly 700 feet, 360 degrees across the building's famously circular walls.
And even that work can be deceptive. What looks like a fancy rococo wallpaper design in black and white and in gold is actually an arrangement of handcuffs, chains, surveillance cameras, Twitter birds and stylized alpacas—an animal which in China has become a meme against censorship.
Of the installation, Chiu says, "The hardest thing was actually the wallpaper. Specialists had never installed such a long wallpaper design."
As if to suggest things aren't what they seem, the piece is titled The Plain Version of the Animal That Looks like a Llama but is Really an Alpaca.  "That's very Chinese," Chiu says. "That's the way Chinese people articulate complex ideas.
"My own interpretation," Chiu says, is that the internet, which once seemed as such an arena of freedom, is "not as free as we assumed and it's almost a cautionary tale. It's like, let's be cautious about this space, it's not what it looks like."
"Ai Weiwei: Trace at Hirshhorn" continues through Jan. 1, 2018 at the Hirshhorn Museum and Sculpture Garden in Washington, D.C.