African American History Museum to Receive Emmett Till's Casket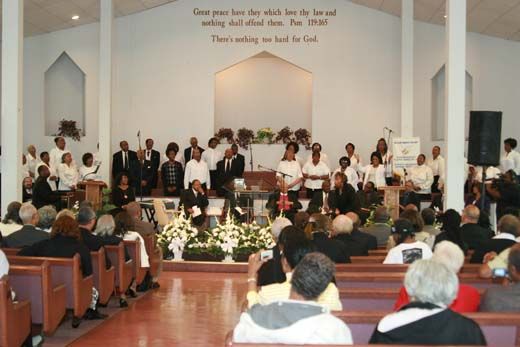 A glass-topped casket that once held the battered body of Emmett Till, the 14-year-old boy whose brutal 1955 murder in Mississippi galvanized the civil rights movement was donated last week to the Smithsonian's National Museum of African American History and Culture.  The announcement was made Friday in Chicago at a memorial service held for Till on the 54th anniversary of the young man's death.
For those who don't know Till's story, he was murdered by white men while visiting his great uncle Moses Wright in Money, Mississippi. He had reportedly whistled at a white woman. The husband and brother-in-law of the woman kidnapped Till, beat him, shot him, tied a 70-pound cotton gin around his neck with barbed wire and threw him into the Tallahatchie River. His body was found three days later. A ring of his father's, given to him by his mother before he left Chicago for Mississippi, helped his uncle to identify the body.
His mother, Mamie Till Mobley selected the glass-topped casket and ordered that it remain open during the funeral. She grimly insisted, "I wanted the world to see what they did to my boy." Thousands of people saw the boy's disfigured body at the funeral and many millions more witnessed it in photographs that were later published in Jet magazine.
"We are both honored and humbled that the Till family has entrusted this sacred object to the museum for preservation and safekeeping," said the museum's director Lonnie G. Bunch III. "The death of Emmett Till shocked the conscience of the world and fueled the Civil rights movement. It is our duty to ensure that this iconic artifact is preserved so that we will never forget."
Just 100 days after Till's death, Rosa Parks refused to give up her seat on the bus. Eight years later, to the day, Martin Luther King Jr. delivered his "I Have a Dream" speech. But on September 23, 1955, the two Mississippi men were acquitted of the murder charge by an all-white jury that deliberated just over an hour. Months later, however, the men told the story of how and why they murdered Till to Look magazine. No one ever served time for Till's murder.
Till was buried in the glass-topped casket in Burr Oak Cemetery in suburban Chicago. In 2005, his body was exhumed for an autopsy and as standard procedure, it was reburied in another casket. The cemetery came under heavy scrutiny earlier this year when employees were accused of digging up some 300 graves and reselling the plots. During a police search, investigators found Till's coffin in a storage shed in dire need of repair.
Experts have told Bunch that the casket could be repaired but that it would take months of work. When it arrives at the Smithsonian, it will be assessed by conservation staff.
Simeon Wright, 66, who was with his cousin Till on the night of the murder, led the family's efforts to donate the casket. "If we didn't have this casket, no one would ever believe this could happen in America," Wright said. "Some people would say this is just a wooden box, scuffed up on the outside and stained on the inside. But this very particular box tells a story, lots of stories. And by sending it to the Smithsonian's African American museum we— Emmett's few remaining relatives—are doing what we can to make sure those stories get told long after we're gone."
The museum does not yet know how it will display the casket. "This should be an object that challenges us, it should be an object that makes us think (and) not just be seen as a spectacle," Bunch said at the service, according to the Associated Press.
The National Museum of African American History and Culture is the Smithsonian's 19th museum, and the only national museum entirely devoted to the life, art, history and culture of African Americans. It will have a permanent home west of the National Museum of American History on the Mall in 2015. Until then, the museum has a gallery on the second floor of the American History Museum and features online exhibitions on its Web site.